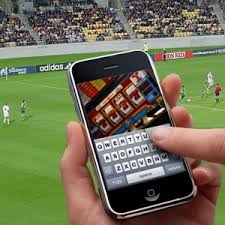 In a recent gaming congress held in Atlantic City, company leaders and authority representatives spoke about the rapid growth of mobile betting in the United States.
According to some of those attending the East Coast Gaming Congress in Atlantic City, it was predicted that within the next five to ten years, as much as 90% of sports betting in the country will be done over mobile devices or the internet.
"The true capability of sports wagering is mobile," the CEO of CG Technology, Parikshat Khanna, told the attendees of the congress.  Within two years of launching its sports wagering app in 2009, the Nevada-licensed Nevada bookmaker was already taking 60% of its bets via mobile apps.
In the one year since the US Supreme Court overturned the controversial sports betting law banning legal sports betting, a staggering $9 billion has been wagered legally on sports. The number could even reach $10 million because most of the states haven't yet released their May 2019 numbers.
New Jersey is one state that is performing especially well. The NJ Division of Gaming Enforcement reported last week that local players bet $319 million on sports in May 2019. The New Jersey sports betting industry is exactly a year old.
Companies are delighted with the state of New Jersey's industry. DraftKings' JohnnyAvello said: "Overall the first year in New Jersey has been spectacular, but to be honest, I couldn't give you enough positive adjectives to serve justice to the question. The future is mind-blowing, and with eight states active and an additional seven authorized to offer sports wagering in 2019, DraftKings is positioned to capitalize on these and subsequent markets."
FanDuel's CEO, Matt King pointed out that New Jersey has shown how sports betting can benefit the state by setting up a competitive marketplace with "retail and online operators working to better service their customers."
King said that other states should be taking their lead from the Garden State.
At present, eight states offer legal sports betting, with several more expected to follow later this year.