Poker Laws in Rhode Island
Important RI Notes
RI poker players play for real money legally at offshore sites
State has been looking at interstate online poker compacts
Selling lottery tickets on the web could be in the near future
Charitable gaming, pari-mutuel, lottery, racetracks are legal
Commercial and Indian casinos are not allowed
Last updated: July 18, 2018 by Savanah
Rhode Island could potentially introduce an online gambling (poker and casino games) bill sometime this year per the state's Senate Finance Chairman. Governor Raimondo of Rhode Island signed legislation to let the voters decide on the 2016 November ballot on whether or not to build a new $75 million casino in Tiverton, which will be located near the Massachusetts border, and it passed (55%-45% vote). The casino is scheduled to open this September. This move is to help protect the state's third largest source of revenue, gambling revenue, against competition from neighboring states like Massachusetts.
RECOMMENDED POKER WEBSITE FOR
RHODE ISLAND


When Rhode Island legalizes online poker it will most likely be on an interstate level where they will enter into compacts with other states to share its pool of poker players. BetOnline is a safe and secure offshore site that accepts players from Rhode Island.
At present, operating online poker sites is not a legal option in Rhode Island and there are no laws that allow this form of internet gambling. The state has no legal framework set up to oversee an online poker industry, nor does it have licensing bodies in place to allow operators to apply for permits. There are no current laws in the legal pipelines that could see a change in this situation. Having said that, Rhode Island players regularly visit off-shore poker sites and wager on real money games legally or participate in tournaments on a regular basis.
Future Outlook of Online Poker in Rhode Island – Estimated date of legalization:
2020-2021
The following graph tracks our expected legislation of online poker in Rhode Island on a state law level. It is currently already legal on a Federal level. This graph monitors the current rise or fall of expected legalization.

Rhode Island Gambling News

In the first half of the 2020 financial year, betting revenue from sports...

September was a bumper month for Rhode Island's betting industry, with numbers...
Recent Activity
With a population of just over 1 million people, at first glance, Rhode Island may not seem like the perfect candidate to introduce a viable online poker industry.  However, a closer look shows a state which has an active gambling community where at least half the population (if the results of previous referendums are considered) supports the expansion of its gambling industry, and which manages to regulate the industry in a strict, but fair way.  As such, it may not seem a far-off idea to think that Rhode Island may in fact be one of the first states to legalize and regulate online poker in the next wave of individual states to do so.
Following a ruling by the US Department of Justice which reversed its previous opposition to online gambling and stated that only sports betting was considered illegal under the Wire Act of 1961, the Rhode Island Lottery Director Gerald S. Aubin expressed his opinion that Rhode Island officials should "explore" online gambling [A] in view of the DOJ ruling. "As with any product issues relating to the industry, it is our fiduciary responsibility to perform our due diligence and research all aspects and potential impact, if any, to revenue," he was quoted as saying in the Providence Journal. However, after the exploration stage, the idea was not pushed any further.
There have been ongoing talks that the Rhode Island Lottery could enter into compacts with other states such as Delaware, Ohio and West Virginia, to offer a progressive type of keno or bingo game online and the lottery admits that officials are involved in "continuous discussions" to do so.  However, it seems that there are many questions to be answered before this happens, including answering Aubin's question: "How's it going to affect your brick and mortar clients?"
In light of the fact that neighboring states, in particular Massachusetts, are currently expanding their own gambling industries and even mulling the introduction of online gambling and poker, Rhode Island needs to work fast and consider the same idea.
While the lottery hasn't ruled out the option of introducing online versions of games such as poker, which they admit would generate "substantial" revenue; it admits that the idea would require statewide voter approval because it will be considered a new type of gambling.
"We wouldn't pursue it without statewide approval," Aubin has said. "To venture into online poker and online gaming would take constitution approval."
Over the past few years, there have been rumors circulating that Rhode Island is involved in quiet talks with Delaware to form an online poker compact [B] once laws are changed in RI. Delaware has already legalized online gambling and both states share a similar sized population.  It makes sense that revenues will increase on both sides of the border if players are pooled.
History of Gambling in Rhode Island
1900s
Early European settlers enjoyed gambling in different establishments in the region.  Local governments tried to enforce laws that restricted gambling but little was actually done.
1920s
Police crack down on gambling activities, conducting raids on underground gambling establishments.
1925
The fledgling Rhode Island police force conducts raids in three sections of the state, all of which fail due to tip offs. A few weeks later, learning from past mistakes, the police conduct a blitz raid on the Meadowbrook Country Club in Marieville and arrest 600 gamblers and gambling operators.
1934
Parimutuel wagering made legal by a 4-1 margin in a special Rhode Island election.  Judge James Dooley appointed Racing Secretary. The changes in the law lead to the opening of the 182 acre property, Narragansett Race Track in August, which hosted thoroughbred horse racing.
1947
Lincoln Downs Race Track opens its doors as a race track for thoroughbred horses.
1974
Rhode Island Lottery established.
1977
Lincoln Downs abandons horse racing and becomes a greyhound racing track, introducing this sport to the state for the first time and renaming itself Lincoln Greyhound Park.
1978
The popular Narrangasett thoroughbred racing track closes its doors after over 40 years of business.
1979
Rhode Island General Assembly charges the Division of State Police with regulatory enforcement of all charitable gaming except bingo.  Police authority extends to raffles, Vegas nights, poker nights, week club raffles and bazaars.
1980's
Conservative action groups continue to torpedo efforts to expand gambling in Rhode Island.
1982
State wide jury convenes to investigate incidences of abuse of the bingo law.  Bingo therefore added to games of chance regulated by State Police.
1983
New law makes it illegal for non profit organizations to run poker and casino nights in order to raise money for their charities.
1990s
Narragansett Indian tribe wins right to offer casino games. Voters defeat proposal to allow off-track betting in the state, but lawmakers say that pari-mutuel betting is already legal in Rhode Island and defy the vote by allowing out of state race simulating at Lincoln Park.
1991
Lincoln Park begins to offer simulcast wagering on televised races from horse and dog tracks around the world.
1993
Triggered by growing fears that the opening of the nearby Foxwoods Casino over the border would threaten Rhode Island's gambling revenues, parimutuel betting consisting of slots, dog races, horse racing and other gaming machines is added to state lottery mix.
1994
Narrangasett tribe proposes to build casino in one of four communities in a $12 million plan.  November 8 voters reject the idea of casino gambling.
1996
Separate bills
[C]
introduced in the House and Senate to allow coin-drop gaming machines at Lincoln Park and Newport Jai Alai, but are defeated.
1997
General Assembly introduces two bills that would allow Lincoln Park to reduce urine testing by 50% and to reduce the state's share of the racing handle by 1% for five years.
2003
Governor Donald Carcieri and other leaders reach agreement to allow 1,300 more Video Lottery Terminals at Lincoln Park in return for a larger share of the winnings for Rhode Island state, much to the outrage of the Narrangansett Tribe.
2006
The general public defeats a proposal for Narragansett Tribe to build office casino.
2007
Nonbinding referendum sees Rhode Island residents reject the idea to allow Lincoln Park to remain open 24 hours a day and 7 days a week.  The casino undertakes a $220 million expansion, opening in March, under the new name, Twin River Casino.
2008
Request by Twin River Casino to remain open 24/7 on weekends and holidays is approved.
2009
Amidst a near-bankruptcy position, Twin Rivers proposes to end live greyhound racing at the track to save costs.  Authorities reply that state law requires that they host at least 125 days of racing per year in order to be eligible to offer VLT gambling. In June, the casino is given permission to remain open 24/7 after filing for Chapter 11 bankruptcy.  In August, live racing ends at Twin Rivers.
2012
Public approves the introduction of table games
[D]
at the Twin River Casino in November vote, turning it into a fully fledged commercial casino.
2013
Table games finally integrated into Twin River Casino.
2015
A bill was passed to allow the Twin River casino to build a hotel, it's scheduled to open in 2018. On December 10th the Twin River casino opened the states first poker room with a total of 16 tables.
2016
Voters decided in November to build a new $75 million casino in Tiverton, which is near the Massachusetts border, by a 55%-45% vote.
Land Based Poker in Rhode Island
Under a Rhode Island Supreme Court law, the game of poker is considered a lottery, and therefore is a game that is prohibited to be played by players.
Poker players get the short end of the stick when it comes to poker options in the state, with none of the casinos offering live poker rooms (although you will be able to find casino poker variants such as Three Card Poker, Let it Ride and Pai Gow Poker).
The law prohibits home poker games as there is no exception for social gambling in Rhode Island as can be found in other states such as California.
Even charitable gambling turned its back on poker players in Rhode Island's gambling past, removing the game from the list of permitted games.
Gambling in Rhode Island
Rhode Island's gambling laws are listed under Section 11-19-1 [E], where the following is defined as prohibited gambling:
"Every person who shall, directly or indirectly, set up, put forth, carry on, promote, or draw, publicly or privately, any lottery, chance, game, or device of any nature or kind whatsoever, or by whatsoever name it may be called, for the purpose of exposing, setting for sale or disposing of any money, houses, lands, merchandise, or articles of value, or shall sell or expose to sale lottery policies, purporting to be governed by the drawing of any public or private lottery, or shall sign or endorse any book, document, or paper whatsoever, for the purpose of enabling others to sell, or expose to sale, lottery policies, except as authorized in this chapter and in title 41 and chapters 61 and 61.2 of title 42, shall be deemed guilty of a felony and shall be imprisoned not exceeding two (2) years or be fined not exceeding two thousand dollars ($2,000)."
This long-winded list of prohibitions does not essentially define gambling, leaving the law open to interpretation in many cases.
In other parts of the law, the crime of "inducing others to visit a gambling place" ie. "on any pretext whatsoever, invite, entice, persuade, or induce any other person to visit any house, room or other place kept for the purpose of gambling, with the intent that the other person shall at that place engage in gambling or playing at any game of chance for money, or other valuable consideration", comes slapped with a particularly harsh sentence. Those caught breaking this particular law could face up to one year in prison.
You also face up to 30 days in jail (if you go by the letter of the law), if you commit the 'crime' of "frequenting a gambling place", meaning that you "frequent any gambling house or place where gaming is practiced or carried on, not in the performance of official duty and not being the landlord of that place entering to view the premise."
According to numbers published, Rhode Island's third largest source of revenue is gambling, through the sale of lottery tickets, the Newport Grand slot parlor, the Twin River Casino and other forms of betting.
Besides the lottery and casino gambling, Rhode Island residents are also able to participate in pari-mutuel betting, charitable raffles and bingo.
Future Gambling Laws in Rhode Island
Rhode Island gambling proponents are constantly seeking ways to expand the industry.  A ballot in November 2014, which proposed the introduction of table games at Newport Grand, was again rejected by the voters.  Developer Joseph Paolino and investors have expressed their desire to revive Newport Grand if the ballot ever gets approved.  Rhode Islanders are divided on the issue, as can be seen in a similar vote held in 2012, when the idea of table games at Newport was defeated by a vote of 52.9% to 47.1%. In the same referendum, table games were approved for Twin River.
Senate President M. Teresa Paiva-Weed has said she will give table games in Newport Grand her support [F]. "I believe Newport Grand is an important source of state and local revenue, I anticipate I would support legislation again," she said. "I share the concern that many have that in order for the facility to be able generate the revenue for the city and the state that we be able to ask voters in light of the competition from Massachusetts."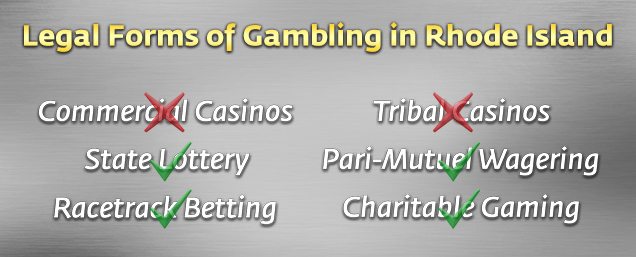 Casinos in Rhode Island
There are two racinos in Rhode Island, Twin River Casino and Newport Grand Slots Casino.
Twin River Casino contributed $303.7 million to the state during fiscal 2014, including $293.3 million from slots and $10.4 million from table games.  Newport Grand contributed $26.4 million.  This number will be significantly impacted as neighboring Massachusetts expands its gambling industry.
Twin River Casino: Previously known as Lincoln Greyhound Park, Twin River Casino has over 300,000 square feet of gaming space – one of the largest in the United States.  The casino has a staggering 4,500 video slot machines and virtual table games, as well as 80 live table games.  Twin River Casino offers slots with denominations ranging from 1c – $25, and progressive jackpots with jackpots reaching into their millions.  Table games at Twin River Casino include Blackjack, Roulette, Craps, Baccarat, Three Card Poker, Spanish 21, Let it Ride, Pai Gow Poker, Big Six Money Wheel and virtual table games.
Newport Grand Slots: Located in Newport, RI, Newport Grand Slots is home to 1,000 of the latest video slots in the industry, which include line and reel games, video poker, keno, virtual blackjack and roulette tables.  Game denominations range from 1c to $10, with the chance t win up to $25,000 in jackpot money at a time.  The casino is open from Sunday to Thursday from 10am to 1am, and on weekends and holidays from 10am to 2am.
Racing in Rhode Island
In 1977, Lincoln Park race track abandoned thoroughbred horse racing and introduced in its place greyhound racing.  Betting on greyhounds was offered at the track until 2009, when it was abandoned due to financial problems faced by the company.
Televised races from horse and dog tracks around the world were first offered at Lincoln Park (Twin River Casino) in 1991.
The Rhode Island Racing and Athletics program [G], part of the Rhode Island Department of Business, regulates greyhound racing inside the state.  It also regulates the gambling activities that take place in the two legal greyhound racing parks: Newport Grand Racing, and Twin River Dog Track and Racino.
Lotteries in Rhode Island
Launched in 1974, the Rhode Island Lottery [H] is open to all adults over the age of 18, with tickets sold via authorized lottery retailers in accordance with Rhode Island Lottery legislative rules.
The lottery offers instant games and video lottery games.  Video Lottery Terminals can be played at the state's two pari-mutuel licensed facilities (Twin River Casino and Newport Grand).  The lottery also licenses pull tab tickets for charitable organizations.
Prizes need to be claimed within a year of the results being announced and tax is paid on all prizes over $5,000.
Charitable Gambling in Rhode Island
Charitable gambling in Rhode Island falls under the authority of the Rhode Island State Police (RISP). Section 11-19-41 [I] of the law states that, "the division of the state police shall have the power and authority to license, regulate, supervise and exercise general control over the operation of bingo and permitted games of chance including, but not limited to, the conduct of such permitted games of chance, the distribution of prizes, and the use and licensing of equipment specifically designed to be utilized to conduct bingo and permitted games of chance, as well as the licensing of persons, firms, corporations in the business of the sale and rental of equipment concerning bingo and permitted games of chance. The Rhode Island State Police shall have the power and authority to investigate as to the direct or indirect ownership or control of any licenses and to revoke or suspend any license for just cause after hearing."
Under Rhode Island law, charitable gambling [J] in the form of bingo and raffles is allowed in order to raise money for non profit organizations.  Up until 1983, charitable gambling acts also allowed these organizations to hold poker and casino nights in order to raise money, however a change to the law came in 1983, removing Las Vegas nights and other Vegas type activity and leaving only raffles, bazaars and bingo as charitable gaming activity options.
Rhode Island law defines charitable gaming as any game where the element of chance predominates over the element of skill, with the possibility of winning a prize.  Elements of a game of chance include: chance, a prize and consideration (or money).
A charitable game has to be conducted by a charitable organization, and only members of the organization are allowed to be involved in the control and management of the game.  All proceeds, except for the expenses involved in running the game, have to be directed to charitable purposes.  Charitable games in Rhode Island are limited to players 18 years old and over.
An application for authorization needs to be made through the Rhode Island State Police and a fee of $5 per application to run raffles or bingo is required.
Author: Joseph Falchetti (twitter)
(C) Copyright PokerWebsites.com, 2018
References and Citations