Important IL Notes
IL residents can lawfully play online at offshore poker sites
With a change in leadership, iGaming prospects look positive
Live poker is legal in the state of Illinois
Land-based casino expansion in the state is likely coming
Online expansion has already been mentioned by lawmakers
Last updated: July 17, 2018 by Savanah
On May 31st last year, the Senate passed a bill (HB 479) by a 42-10 vote to legalize online poker and casino games. The bill then went to the House of Representatives for a potential vote but it didn't receive one. However, this year could be the year an online gambling bill gets passed in Illinois. Bill SB 0007 has been introduced for a few years which would expand casinos in the state, up to six, including a casino in Chicago. A report released by the Commission on Government Forecasting and Accountability (COGFA) shows annual gambling revenue of $2.3 billion in Illinois.
RECOMMENDED POKER WEBSITE FOR
ILLINOIS


Illinois is positioning itself to be in the first handful of states to pass, license, and regulate internet poker. They appear to be only a couple years away, but until then, IL poker players continue to play at the trusted and secure BetOnline poker site.
"Reviewed by Chuck Humphrey – 50 year Gaming Law Practitioner"
Future Outlook of Online Poker in Illinois – Estimated date of legalization:
2018-2019
The following graph tracks our expected legislation of online poker in Illinois on a state law level. It is currently already legal on a Federal level. This graph monitors the current rise or fall of expected legalization.


In June last year, Illinois Governor JB Pritzker signed a far-reaching order...

Illinois' sports betting market has recorded meteoric growth since it launched...
Recent Activity
Senate President John Cullerton and Democrat Senator Terry Link are trying to pass legislation that will legalize online poker but have been unsuccessful thus far. These attempts were linked with overall gambling expansion in the state. On May 31, 2017, the Senate passed a bill (HB 479) by a 42-10 vote to legalize internet poker and casino games. This bill then went to the House of Representatives for a potential vote but no vote was taken. A lot of progress on this front is anticipated to happen this year.
Online poker has faced opposition from two powerful personalities in Illinois, but with the election on November 4, 2014, that is now changing. One of them was Governor Quinn, who has now been replaced by the new elected Governor Bruce Rauner, had gone on record stating that online poker is "problematic" [B]. He added, "It's a brand new idea and there hasn't been much review on that at all. Anytime you have something brand new it shouldn't just be thrown into a bill at the last minute." The other person is Aaron Jaffe who had been reappointed as the chairman of the state Gaming Board in August 2013. On January 30, 2015, Governor Rauner replaced Jaffe with Donald Tracey. Also, it appears that expanding land casino gambling is a first priority for the legislators followed by legalized online gambling. The change in Springfield seems to be boding well for gambling expansion.
In previous years, Cullerton introduced bill HB 4148 in May of 2012 that would allow online poker. No action was taken on the bill due to perceived lack of support and it was allowed to die. In February 2013, Terry Link introduced SB 1739, which sought gambling expansion and introduction of online gambling. However, in April 2013, under pressure from the Illinois Thoroughbred Horsemen's Association the online gambling proposal was removed from the bill.
Current Gambling Laws in Illinois
Article 28 of the Criminal Code 2012 (720 ILCS 5/) [C] is titled Gambling and Related Offenses. It defines gambling activity through 12 clauses. The relevant one for online poker, and poker in general is, "(a) A person commits gambling when he:(1) Plays a game of chance or skill for money or other thing of value, unless excepted in subsection (b) of this Section". The exceptions cover the activities that have been legalized under various statutes and include the following:
Pari mutuel betting as authorized by the law of the State
Bingo conducted in accordance with the Bingo License and Tax Act
Lotteries conducted by the State in accordance with the Illinois Lottery Law
Raffles conducted in accordance with the Raffles Act
Charitable games conducted in accordance with the Charitable Games Act
Pull tabs and jar games conducted under the Illinois Pull Tabs and Jar Games Act
Gambling games conducted on riverboats as authorized by the Riverboat Gambling Act
Video gaming terminal games conducted in accordance with the Video Gaming Act
Operating Internet wagering sites is also defined as gambling under clause (a) (12).
Gambling under subsection (a)(1) of this Section is a Class A misdemeanor. Gambling under subsection (a)(12) of this Section is a Class A misdemeanor. A second or subsequent conviction under subsection (a)(12) is a Class 4 felony. Persons who have incurred gambling losses can initiate civil action to recover their money.
Agencies have been created for oversight of the different legal gaming activities. The Gaming Board [D] is responsible for casino gambling on riverboats and video gaming, Illinois Lottery [E] conducts the various lottery games, and Illinois Racing Board [F] is responsible for horse racing.
History of Gambling in Illinois
1818
Illinois becomes a state.
1830
Horse racing tracks opened in Chicago.
1840
River boat gambling commences.
1975
Illinois State Lottery goes into operation. Horse Racing Act passed.
1984
Inner track wagering introduced for horse racing.
1985
Simulcast wagering introduced for horse racing.
1987
Off track wagering introduced for horse racing.
1990
Illinois legalizes river boat cruise casino gambling.
1999
Gambling on docket boats permitted.
2009
Video Gaming Act passed. Advance deposit wagering introduced for horse racing.
2012
10th river boat casino Des Plaines opened. Bill HB 4148 for allowing online poker dies without voting. First video gaming machines functional.
2013
Online gambling legalization provisions withdrawn from SB 1738. Legislation to allow online lottery sales was implemented.
2014
Former Gov. Pat Quinn vetoed gambling expansion bills throughout his tenure.
2015
New Gov. Bruce is open to gambling expansion. Attorney General rules daily fantasy sports are illegal in the state.
2017
The Senate passed a bill, HB 479, by a 42-10 vote to legalize online poker and casino games on May 31st. The bill then went to the House of Representatives for a potential vote but did not receive one.
Land Based Poker in Illinois
Land based poker is illegal in Illinois, even if played at home. The State administration is known to act against land based poker games. According to The News Gazette [G], in Champagne last year the organizers of a poker game were arrested but the players were allowed to go free.
Charity Poker in Illinois
Under the Charitable Games Act [H], not for profit organizations can conduct games of chance for fund raising. The Act specifies the conditions under which these games can be conducted and also lists 14 specific games. These include poker, five card stud poker and hold-em poker. This Act was amended in August 2013.  Certain provisions were liberalized and oversight was brought under The Gaming Board. There are several not for profit organizations that regularly conduct charitable poker games. One of the reasons that charity poker is popular is that players can win cash prizes.
Gambling Laws in Illinois
Summary
The major forms of legalized wagering in Illinois are horse racing, lottery, riverboat casinos and video gaming. These are governed by separate acts promulgated at various times. The punitive measures are defined in Article 28 of the Criminal Code 2012, which is titled Gambling and Related Offenses. In 2013, the State's revenue from these activities was $1.639 billion, which was a $583 million increase from 2012. COGFA Wagering in Illinois 2012 Update [I] reports the latest situation on these activities.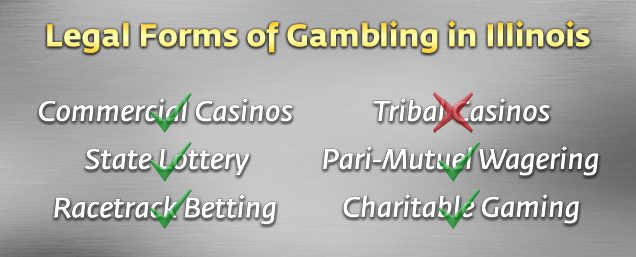 Illinois River Boat Gambling
Illinois was the second state in America to legalize casino gambling on river boats in 1990, Iowa being the first. This action was taken to counter the threat of Illinois residents wagering on Iowa riverboats. The act provided for 10 riverboats. The boats were not allowed in Cook County, in order to protect the horse racing industry there. Initially, the law required the river boats to be cruising while gambling was offered. In 1999, the Act was amended to allow for gambling on river boats that are docked. In 2012, the tenth boat Des Plaines was launched. This led to a revival of the riverboat industry. The adjusted gross receipts that were stagnating in the previous years, suddenly jumped 22% to $1.6 billion. Legislative attempts to increase the number of riverboats through SB 1739 have been vetoed by Governor Quinn.
The Illinois Casino Gaming Association [J] describes the services offered on the riverboats. Patrons can enjoy casino games like Blackjack, Craps, Roulette, Caribbean Stud, Let It Ride, Pai Gow, Baccarat and Slot Machines among elegant surroundings. The average return to the player in 2012 was over 92%. Illinois riverboat casinos are more than just a place for casino gambling. Visitors can look forward to concerts, comedy acts and performances by well-known stars. This can be rounded off with sumptuous meals. The Gambling Board regulates these river boats, ensuring that the games are fair and conducted in a responsible manner.
Illinois Horse Racing
Though there have been horse tracks in Illinois since 1830, the activity has been regulated under law only since 1975. Oversight of horse racing is under the Illinois Racing Board. There are six race tracks in Illinois, which are Arlington Racecourse, Balmoral Park, Fairmount Park, Hawthorne Racecourse, Maywood Park and Quad City Downs. Any new race track will require legislative sanction.
Initially only pari-mutuel wagering was permitted at the horse tracks. Several changes were introduced between 1984 and 1987. In 1984, inter-track wagering was allowed and in 1985 simulcast wagering was allowed. These provisions enabled wagering on the outcome of simultaneously televised races taking place at tracks located within and outside of Illinois. In 1987 off‐track betting was introduced and in 2009 advance deposit wagering was allowed throughout the state.
The revenues from horse racing have been decreasing. In 2011, the total handle from horse racing was $688 million. This is roughly half of the handle generated in the peak years of 1992 and 1993. In order to offset this, in 2011 $140 million was transferred to horse racing from river boat casino revenues. However, it is felt that much more needs to be done to revitalize horse racing in Illinois. One of the proposals under consideration is the introduction of slot machines at race tracks. This has been successful in some of the other states. However, legislation to give effect to this proposal has been continuously blocked by Governor Quinn.
Illinois State Lottery
The Illinois State Lottery was founded in 1975 through legislative action. The objective was to use the surplus generated in social causes through the Common School Fund, the Capital Projects Fund and the Special Cause Funds.
In 2012, the management of the Illinois lottery was given to a private operator Northstar Lottery Group, new games like MLB Instant games and EZ Match were introduced and the state became the first to allow the sale of lottery tickets online. The lottery sales increased by almost 20%, to reach $2.7 billion. This was the highest in the history of Illinois. However, Northstar Lottery Group failed to meet the income target and a dispute between the state and operator is under arbitration. Northstar Lottery Group has claimed that the shortfall is a result of the state not being able to fulfill its commitments. The state has challenged this view. In 2012, over 60% of the lottery sales were contributed by Instant Games. Pick 3 and Pick 4 together contributed about 17%. The interstate products Mega Millions and Powerball contributed 13%.
Illinois Video Gaming
The latest form of legalized gambling in Illinois, video gaming, was started in 2012, though the required legislation was passed in 2009. It is under the oversight of the Gaming Board. Video gaming has been introduced in less than 40 percent of the jurisdictions in Illinois, because it has either been banned by some local authorities and others have not yet opted in as required by their local laws.
Under the Video Gaming Act, the State will allow video gaming terminals for games like video poker, line up and blackjack to be played for cash. The terminals will be set up at bars, truck stop establishments, fraternal establishments or veterans establishments that possess a valid liquor license. The terminals cannot be set up in proximity to other gambling operations like river boat casinos or race track wagering sites so as to avoid cannibalization of interest. The terminals cannot be near schools and places of worship for social reasons.
Author: Joseph Falchetti (twitter)
(C) Copyright PokerWebsites.com, 2018
References and Citations