Poker Laws in West Virginia
Online Poker in West Virginia
Important WV Notes
Licensed poker sites offshore legally allow WV players
State officials are looking at legalizing internet gambling
Ample poker rooms offered at casinos and racetracks
Charity, lottery, pari-mutuel, comm. casinos, racetracks legal
Tribal casinos are not allowed in West Virginia
Last updated: April 20, 2018 by Savanah
On January 10th, West Virginia introduced a bill (HB 3067) to legalize online poker and casino games. On March 14th of last year, the same piece of legislation was presented to state lawmakers but it never received a vote. Legal sports betting in WV could be up and running within 90 days after a favorable ruling from the Supreme Court. The West Virginia lottery director mentioned they probably will pass legislation legalizing online poker, casino games, and lottery tickets to keep up with neighboring competition. The WV Attorney General, Patrick Morrisey, has deemed online daily fantasy sports betting legal in the state.
RECOMMENDED POKER WEBSITE FOR
WEST VIRGINIA


West Virginia is moving in the right direction of legalizing internet poker within their state sooner rather than later. They're probably around one to two years away in making this a reality, and until then, West Virginians can play at BetOnline; a trusted & licensed poker website.
Operating an online poker business is not considered legal in the state of West Virginia. The Mountain State has no legislation which authorizes online poker or gambling, nor has it developed an authority to oversee an online poker industry.  There is no licensing framework that allows operators to apply for online poker licenses. Despite these facts, poker players from West Virginia continue to play at offshore sites and regularly wager for real money legally.
Future Outlook of Online Poker in West Virginia – Estimated date of legalization:
2018-2019
The following graph tracks our expected legislation of online poker in West Virginia on a state law level. It is currently already legal on a Federal level. This graph monitors the current rise or fall of expected legalization.

West Virginia Gambling News

The Swedish online casino games developer, NetEnt, will soon be entering West...

The fifth sportsbook has gone live in West Virginia's betting market, with the...
Recent Activity
Despite its small population of 1.85 million people – ranked the 38th smallest state in the US – West Virginians have a healthy appetite for gambling. This fact alone allows one to believe that online poker legislation is only a matter of time in West Virginia.
In 2012, the West Virginia Lottery Commission began an assessment on how it would react to the US Department's announcement that the Wire Act applies only to sports betting – essentially making online gambling legal if adopted by states.  The Lottery stated that in order to proceed, it would require state legislation.  Although no such legislation has been submitted or passed yet, it shows that the issue is one that is being at least considered by gambling authorities.
Regarding online poker, the Director of the West Virginia Lottery Commission, John Musgrave said at the time:"We realize in the industry that there are an awful lot of dollars that are being funneled out of the country with some of the online poker sites. I know there has been interest in the industry, in those states with casino gaming, to allow casinos to do something similar. We're looking at that. We don't have a decision made or know what direction we're moving in at this time."
In more recent years, it has been mentioned over and over again that West Virginia is a natural partner to sign an interstate online poker compact with Delaware, which became the second state in the US to legalize online gambling.  Delaware's small population makes it difficult for the state to support a standalone gambling industry, and therefore signing a compact with neighboring states makes good economic sense.
In 2012, an op-ed [A] written for Crime in the Suites mentioned the natural partnership between Delaware and West Virginia, but noted that the latter would first need to pass similar legislation in order to put a compact into effect.  In 2014, Delaware signed a compact with Nevada, another state with legal online poker options, perhaps pushing a compact date between Delaware and West Virginia further off.
What could be the deciding factor for West Virginia is the growing competition in the land casino market in the area. Gambling revenues continue to decline, and, coupled with tough competition from neighboring states, West Virginia may have to seek out other sources of revenues – with online poker being a natural choice.  West Virginia filed a bill (HB 3067) on March 14, 2017 which would legalize online gambling (poker and casino games), but the bill did not advance any further.
History of Gambling in West Virginia
1984
Voters approve a constitutional amendment to allow the creation of a state lottery in West Virginia.
1985
Seven member
West Virginia Lottery Commission
[B]
created to assist the director of the lottery.
1986
First lottery tickets sold in the state.
1988
West Virginia becomes charter member of the
Multi State Lottery Association's
[C]
"lotto America' game (now Powerball).
1989
Lawmakers decide that dedicated lottery profits should be directed to programs benefiting education, senior citizens and tourism.
1994
Video lottery terminal wagering authorized at West Virginia racetracks.
1995
Video lottery terminals introduced at race tracks.
2001
West Virginia authorizes video lottery terminals in commercial locations and fraternal organizations.
2007
Table games added at Wheeling Island Hotel Casino Racetrack and Mountaineer Casino Racetrack and Resort
2008
TriState Racing and Gaming Center rolls out table games. Casino operations approved at the Greenbrier Resort.
2015
Purses were cut by twenty percent on all races at the Mountaineer Racetrack due to new legislation that reduced subsidies to help the state's budget.
2016
The state lottery generated just under $1.14 billion in lottery ticket sales for this budget year (ended on June 30th), which was $27 million less than last year.
2017
The state filed a bill, HB 3067, on March 14th to legalize online poker and casino games but it did not advance.
Gambling Laws in West Virginia
Gambling is a popular and acceptable pastime in the State of West Virginia as long as it is done in a regulated environment.  Unfortunately, for those trying to understand the way lawmakers define gambling exactly, the wording is very vague, and open to much interpretation. There is no direct definition of what constitutes gambling in West Virginia.  Instead, the law hints at what constitutes gambling based on several related charges.
Section 61-10-4 [D], for example lists offenses that could be considered a misdemeanor: "If any person bet or play at any such gaming table, bank or device as is mentioned in the first section of this article, or if, at any hotel or tavern, or other public place, or place of public resort, he play at any game except bowls, chess or backgammon, draughts or a licensed game, or bet on the sides of those who play at any game, whether the game be permitted or licensed or not, he shall be guilty of a misdemeanor."
The law continues: "If any person who shall keep or exhibit a gaming table, commonly called A.B.C. or E.O. table, or faro bank, or keno table, or any slot machine, multiple coin console machine, multiple coin console slot machine or device in the nature of a slot machine, or any other gaming table or device of like kind, under any denomination, or which has no name, whether the game, table, bank, machine or device be played with cards, dice or otherwise, or shall be a partner, or concerned in interest, in keeping or exhibiting such table, bank, machine or gaming device of any character, shall be guilty of a misdemeanor."
So which types of gambling are allowed in West Virginia?
State residents have a several real money legal gambling options through a resort casino, pari-mutuel wagering on races, a good number of Vegas style casino games at racinos, as well as traditional and video lottery games run by the state lottery.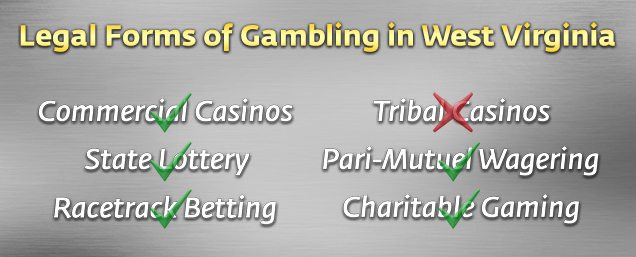 Games of chance may not be played, "by any person, at any place, public or private" thereby removing the option of social or private gambling in a player's home.
Several charity games (not poker) are allowed as long as they have the relevant licensing requirements.
The West Virginia Lottery Commission also regulates slot machines (video lottery terminals), as well as table games at casinos.  Patrons need to be at least 21 years of age to play at casinos and slot machine parlors.
Land Based Poker in West Virginia
Poker laws in West Virginia are covered by gambling laws Section 61-10-4 as detailed in the section Gambling Laws in West Virginia above.
West Virginians have a good range of legal terrestrial poker options, mostly at several racinos located around the state such as the Mountaineer Racetrack and Casino, and the Hollywood Casino at Charles Town Races. The River Poker Room at the Mountaineer offers 24 hour poker action, including regular promotions and tournaments.  The Hollywood Casino offers no limit action around 50 tables, 24 hours a day and 7 days a week. Daily poker tournaments run at the casino, as do regular promotions and events.
When it comes to home poker games, it seems that these are not legal under West Virginia law, although the chance of authorities actually enforcing the law and prosecuting home poker players is tiny.
Charity gambling laws make no exception for the game of poker, and therefore the game cannot be played at charity events.
Land Casinos and Race Tracks in West Virginia
Racinos around West Virginia offer Vegas style casino action, which could be regarded as land casinos in every sense of the word.  The state also boasts one free standing casino resort (non connected to a race track), the Greenbrier, which, according to its site, "combines high roller thrills and high class style to create an unforgettable Greenbrier gaming experience." The casino boasts a 103,000 square foot venue which is packed with world class gaming at its best.  There are 320 state of the art slot machines, as well as 37 table games (including blackjack, craps, roulette, baccarat, three card poker and Texas Hold 'em poker).  Players have to be 21 years of age or older to enter and play at the casino.
The state's other four casinos are part of a race track complex.
The Mardi Gras Casino and Resort is open 24 hours a day, while the greyhound racing facility includes simulcast horse racing wagering.  The casino has a 40 table poker room, 1062 slot machines (including video poker) and 31 table games such as blackjack.
The Wheeling Island Racetrack is a popular dog track open daily.  The track offers bingo and horse race simulcast wagering, while the casino has a nine table poker room, as well as table games and 1,8000 slot machines.
The Hollywood Casino at Charles Town is a horse race facility that hosts thoroughbred racing and a 24/7 entertainment resort.  The 184,000 square feet casino floor offers a poker room and over 3,200 video slot and poker machines.
The Mountaineer Casino Racetrack features thoroughbred racing and is open 24/7.  Race wagering is available in season, while punters can also enjoy simulcast racing throughout the rest of the year.  The casino offers 2,100 slot and video machines and 45 table games.
West Virginia's largest casino, Hollywood Casino at Charles Town Races, announced that it would be adding a 1,200 seat concert venue [E] as it seeks to fend off increased competition from neighboring state, Maryland. The venue will be located on the casino floor and was completed in July 2014. In recent years, Maryland casinos have threatened the revenues of Hollywood Casino.
Indian Casinos in West Virginia
There are no Native American casinos at this time in West Virginia.
Racing Laws in West Virginia
Racing in West Virginia is governed by the West Virginia Racing Commission [F] which promotes and regulates live racing at four race tracks in the state: two thoroughbred horses and two greyhounds.  Under West Virginia gambling law, licensed horse racing/dog racing and pari-mutuel wagering is allowed.
Sports Betting in West Virginia
West Virginia was one of the forty six (with the exception of Nevada, Delaware, Montana and Oregon) to opt into the Professional and Amateur Sports Protection Act of 1992, essentially placing a federal blanket ban on sports betting in the United States.  In recent years, New Jersey has been fighting for the right to opt out of PASPA and has taken the matter as far as the Supreme Court.  In May, 2013, four states – Virginia, Georgia, Kansas and West Virginia – filed joint briefs to the Third Circuit Court of Appeals, informing the court of their formal support for New Jersey's attempt to overturn the federal ban on sports betting.
From this it can be understood that if New Jersey is successful in its appeal, it will pave the way for states such as West Virginia to introduce their own legal sports betting regimes.
Video Lottery Machines in West Virginia
Video lottery machines, also known as slot machines, were approved in 1994 at West Virginia's four thoroughbred and greyhound racetracks, subject to restrictions of the law. Voters in the counties where each track is located had to approve the issue.
The state legislature passed the Limited Video Lottery Act in 2001, limiting the number of video lottery machines in adult environments.  The bill essentially outlaws 'grey' or 'poker' machines and restricts the number of video lottery terminals to no more than 9,000.  The West Virginia Lottery Commission is the deciding authority.
Lotteries in West Virginia
As noted, the West Virginia Lottery Commission governs over the state lottery and also regulates slot machines and table games at the four race track gaming establishments and the fifth, stand alone casino resort.  Since its launch in 1986, the lottery has raised more than $8 billion in proceeds for the state.
The lottery offers multiple games, including Powerball, Mega Millions, Hot Lotto, Daily 3, Daily 4, Cash 25, Keno and instant games. The minimum age to purchase lottery ticket in West Virginia is 18.
An anecdote: The most noted American lottery winner, Jack Whittaker [G], won the (then) biggest Powerball jackpot in history – $315 million – on a ticket which he purchased in West Virginia in 2002.
Charitable Gambling in West Virginia
Charitable games in West Virginia are governed by laws 47-20-1 [H]. In general, games of bingo run by charitable organizations are allowed under state laws, as long as the organizations are licensed by the West Virginia State Tax Commissioner [I].  Raffles can also be held, with the law dictating as follows:
"Notwithstanding any other provisions of this article to the contrary, any charitable or public service organization which has been in existence in this state for at least one year is hereby authorized to conduct raffles without compliance with the licensing provisions of this article: Provided, That any prize awarded in any single raffle at a raffle occasion may not exceed in value the sum of four thousand dollars: Provided, however, That the cumulative gross proceeds derived from the conduct of raffle occasions by any such charitable or public service organization shall not exceed fifteen thousand dollars during any calendar year: Provided further, That any such organization shall not be subject to the record keeping provisions of section sixteen of this article but shall maintain a separate accounting for the operation of raffles. All records required by this section shall be maintained for at least three calendar years and shall be available for reasonable inspection by the commissioner."
Author: Joseph Falchetti (twitter)
(C) Copyright PokerWebsites.com, 2018
References and Citations