The state of Kentucky does not allow any form of online poker to be operated within their state according to its law books. There are no bills in the legal channels that may make online poker a reality in the state in the near future, nor has the state considered creating an authority that may oversee and regulate a potential online poker industry in Kentucky. Uniquely in US gambling law, Kentucky's gambling legislation accommodates zero criminal liability for anyone caught wagering outside the framework of legal gambling. Offshore poker rooms report on regular visits by residents of the Bluegrass State which is legal.
Future Outlook of Online Poker in Kentucky – Estimated date of legalization:
2021-2022
The following graph tracks our expected legislation of online poker in Kentucky on a state law level. It is currently already legal on a Federal level. This graph monitors the current rise or fall of expected legalization.
Recent Activity
Kentucky is one of those states where it is difficult to say in which directions the winds are blowing in terms of online poker and gambling in general.  State laws are full of paradoxes.  On the one hand, Kentucky takes a relatively strict stance when it comes to unregulated gambling, but on the other it doesn't hold gamblers liable for doing so and they recently passed an online lottery.
Horse racing and the betting trimmings that come with this sport are entrenched in Kentucky's character, and the fact that placing bets on races online is legal, could mean that a natural next step may be expanding online gambling to include casino games and poker.  However, nothing has yet appeared on the horizon which indicates that this is the direction that Kentucky is willing to take.  In addition, Kentucky has a relatively small population – less than 4.5 million residents – meaning that it will be very difficult for the state to support a viable online poker industry without signing compacts with other states or jurisdictions.
Many believed that as long as Governor Steve Beshear is in office (he no longer is governor), there is zero to little chance that Kentucky will see legalized online poker.  Beshear, who ironically based his gubernatorial campaign on the expansion of gambling in Kentucky many years ago, made headlines in 2008 when he announced his intention to shut down 141 illegal internet gambling sites [A] in the state in an effort to halt unregulated online gambling.  At the time, Beshear filed a civil suit against the domain names, stating that, "unlicensed, unregulated, illegal Internet gambling poses a tremendous threat to the citizens of the Commonwealth because of its ease, availability and anonymity.  The owners and operators of these illegal sites prey on Kentucky citizens, including our youth, and deprive the Commonwealth of millions of dollars in revenue.  It's an underworld wrought with scams and schemes."
The case rolled on for over three years during which time the Federal Government seized nine of the domain names (FullTiltPoker.com, PokerStars.com, AbsolutePoker.com, UltimateBet.com, DoylesRoom.com, TruePoker.com, Bookmaker.com and Bodog.com).  In 2011, the governor filed papers with the Department of Justice in a bid to claim some of the frozen assets [B] belonging to Full Tilt Poker seized on Black Friday (April 2011).
In 2012 [C], the original judge in the case ordered that the registry, Verisign hand over the remaining domain names [D] to the Commonwealth of Kentucky.  In June 2013, Kentucky finally gave up on its fraud claims [E] against Poker Stars, Full Tilt Poker and Absolute Poker after the Department of Justice agreed to give some of the settlement funds that it received from the Poker Stars sale deal to the State of Kentucky.
Another personality with clout, who has expressed an opinion on the subject is the president of the Kentucky Lottery Corporation, Arthur L. Gleason Jr.  In 2012, Gleason voiced his opposition to a bill [F] put forward by Senators Reid and Kyl to legalize online poker on a federal level.  Gleason's opposition is interesting because he is of the opinion that the introduction of a federal bill would infringe on the rights of individual states to regulate their own internet gambling industries. "Individual states are best able to decide what, if any, gambling should occur within their borders", he said.  At the time, he noted that while the lottery has no immediate plans to initiate any form of online gambling, "we strongly wish to preserve that right and all revenue-generating opportunities that may be available should it be determined to be in the best interest of the Commonwealth in the future. The legislation being developed by Senators Reid and Kyl, however, if enacted, would definitely curtail that right, and consequently, future revenue generating opportunities."
History of Gambling in Kentucky
Land Based Poker in Kentucky
The laws governing gambling in general also cover poker in Kentucky.  Section 528:010(3) [G] defines gambling as, "staking or risking something of value upon the outcome of a contest, game, gaming scheme, or gaming device which is based upon an element of chance, in accord with an agreement or understanding that someone will receive something of value in the event of a certain outcome."
But it seems that Kentucky law only targets operators of poker and not players of poker, as seen in the section Gambling Laws in Kentucky below.
In terms of finding land poker games to play, this may prove to be a difficult task.  Kentucky does not offer legal poker rooms and while the player won't land in any trouble for playing home poker games for real money, operators risk running afoul of the law for "advancing gambling activity".  Having said that, home poker games can be found in the state.  Those caught running home games could, technically, be found guilty of a Class B misdemeanor and if home (or bar) games take a profit, operators could face felony charges and up to five years in prison.
A number of poker leagues exist in Kentucky, including the Kentucky Blue Poker Crew, the WPT Amateur League and Under the Gun Poker League, a free Texas Hold 'em league played at bars around Lexington, Kentucky. Monthly tournaments are held for top contenders, with prizes to be won.
An interpretation of the law [H] by Professor William F. Weld of Harvard Law School states that, "Kentucky law currently allows for a state lottery and gambling at horse tracks and bingo halls. Legal analysis reveals that the same statutes should be interpreted to include poker since it is predominantly a game of skill, not an illegal game of chance."
Gambling Laws in Kentucky
As stated, gambling laws in Kentucky are covered by state code 528.010; 230.010. A definition of gambling under Kentucky legislation is noted in the section above, Land Based Poker in Kentucky.   The law generally protects those who are merely 'players' of a game by having zero criminal liability, but is not ashamed to go after anyone who could be even vaguely considered an operator.  A person who 'advances gambling activity', is described in Section 528.010(7) as, "when, acting other than as a player, he engages in conduct that materially aids any form of gambling activity. The conduct shall include, but is not limited to, conduct directed toward the establishment of the particular game, contest, scheme, device, or activity involved; toward the acquisition or maintenance of premises, paraphernalia, equipment, or apparatus therefor; toward the solicitation or inducement of persons to participate therein; toward the actual conduct of the playing phases thereof; toward the arrangement of any of its financial or recording phases or toward any other phase of its operation."
In a nutshell, the only forms of legalized gambling in Kentucky are pari-mutuel wagering in licensed settings on dog and horse races.  In addition, the state offers a lottery to its citizens, as well as several forms of charitable gambling such as bingo and raffles. A quirky Kentucky gambling law states under Section 372.010 that anyone who loses money gambling can sue the operator to recover his or her losses.  Should the player not sue within six months, anyone else can sue to recover the losses.
With such a sparse range of options, many Kentuckians head to nearby West Virginia, Ohio, Indiana and Illinois to enjoy quality casino gambling.
Over the years, attempts have been made to expand gambling in the state, especially considering the long and rich history Kentucky has with horse racing and breeding.  However, it seems that it is this very industry that is gambling expansion's biggest obstacle, with much of the opposition coming from the horse racing industry.  Operators of tracks and on-site betting facilities are afraid that the expansion of casino gambling would keep their profits down and, until now, they have successfully blocked any changes to the current legislation.
According to Associated Press [I], lawmakers will attempt to bring Las Vegas style casinos to their jurisdictions in Kentucky during the course of 2014, in the form of potential constitutional amendments that would appear on the 2014 fall ballot should it be approved by the General Assembly which it wasn't.  Supporters of expanded gambling say that the state will benefit economically by the construction of seven planned casinos, with locations determined by companion legislation.
Exceptions to Kentucky's anti-gambling legislation include one of the only types of legal 'gambling devices' – pari mutuel machines that dispense tickets at licensed tracks.  Pinball machines are also allowed as long as they are played "for amusement only" and offer up to 30 free games.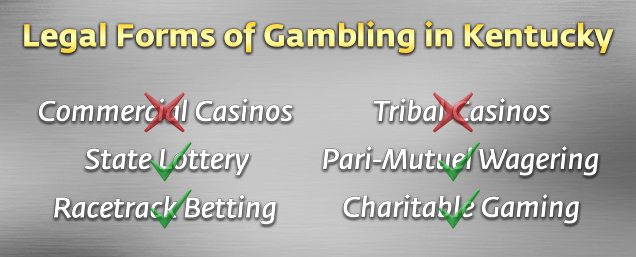 Casinos in Kentucky
There are no brick and mortar casinos – tribal or state endorsed – in Kentucky, although the state's close proximity to states that do offer casino gambling helps players wanting to get in some live gambling.  The Horseshoe Casino in Elizabeth, Indiana, for example, is a popular choice for fans of table games and casino games.  The Horseshoe is considered the birthplace of the World Series of Poker brand and offers 30 lively tables in a top class poker room, with daily games such as No Limit Texas Hold 'em to Seven Card Stud.
In 2015, state representatives again proposed Vegas style casinos to enter their state, up to six. This proposition has not come to fruition yet, but 2016 looks much more promising.
Racing  in Kentucky
Racing in Kentucky boasts a rich history and continues to be one of the state's most revenue generating industries.  The Kentucky Horse Racing Commission [J], an independent agency of state government, is responsible for regulating the conduct of horse racing and pari-mutuel wagering on horse racing and related activities in Kentucky. All statutes and regulations pertaining to racing in Kentucky can be found here [K].
In general, pari-mutuel betting is allowed on horse running, trotting and pacing races, harness races.  Off track interstate wagering is also legal.  Bookmaking, organizing or promoting gambling or possessing gambling records and devices are all banned.
It is possible to wager on the Kentucky Derby and other races online.  The Kentucky Derby promotes twinspires.com [L] as the official site to wager on this annual Grade I stakes race for three year old thoroughbreds.  The KentuckyDerby.com [M] site also provides an option to wager on potential competitors at attractive odds.
Lotteries in Kentucky
Created in 1989, the Kentucky Lottery [N] has earned over $4 billion for the state's treasury, donating more than $2 billion the Kentucky Excellence Scholarship Program and other worthy causes. The lottery offers draw games such as Pick 3 and Pick 4, Cash Ball, Keno, Mega Millions and Powerball, as well as multiple scratch card options. Lottery tickets can be purchased over the internet and through licensed land-based retailers. Players must be at least 18 years of age to purchase or redeem tickets.
In July 2014, the Kentucky Lottery Corporation issued a proposal to launch an online lottery system in Kentucky, which was approved in late November of 2014. On April 18, 2016, the state went live with the purchasing of lottery tickets over the internet to their residents. There is a $1,000 monthly customer spending limit on the eight lottery games that can be purchased online.
Charitable Gambling in Kentucky
Various forms of charitable gambling are allowed in Kentucky, falling under the Public Protection's Cabinet's Department of Charitable Gaming. According to the department it, "provides a regulatory framework allowing charitable gaming to thrive as a viable fundraising mechanism. The department helps to ensure the productivity of charitable gaming through appropriate regulation, oversight and education."
Kentucky allows bingo, raffles, scratch off type tickets and limited types of 'casino nights' (as long as slot machines and video games are not used), all in the name of charity.
Author: Joseph Falchetti (twitter)
(C) Copyright PokerWebsites.com, 2018
References and Citations