"Reviewed by Chuck Humphrey – 50 year Gaming Law Practitioner"
Operating an online poker business in Oklahoma is deemed illegal under the federal Unlawful Internet Gambling Enforcement Act because the state has not passed laws legalizing intrastate online poker or online gambling. Oklahoma Statutes do not directly prohibit online poker, but there is a specific clause in the statutes criminalizing dissemination of gambling information. It is believed that playing online poker at a regulated offshore site would not violate this clause.
Future Outlook of Online Poker in Oklahoma – Estimated date of legalization:
2020-2021
The following graph tracks our expected legislation of online poker in Oklahoma on a state law level. It is currently already legal on a Federal level. This graph monitors the current rise or fall of expected legalization.
Recent Activity
There has been no move in the Oklahoma legislature to introduce bills legalizing online poker. There are indirect indications that the near future outlook of online poker in the state is bleak. Bill SB955 [A] is in the legislative process which seeks to prohibit, "the operation of any lottery game using a video lottery machine or any lottery game which is played using the internet without physical purchase of paper tickets from a lottery retailer on that retailer's premises". If this is the stand taken against Internet lottery, then a similar stand could be expected against online poker.
The office of the Governor took a similar stand with respect to the Concho casino run by the Cheyenne and Arapaho tribes in April 2013, according to a report in The Oklahoman [B]. The tribes began to offer online gambling stating that they were under the impression that the compact with the state allowed it. The general counsel informed them it was not so and compelled the tribes to take down the site. At the time, the tribes even discontinued the play for free online operations. The Oklahoma general counsel indicated that they could host the online gambling site outside of Oklahoma and cater to players outside the US, provided the state was given 20% of the revenue.
However, the federal government has blocked this proposal and the issue was in court according to a January 2014 report [C]. The result of the case made by the U.S. District Court in Oklahoma City in March 2016 was the tribe won the right to offer play money poker to USA customers and real money online poker to international customers. The poker site, pokertribe.com, has been up and running since May 2016 with free play money poker and bingo.
Current Gambling Laws in Oklahoma
Gambling is covered under Title 21 Crimes and Punishment of the Oklahoma Statutes [D]. Section 21-981 [E] provides the definitions. "A "bet" is a bargain in which the parties agree that, dependent upon chance, or in which one of the parties to the transaction has valid reason to believe that it is dependent upon chance, one stands to win or lose something of value specified in the agreement." Certain exclusions have been provided which mainly include future sales of commodities and securities, insurance, charitable gambling, tribal gambling and public events for prizes like rodeos and other shows of contest.
The crux of the law is in Section 21-941, which states, "Except as provided in the Oklahoma Charity Games Act, every person who opens, or causes to be opened, or who conducts, whether for hire or not, or carries on either poker, roulette, craps or any banking or percentage, or any gambling game played with dice, cards or any device, for money, checks, credits, or any representatives of value, or who either as owner or employee, whether for hire or not, deals for those engaged in any such game, shall be guilty of a felony, and upon conviction thereof, shall be punished by a fine of not less than Five Hundred Dollars ($500.00), nor more than Two Thousand Dollars ($2,000.00), and by imprisonment in the State Penitentiary for a term of not less than one (1) year nor more than ten (10) years."
Oklahoma Statutes place participation by players in gambling activities as a lesser crime. Section 21-942 goes on to provide: "Any person who bets or plays at any of said prohibited games, or who shall bet or play at any games whatsoever, for money, property, checks, credits or other representatives of value with cards, dice or any other device which may be adapted to or used in playing any game of chance or in which chance is a material element, shall be guilty of a misdemeanor, and upon conviction thereof shall be punished by a fine of not less than Twenty-five Dollars ($25.00), nor more than One Hundred Dollars ($100.00), or by imprisonment in the county jail for a term of not less than one (1) day, nor more than thirty (30) days, or by both such fine and imprisonment."
The Oklahoma State Lottery, horse racing, and charitable gambling are covered under Title 3A Amusements and Sports of the statutes. Tribal casinos are covered by separate compacts.
History of Gambling in Oklahoma
Land Based Poker in Oklahoma
Poker at Home
There is no exception for home poker games or any form of social gambling in Oklahoma. Therefore, home poker games are illegal as per sections 21-941 and 21-942 cited earlier.
Charity Poker Tournaments
Certain forms of charitable gambling are allowed under Oklahoma statutes, but these do not include casino-style gaming nights and poker tournaments.
Live Poker
Live poker is allowed only at licensed tribal casinos in Oklahoma and nowhere else. The enforcement agencies are known to bust illegal poker games and make arrests. According to a report in Newson6.com [F], in December 2013 an undercover officer attended a poker tournament that was supposed to be free. The moment the organizers asked for payment for chips, they were arrested and booked for gambling. The report stated that the bar where the game was taking place could lose its license and 47 players who had paid for their chips could also face arrest. However, the number of arrests is generally not substantial. The State of Oklahoma Uniform Crime Report for 2012 [G] reported 5 gambling related arrests that year. The corresponding figures for 2011 and 2010 were 11 and 40 respectively.
Gambling Laws in Oklahoma
Summary
Being a frontier state, gambling, particularly roulette and poker, flourished in the saloons in the nineteenth century. In 1916, the anti-gambling law was enacted [H] following a referendum held in the state. It was only later in the twentieth century that certain forms of gambling have been permitted. These include casino gambling at tribal casinos, horse racing, state lottery and charitable bingo.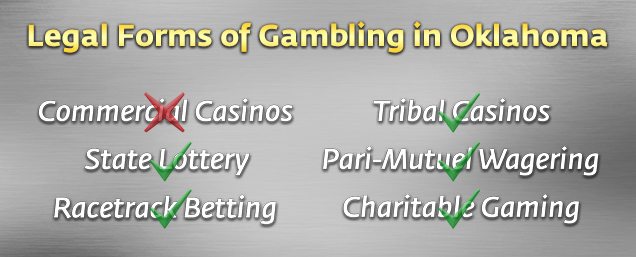 Brick and Mortar Gambling Laws in Oklahoma
Brick and mortar casinos can only be operated by Indian tribes after negotiating compacts with the governor.
In 2004, the Oklahoma State Legislature approved the State Tribal Gaming Act [I] and referred it to state voters. The referendum took place on November 2, 2004 with a positive outcome. The State Tribal Gaming Act allows Class III tribal casinos on reservations to offer electronic bingo games, slot machines, off track betting and non housed card games such as poker. The house is paid a fee up front for dealing the hand. Therefore, the game overcomes the "No house banked games" clause. The rules of the games are slightly altered to offset the fee. Most of the tribal casinos offer live poker, including Texas Hold'em, Five Card Draw, Omaha and Stud. The casinos are regulated by the National Indian Gaming Commission (NIGC) of the U.S. Department of Interior.
In Oklahoma there are over 90 Indian casinos owned by 33 tribes.
Pari-Mutuel Wagering in Oklahoma
The Oklahoma Horse Racing Act [J] was passed in 1983 and became effective on January 1, 1984. The relevant provisions are included in Title 3A of the Oklahoma statutes from Section 200 onwards. As of 2014, there are three race tracks in the state: Blue Ribbon Downs in Sallisaw, the Will Rogers Downs in Claremore and Remington Park in Oklahoma City. In addition, the Fair Meadows Race Track in Tulsa offers simulcast racing throughout the week. Oklahoma laws do not permit placing horse racing bets on phone or online.
In 2004, subsequent to a November referendum, racetracks received approval to add certain casino products [K]. Racinos were established at Oklahoma's three horse tracks. Players 18 years of age and older are allowed to wager on slot machines and video poker games. It is illegal for the machines to dispense coins or cash. Machines must print tickets that are paid by a cashier and the racinos cannot offer table games.
Horse racing in the state is under the oversight of the Oklahoma Horse Racing Commission [L].
Lotteries in Oklahoma
In April 2003, the Oklahoma State Legislature passed legislation referring a state lottery to Oklahoma voters. In November 2004, Question 705 passed in the referendum [M] and the Oklahoma Education Lottery Act came into being. The provisions are in Title 3A, Sections 701-735 of the Oklahoma Statutes. Oklahoma's lottery offers players instant scratch off tickets as well as Lotto drawings. It also subscribes to multi-state drawings such as Powerball and Mega Millions. The Oklahoma Lottery [N] is the regulatory authority.
Charitable Gambling in Oklahoma
Charitable gambling in the state is covered by the Oklahoma Charity Games Act, which is stated under Title 3A Sections 401-427 of the Oklahoma Statutes. Qualified charities are permitted to conduct several forms of bingo and to offer pull tab tickets, called break open tickets in Oklahoma. However, casino gaming nights and card tournaments are not permitted. For qualification, an organization has to fulfill the following requirements: to operate without profit to its members; to be in existence and in operation as a non-profit organization for not less than two years prior to applying for a license; is exempt from taxation by the United States Internal Revenue Code of 1986. The Alcoholic Beverage Laws Enforcement Commission [O] is the regulatory authority for charitable gambling in Oklahoma.
Author: Joseph Falchetti (twitter)
(C) Copyright PokerWebsites.com, 2018
References and Citations