Important VT Notes
Legal for VT poker players to play for real money offshore
No recent discussion to legalize poker over the internet in VT
Vermont has explored bringing the state lottery online
Only the state lottery and charitable gaming are legal
Comm. & tribal casinos, pari-mutuel, & racetracks are illegal
Last updated: July 20, 2018 by Savanah
The state is getting close to legalizing and regulating online daily fantasy sports (DFS) betting. Ronald Hubert, Republican Representative of Vermont, introduced a bill for five straight years (2011-2015) to legalize and regulate one commercial casino but it keeps going no where. Maybe this year (2018) will be the year a new bill is presented and gets passed. Currently, Vermont does not allow commercial or tribal casinos.
RECOMMENDED POKER WEBSITE FOR
VERMONT


Currently, Vermont does not have any commercial or Indian casinos which means they have a ways to go before passing any form of internet poker. Poker players in Vermont looking to play for real money online can do so at BetOnline; a trusted website we recommend.
"Reviewed by Chuck Humphrey – 50 year Gaming Law Practitioner"
The state of Vermont has not specifically legalized the operation of an online poker business or any other form of online gambling. Therefore, all forms of online gambling remain illegal under the state laws and also under the Federal laws because the UIGEA requires the state to have legalized the activity. However, residents of Vermont continue to play real money poker at offshore online sites without any adverse action by law enforcement authorities, just as players in most other states do.
Future Outlook of Online Poker in Vermont – Estimated date of legalization:
2021-2022
The following graph tracks our expected legislation of online poker in Vermont on a state law level. It is currently already legal on a Federal level. This graph monitors the current rise or fall of expected legalization.

Recent Activity
The present reality is that there are no commercial casinos, tribal casinos or racetracks located in Vermont. Every year from 2011-2015 a bill to allow one brick and mortar casino in the state has failed. Based on this, the outlook for online poker is very grim. There is no discussion on legalizing online poker so nothing can be expected in the foreseeable future. Besides, the population of Vermont is too small for intrastate online poker. Therefore, compacts with other states or national connectivity would be required.
Three remote possibilities have been cited. If the neighboring states of New York and Massachusetts legalize online poker, and residents of Vermont start going there to gamble online then it may bring pressure on the legislators of Vermont to do the same. Also, at some point in time the federal government is likely to enact a bill legalizing online poker at U.S. regulated sites. Such a bill would probably permit states to opt out. The state government is looking at selling lottery tickets online and if this goes through then online poker may eventually come on the agenda.
Current Gambling Laws in Vermont
Gambling is covered under Chapter 51 Gambling and Lotteries [A] of Title 13 Crimes and Criminal Procedure of the Vermont Statutes. Sub-Chapter 1 deals with lotteries, Sub-Chapter 2 deals with wagering and gambling, Sub-Chapter 3 deals with bookmaking, pool selling and racing offenses and Sub-Chapter 4 deals with stock gambling. Neither "gambling" nor "bet" have been explicitly defined in the Vermont Statutes. However, the intent is clear from several of the sections [B], some of which are reproduced hereafter.
"§ 2133. – At gaming house – A person who plays at cards, dice, tables or other game for money or other valuable in a common gaming or gambling house that is maintained for lucre and gain, shall be fined not more than $200.00 or imprisoned not more than sixty days, or both. § 2134. Keeping gambling instrument – A person who has or keeps on premises owned or occupied by him implements or other things used in gambling and permits persons resorting to such premises to use such implements or things for the purpose of gambling shall be imprisoned not more than six months nor less than ten days or fined not more than $500.00 nor less than $10.00, or both."
In addition, there is a prohibition on owning, selling or renting gambling equipment such as the slot machines.
History of Gambling in Vermont
1963
Green Mountain Race Track opened for horse racing.
1976
State lottery referendum passed with a 64% vote. Greyhound racing commences at Green Mountain Race Track.
1977
Horse racing ceases at Green Mountain Race Track.
1978
First Lotto tickets sold.
1985
Vermont, New Hampshire and Maine form first US joint lottery game.
1992
Greyhound racing ceases at Green Mountain Race Track.
1995
Greyhound racing banned by Vermont legislature.
2003
Vermont joins Powerball.
2011
Bill to allow one casino introduced, but lapsed.
2015
A bill to allow one casino has been introduced every year since 2011, but nothing has been passed thus far.
Poker at Home
It is the opinion [C] that home poker games are not legal in Vermont. Poker is illegal as per the understanding of the Vermont Statutes and there is no exemption for home poker or social gambling. Section 2141 of Chapter 51, Title 13 states, "A person who wins or loses money or other valuable thing by play or hazard at any game, or by betting on such play or hazard, or sharing in a stake wagered by others on such play or hazard, shall be fined not more than $200.00 nor less than $10.00."
Charity Poker Tournaments
Poker tournaments for charity subject to prescribed rules and regulations are permitted in Vermont. Further details have been provided in the section on charitable gambling.
Live Poker
Live poker is not permitted in Vermont, except for charity.
Gambling Laws in Vermont
Summary
Like in other pre-Independence colonies, gambling was prevalent in Vermont in the 1700s. This continued till the early 20th century. Then the laws were tightened. Now Vermont has only two form of legalized gambling. One is a state lottery and the other is charitable gambling. The office of the Attorney General states that professional gambling is illegal in Vermont.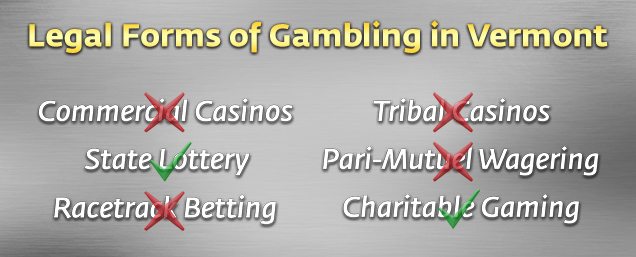 Brick and Mortar Casinos in Vermont
There are no private or state owned casinos in Vermont. In early 2011, Republican Ron Hubert introduced a bill that would allow one and only one casino to be built. The proposal stated that The Vermont Lottery Commission would oversee the daily activities of the casino. In order to purchase the license to run that casino a company would have to put up $5 million (now $6 million in his 2015 bill) upfront. Although the bill met with some early support, House speaker Democrat Shap Smith stated [D] that he, "does not support casinos in Vermont." The bill lapsed when the session ended. Hubert has introduced a similar bill such as, H.93 [E], for five straight years; 2011-2015. It has been referred to the Committee on General, Housing and Military Affairs and has yet to pass.
There are no tribal casinos in Vermont. However, the Abenaki Indian [F] tribe is making a concerted effort to declare their presence within the state, and should that happen they are likely to pitch for the state's first casino.
Pari-Mutuel Wagering in Vermont
Though licensed horseracing is legal in Vermont, no horseracing tracks are currently open for business. The state's only racetrack Green Mountain Race Track was located at Pownal. It was opened in 1963 for both thoroughbred and standardbred horse racing. Both were discontinued by 1977. The track was converted to greyhound racing which operated from 1976 to 1992 but had to close amid pressure from animal rights activists. Vermont banned the sport in 1995.
Lotteries in Vermont
Vermont approved of a state lottery through a statewide referendum in 1976, which passed with 64%. In 1978, the Vermont Lottery [G] went into operation with sale of Lotto drawing tickets and scratch off tickets. In 1985 it joined up with New Hampshire and Maine to found the first US joint lottery game. Lotto drawings include multi state drawings such as Powerball (joined only in 2003) and Mega Millions. Subscription lottery tickets can also be purchased for up to a period of 52 weeks.
In 2012, Vermont began exploring ways to bring the lottery online. The state legislature ordered the Vermont Lottery Commission to explain how an online lottery would work, and the potential impact it could have on sales. However, lottery tickets cannot be purchased through the Internet as of yet.
Charitable Gambling in Vermont
Charitable gambling laws are covered under Section 2143 [H] of Sub-Chapter 2, of Chapter 51 of Title 13. Only not for profit organizations, which must be charitable, educational, religious, or civic in nature, are permitted to offer games of chance. Only raffles, bingo, card games, and tickets that break open are allowed. Slot machines are not allowed. One important fact from the online gambling point of view is that bingo games in which the numbers picked are communicated electronically or by satellite to players at another location are not allowed.
These charitable organizations are allowed to legally hold casino nights. However, a single organization can only legitimately hold casino nights once per calendar quarter and a maximum of three times a year. The rules specify further restrictions on charitable gambling, prizes that can be offered and games that can be played. Poker is not specifically listed as a permitted game but is included as a card game.
Author: Joseph Falchetti (twitter)
(C) Copyright PokerWebsites.com, 2018
References and Citations