Important OR Notes
Legal for OR poker players to play for real money offshore
No current movement on passing internet poker in Oregon
Oregon allows the placing of horse racing wagers online
Tribal casinos, pari-mutuel, charity, lottery are allowed
Commercial casinos and racetrack betting are illegal
Last updated: August 9, 2018 by Savanah
Gaming revenue in the state was up about 10% last year from the previous year which is the third best among USA states. Oregon Governor, Kate Brown, is against casino expansion unless it's run by the state government. The state lottery is expected to generate $1.2 billion in revenue in the current two-year budget cycle.
RECOMMENDED POKER WEBSITE FOR
OREGON


Oregon has not yet passed state licensed online poker, but they have legalize marijuana; this shows they listen to what their people want. We highly recommend BetOnline for Oregon poker players as a legit site to play at.
The Oregon Revised Statutes do not directly address online poker or online gambling. However, the statutes make it illegal to accept payments through the Internet at an operated poker site in Oregon for unlawful gambling activities. Since Oregon has not specifically legalized the operation of online poker websites within its borders, the activity would be deemed illegal under the Federal Unlawful Internet Gambling Enforcement Act. The latest interpretation of this Act is that online gambling business are illegal unless a state passes laws legalizing and regulating intrastate online gambling.
Future Outlook of Online Poker in Oregon – Estimated date of legalization:
2020-2021
The following graph tracks our expected legislation of online poker in Oregon on a state law level. It is currently already legal on a Federal level. This graph monitors the current rise or fall of expected legalization.

Recent Activity
There are mixed signals about the future of online poker in Oregon. Accepting payments for unlawful gambling through the Internet is illegal. However, the law does not criminalize the player and the state for those who gamble over the internet. Online gambling through offshore regulated sites is prevalent in Oregon, as it is in the rest of the United States. Oregon laws allow placing of horse racing bets through the Internet, which is a positive sign, but citizens voted against private brick and mortar casinos in a referendum, which is a negative sign.
There is no movement in the state legislature to legalize online poker or any form of online gambling. No such bills are pending in the state House or Senate.
Current Gambling Laws in Oregon
In the Oregon Revised Statutes [A], gambling is covered under Volume 4 (Criminal Procedure), Chapter 167 (Offenses Against Public Health, Decency and Animals). Gambling is defined in Section 167.117(7) [B]: "Gambling means that a person stakes or risks something of value upon the outcome of a contest of chance or a future contingent event not under the control or influence of the person, upon an agreement or understanding that the person or someone else will receive something of value in the event of a certain outcome."
Gambling specifically excludes bona fide business transactions valid under the law of contracts for the purchase or sale at a future date of securities or commodities, and contracts of indemnity of life, health or accident insurance. Contests of chance are not gambling under certain conditions that are as follows: the contest is played for some token other than money subject to specified provisions; the contest falls under social games or the contest falls under permissible charitable gambling.
In many states, the law has ambiguity in activities where both skill and chance are involved. However, Section 167.117(6) of the Oregon Revised Statutes clarifies that the outcome of a contest must depend, "in a material degree upon an element of chance, notwithstanding that skill of the contestants may also be a factor".
Lottery is covered under Volume 11, Chapter 461; racing is covered under Volume 11, Chapter 462 and charitable gambling is covered under Volume 11, Chapter 464. All activities that fall under the definition of gambling and are not specifically permitted under law are deemed to be illegal.
Chapter 167 also classifies various types of gambling offenses into misdemeanor and felony and specifies fines payable. For example, Section 167.122 states that a person commits the crime of unlawful gambling in the second degree if the person knowingly places a bet with a bookmaker or participates in unlawful gambling as a player. Unlawful gambling in the second degree is a Class A misdemeanor. Section 161.635 specifies that the fine for a Class A misdemeanor shall be a maximum of $6,250.
Section 167.109 makes it illegal for a person engaged in an Internet gambling business to knowingly accept, payments in connection with the participation of another person in unlawful gambling using the Internet. The modes of payments include, but are not limited to, credit cards, electronic funds transfers, funds transmitted through a money transmission business, checks and drafts. Violation of this section is a Class C felony. Section 167.112 lists exemption, which consist in main of funding legalized gambling activities.
History of Gambling in Oregon
1933
Pari-mutuel Wagering Act passed and Oregon Racing Commission established. Greyhound racing started.
1946
Portland Meadows horse racing track opened.
1971
Oregon legalizes Casino Nights for charity fund raising.
1973
Oregon legalizes social gaming.
1976
Constitutional amendment adds bingo and raffles to charity gaming.
1984
Oregon voters authorize a state-run Lottery. Power to sanction casinos taken away from the Legislative Assembly through constitution amendment.
1985
Oregon State Lottery begins with scratch tickets.
1989
Oregon becomes the only state to offers state-operated sports betting with the Sports Action lottery.
1991
Private video lottery terminals banned.
1992
Oregon Lottery starts video lottery terminals.
1994
Cow Creek Tribe opens first Native American casino in Oregon in Canyonville.
1995
Bill passed by legislature allowing video poker terminals at race tracks vetoed by governor.
2004
Greyhound racing discontinued.
2005
Texas Hold'em poker allowed at charity events.
2007
Oregon Lottery discontinues Sports Action.
2012
Ballot to allow commercial casinos in Oregon was rejected by over a 70% vote.
2015
In May, a new tribal casino opened, the Three Rivers Casino Coos Bay.
Land Based Poker in Oregon
Poker at Home
In Oregon, home poker games are classified as "social games", which are legal according to Section 167.117(7c) [C] of the Oregon Revised Statues. Section 167.117(21) defines "social game" as, (a) A game, other than a lottery, between players in a private home where no house player, house bank or house odds exist and there is no house income from the operation of the social game; and (b) If authorized pursuant to ORS 167.121, a game, other than a lottery, between players in a private business, private club or place of public accommodation where no house player, house bank or house odds exist and there is no house income from the operation of the social game. Section 167.121 empowers counties and cities to authorize, regulate and license social games in private businesses, private clubs or in places of public accommodation.
Charity Poker Tournaments
Charity gambling is permitted under the Oregon Revised Statutes. In 2005, legislation was passed to include Texas Hold'em poker under the category of Monte Carlo games, subject to stipulated conditions. In addition for Texas Hold'em, players are limited to spending no more than $200, including the original buy-in, as well as all "add-ons" and "re-buys". Cash prizes cannot be awarded to the winners.
Live Poker
Live poker is legal in Oregon only as social gaming and in Indian tribal casinos.
Gambling Laws in Oregon
Summary
Oregon offers more gambling opportunities than many other states. These include horse racing, state lottery, Indian casinos and charitable and social gambling. However, private or state owned brick and mortar casinos are not permitted.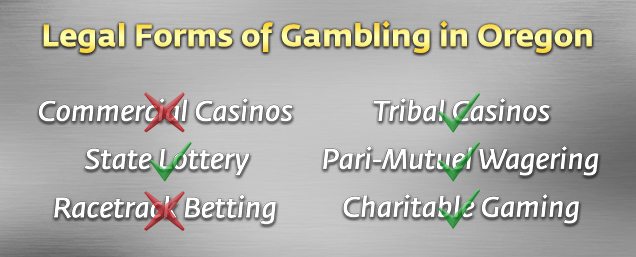 Brick and Mortar Gambling Laws in Oregon
Oregon has a long but unsuccessful history of trying to legalize private or state owned casinos. In 1972, John Haviland, owner of the Paramount Theatre in Portland, unsuccessfully proposed converting it into a state-operated casino. A constitutional amendment in 1984, Section 4(10) [D], took away the power from the Legislative Assembly authorize casinos. In fact, the amendment stated that the Legislative Assembly shall prohibit casinos from operation. Since then ballot measures to allow casinos have been regularly defeated. The latest was in 2012. The Oregonian reports [E] that measures to allow private casinos in Oregon and to create a casino complex near Portland were defeated in a resounding manner.
In 1988, the federal Indian Gaming Regulatory Act gave the right to tribes to offer gambling at their reservations, subject to executing compacts with the state. Initially, only the Coquille and Siletz tribes operated bingo halls. In 1993, the Cow Creek band was the first tribe to successfully negotiate a compact with the state. The Seven Feathers Casino opened in Canyonville offering video poker and blackjack in addition to bingo. By 2013, ten casinos operated by the nine Indian tribes of Oregon were fully functional. The complete list is available here [F]. The casinos offer electronic slots and video poker machines, gaming tables for blackjack and poker and bingo and keno. The Indian tribes have been trying to open casinos on non-Indian land, but have not received permission from the state.
Pari-Mutuel Wagering in Oregon
In 1933, the Pari-mutuel Wagering Act was passed to permit betting on greyhound and horse racing. The Oregon Racing Commission [G] was established to regulate and oversee this gambling activity. The laws pertaining to racing are covered under Volume 11, Chapter 462 of the Oregon Revised Statutes.
Greyhound racing was held from 1933 to 2004 at Multnomah Stadium and at Multnomah Greyhound Park. It was discontinued due to the sport's declining popularity. Similarly horse racing as a part of "Oregon summer fair circuit" was discontinued since 2000 due to low revenue and a deteriorating grandstand.
The only form of pari-mutuel wagering presently operating is on Quarter Horse and Thoroughbred racing. In Oregon the races take place at Portland Meadows, which opened in 1946. Sections 462.700 to 462.740 permit off-track betting operated under the Portland Meadows license. Off-track betting is conducted at 11 sites throughout the state. In 1997, Oregon authorized betting "hubs" that would accept wagers electronically from out-of-state bettors on horse and dog races all over the country. 10 hubs are operating in the state.
Lotteries in Oregon
The Oregon Lottery was established after an amendment to the Oregon Constitution approved by 66% of voters in 1984. The laws governing the lottery are covered under Volume 11, Chapter 461. The Oregon Lottery was instituted in response to citizens spending large sums on the state lottery of neighboring Washington. The lottery commenced operations in 1985 with scratch card tickets and a jackpot game called Megabucks. The lottery operations are under oversight of the Oregon State Lottery Commission [H]. Oregon Lottery is a member of the national Multi-State Lottery Association and offers jackpot products Powerball and Mega Millions.
In 1989, the lottery added Sports Action, in which players bet on NFL football games. Though in 1992 sports betting was banned federally under the Professional and Amateur Sports Protection Act, a grandfather clause allowed Oregon Lottery to continue sports betting. However, Sports Action was discontinued after the 2006-07 NFL season, as a condition of Oregon being allowed to host games in the NCAA Men's Division I Basketball Championship.
In March 1992, Oregon Lottery rolled out the first video poker games. Line games, similar to slot machines, were added in 2005. By 2011, over 12,000 terminals were deployed in Oregon.
Charitable Gambling in Oregon
The laws pertaining to charitable gambling are covered under Chapters 167 and 464 of the Oregon Revised Statutes. The activity is under the oversight of the Oregon Department of Justice [I]. Some of the important sections are given below.
Section  464.270 Licensing requirements. (1) The Department of Justice shall not issue a license to conduct bingo, lotto or raffle games or Monte Carlo events to any organization unless: (a) The organization is exempt from payment of federal income taxes as a charitable, fraternal or religious organization; and (b) The organization has held such tax exempt status for at least one year preceding its application to the department for a license and during which time the organization engaged primarily in its charitable, fraternal or religious purpose.
Section 167.118 (2) A charitable, fraternal or religious organization may not operate bingo, lotto or raffle games or Monte Carlo events except at such locations and upon such days and for such periods of time as the department authorizes pursuant to this section and ORS 464.250 to 464.380, 464.420 and 464.450 to 464.530.
Section 167.118 (3)(a) An organization licensed by the department to operate bingo or lotto games may not award a prize exceeding $2,500 in value in any one game. An organization licensed by the department to operate a Monte Carlo event may not present any prize of money, or a cash equivalent, to any player.
Author: Joseph Falchetti (twitter)
(C) Copyright PokerWebsites.com, 2018
References and Citations