Important DE Notes
DE has state-regulated online poker and casino gambling
iGaming launched in early November 2013
888 Holdings runs the only iGaming site in Delaware
Nevada & Delaware created an iPoker compact in Feb. 2014
DE is 1 of 3 states that can offer sports betting lotteries
Last updated: July 14, 2018 by Savanah
Delaware's online gambling revenue in May was $174,102.35 , which is down from May of last year which had total revenues of $315,698.73. Their state compact with Nevada in 2014, and recently with New Jersey (poker only) which went live on May 1st, has helped increase player pools and overall revenues. Delaware became the first state to legalize sports betting outside of Nevada. They started accepting wagers on June 5th.

For nearly a decade, casinos in Delaware have been fighting for a tax relief...

Delaware will become the first state to expand its sports betting landscape,...
Delaware was the second state in the United States to legalize intrastate online poker. Simultaneously, the state legalized the complete range of online casino games for intrastate gambling. Only players residing in Delaware can gamble online at sites licensed by the state. As a result, this intrastate online gambling automatically becomes legal under the federal UIGEA.
Future Outlook of Online Poker in Delaware
In order to understand the future outlook of online poker in Delaware, it is essential to first look at the current scenario. Delaware offers poker and casino-style games, including blackjack, roulette, video poker and slots, in its online gambling portfolio. The online poker variants include No Limit Texas Hold'em, Fixed Limit Texas Hold'em and Pot Limit Omaha and Pot Limit Omaha High/Low. The online casino and poker offerings are powered by a single software provider, which is a joint venture between 888 and Scientific Games. The three Delaware racinos, Delaware Park, Dover Downs and Harrington Raceway, have been issued licenses to operate branded online gambling portals powered by the single gaming platform. Online gambling has been put under the Delaware State Lottery.
Legalized intrastate online gambling went into operations in Delaware in November 2013. In the following months the revenue generated from online gambling has been far below the projected estimates. Since the legislation requires a threshold amount to be paid to the state, the operators have not earned a cent. The reason given has been that the population of Delaware is too small to make intrastate gambling viable. The state has already taken some steps [A]. A geolocation problem showed Delaware residents living near the Pennsylvania and Maryland border prevented them from accessing the online gambling sites, but this has been fixed. Macintosh operating system users can now gamble online and some new online casino games have been added.
Since 2015, Delaware residents can access the remote gambling sites on their mobile phones. The biggest step is the signing of the compact with Nevada [B]. In February 2014, the governors of Delaware and Nevada signed an agreement to allow players from both states to play poker at online sites that have been licensed by either state, thus increasing the liquidity. Delaware's shared player pool with Nevada officially went live on March 24th, 2015. This has boosted the liquidity and revenues on Delaware's single online poker site, powered by 888, but not as much as the state was hoping.
Total Online Gambling Revenue in Delaware (Poker and Casino Games):
2018 Total Revenue:
January – $177,061.29
February – $217,125.85
March – $167,654.94
April – $188,845.04
May – $174,102.35
2017 Total Revenue:
January – $194,669.98
February – $250,575.14
March – $151,811.46
April – $202,531.82
May – $315,698.73
June – $202,056.10
July – $191,026.46
August – $147,067.39
September – $170,763.31
October – $209,745.51
November – $159,757.03
December – $209,815.99
2016 Total Revenue:
January – $190,829.29
February – $229,789.82
March – $260,539.30
April – $267,801.30
May – $282,112.30
June – $304,874.30
July – $281,137.09
August – $244,387.43
September – $229,185.03
October – $179,996.59
November – $206,246.55
December – $229,987.10
2015 Total Revenue:
January – $132,074.84
February – $143,101.39
March – $146,188.07
April – $132,154.24
May – $133,697.20
June – $108,692.41
July – $142,083.40
August – $158,979.70
September – $156,125.74
October – $182,969.50
November – $182,664.45
December – $180,109.82
2014 Total Revenue:
January – $145,667.62
February – $167,333.52
March – $207,038.41
April – $240,762.63
May – $175,410.49
June – $187,332.18
July – $172,496.41
August – $172,853.14
September – $145,022.22
October – $130,268.65
November – $177,532.94
December – $169,600.36
Current Gambling Laws in Delaware
Gambling is covered in the Delaware Code in Title 11 Crimes and Criminal Procedure Chapter 5 Specific Offenses Subchapter VII Offenses Against Public Health, Order and Decency. The clauses relating to gambling begin from Section 1401 onwards [C]. Section 1432 (d) defines gambling offense as "offense defined in Sections 1401-1431 of this title".
Gamblinglawmasters.com [D] clarifies based on court judgments that Delaware considers something to be gambling if it contains the three factors of prize, consideration and chance. Therefore, it seems that gambling in Delaware is defined as one giving up something of pecuniary value in hopes of winning a prize at a game of chance. Permitted gambling activities are specifically exempt from the general definition. Most gambling related offenses are class A misdemeanors.
History of Gambling in Delaware
1760
First horse racing facility built in Newark.
1933
Delaware Racing Commission established.
1936
Delaware legislation allows 30 racing days per year.
1937
Delaware Park opens.
1969
Dower Downs opens for both horse and auto racing.
1974
Delaware Lottery established.
1992
Delaware exempt from PASPA.
1995
Video lottery terminals sanctioned at the three racinos.
2004
Charitable poker tournaments permitted.
2009
Federal court limits Delaware sports gambling to NFL parlays.
2010
Table games permitted at the three racinos.
2012
Governor signs Delaware Gaming Competitiveness Act allowing online gambling.
2013
Legalized and regulated online gambling goes live in Delaware.
2014
Online poker compact signed with Nevada.
2015
888 Holdings launches a multi-state network with Nevada in March.
Poker at Home
The state of Delaware does not have any laws that specifically prohibit home poker games or private or social gambling of any kind. However, the state has not included home poker games in the exception to the general prohibition on gambling found in Section 17 of Article II of the Delaware Constitution [E]. Therefore, it can be concluded that home poker games would not be legal in Delaware. However, it has been reported [F] that there exist precedents from the State vs. Titlemen and State vs. Panaro cases that acknowledge that social games of poker are not breaking the law, provided the house takes no consideration.
Charity Poker Tournaments
Charity poker tournaments are allowed under Delaware laws subject to certain conditions being met. More details have been provided under the section on Charitable Gambling.
Live Poker
All the three racinos offer live poker cash games and tournaments.
Gambling Laws in Delaware
Summary
The opportunities for gambling in Delaware include the three racinos that offer online gambling, casino gambling and horse racing. The Delaware Lottery offers limited sports betting along with standard lottery products. Charitable gambling is also allowed.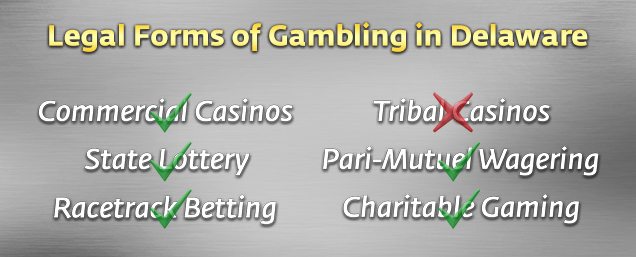 Brick and Mortar Casinos in Delaware
Brick and mortar casino gambling in Delaware takes place at the three casinos attached to the racetracks at Delaware Park, Harrington Raceway and Dover Downs.
Delaware Park offers live poker 24 hours a day and seven days a week, except during Easter and Christmas. Tournaments are organized in summer and winter. The casino also offers live table games that include Blackjack, Roulette, Craps, Ultimate Texas Hold 'em, Three and Four Card Poker, Pai Gow Poker and Mississippi Stud. The highlight is a slots arcade spread on two levels and containing 2,500 slots machines.
Harrington Raceway offers over 1,800 slots from market leaders like IGT, Bally and Aristocrat, friendly poker games and table games that include Blackjack, Roulette, Craps, Ultimate Texas Hold 'em, Three and Four Card Poker and Mississippi Stud.
The Dover Downs poker room has 18 tables and hosts plenty of poker tournaments along with cash games. The 40 casino tables offer the same wide range of games as the other two Delaware casinos. Almost 2500 slots machines are available with some of them allowing wagers of $100 a spin.
There are no tribal casinos in Delaware.
Pari-Mutuel Wagering in Delaware
Horse racing is covered under Title 28 Sports and Amusements. Horse Racing is covered under Chapter 3; Horse Racing in Kent County is covered under Chapter 4 and Harness Racing is covered under Chapter 5. Delaware Thoroughbred Racing Commission [G] and Delaware Harness Racing Commission [H] regulate these two different forms of horse racing. Both operate under the Department of Agriculture.
Currently, there are three racing venues in Delaware. Delaware Park hosts live thoroughbred racing. Harrington Raceway features harness racing. Dover Downs features live harness racing and NASCAR auto racing. All three have casino facilities attached and are referred to as racinos.
Lotteries in Delaware
The Delaware Lottery [I] was established in 1974. Lottery products were introduced from 1976 beginning with the instant game "Diamond Instant Dollars". Along with a range of its own products, the Delaware Lottery subscribes to the national Powerball and Mega Millions.
Delaware Lottery is different from other state lotteries in significant ways. It is one of the only four states where some kind of wagering on sports is legal under the federal Professional and Amateur Sports Protection Act of 1992. In August 2009, a federal court limited sports gambling in Delaware to NFL parlays, based on what Delaware had offered prior to 1992, when the state tried to expand its sports betting activities. The details of the Delaware Sports Lottery can be found on the Delaware Lottery web site.
After 1995, the state lottery sanctioned video lottery terminals at the three racinos and from January 2010 table games regulated by the state lottery were permitted. The Delaware Lottery also regulates the online gambling activities. The minimum age to play the Delaware Lottery is 18, except for video lottery, sports betting and online gambling, which have a minimum age of 21. Delaware Lottery is covered under Title 29 State Government Chapter 48 Lotteries in the Delaware Code.
Charitable Gambling in Delaware
Delaware allows recognized charitable organizations to conduct bingo, raffles and No-Limit Texas Hold'em poker tournaments. Casino games like craps, roulette, slot machines and baccarat are excluded. Click here [J] for the detailed rules and regulations under which charitable gambling is conducted. They are covered in the Delaware Code under various chapters under Title 28 Sports and Amusements. The Delaware Gaming Control Board is the oversight agency.
Chapter 18 of Title 28 covers No-Limit Texas Hold'em poker tournaments. Poker has been allowed for charity gaming since 2004. Rule 5.0 of Regulations Governing Texas Hold'em Poker states "No prize greater in amount or value than $5,000 shall be offered or given in any single tournament and the aggregate amount or value of all prizes offered or given in any single tournament shall not exceed $13,000."
Author: Joseph Falchetti (twitter)
(C) Copyright PokerWebsites.com, 2018
References and Citations