Poker Laws in Pennsylvania
"Reviewed by Chuck Humphrey – 50 year Gaming Law Practitioner"
Recent Activity
A bill (HB 271) to legalize online poker and casino games passed the Senate Community, Economic & Recreational Development Committee (11-3 vote) and the Senate Appropriations Committee (24-2 vote) on May 23, 2017. The next day, on May 24th, the full Senate passed this bill by a 38-12 vote. The bill then went to the House which passed (102-89 vote) on June 7, 2017. The House altered the bill, mainly the tax rate percentage, so it went back to the Senate for a vote and got passed both chambers on October 26, 2017. Four days later, on October 30th, the governor signed the bill into law.
Under this bill, HB 271, internet poker and most casino games will be taxed at a 16% rate while slots will be at 54%. This legislation also legalizes an online lottery as well as daily fantasy sports (DFS) betting. Pennsylvania is now the fourth state in the U.S. to have legal online poker along with Delaware, Nevada, and New Jersey.
Online gambling bill HB 649 got approved on November 18, 2015, 18-8 vote, from the House Gaming Oversight Committee. The bill then went to the House but got shelved until May 24, 2016 when the House of Representatives did not pass the bill by a 81-107 vote. However, on June 28, 2016 the House voted again on HB 649 and it passed with a 114-85 vote. The bill then went to the Senate for consideration but was shelved until 2017.
In 2015, a record four online gambling bills were introduced in the PA State House and Senate. The first of these, HB 649 [A], introduced by Representative John Payne in late February 2015, is an online gambling bill that would authorize poker along with casino gambling. Pain's bill has a minimum age of 21 and a tax rate of 14% of gross revenue, which is to be paid weekly. The bill also has a $5 million fee for licensing, contains no bad actor clause, and has provisions for interstate pooling.
Next is HB 695 [B], introduced by State Representative Nick Maccarelli in March 2015. Maccarelli's bill is nearly identical to a bill he proposed in 2014 that only legalized online poker. Similar to Payne's bill, Maccarelli proposes a 14% tax and $5 million in licensing fees. It contains bad actor language, which would likely keep PokerStars and Amaya Gaming from gaining a license to operate in PA.
Another bill, HB 920 [C], was introduced in April 2015 by State Rep. Tina Davis. She previously introduced an effort to legalize casino gambling and poker in 2013, but the bill never made it out of committee. The bill requires in-person registration and has a $5 million licensing fee. The tax rate is notably higher than the previous two bills, at 28%. The bill doesn't mention much in regards to interstate compacts but allows PA to consider the option if it becomes available.
SB 900 [D], which was introduced in the State Senate by a number of key Republicans. The bill would legalize both online poker and casino gambling. Kim Ward authored the bill, and it is co-sponsored by Elder Vogel and Joseph Scarnati. This piece of legislation is drastically different from the other bills introduced. Most notable is the absurdly high tax rate. The state will take a whopping 54% percent of gross revenue under Ward's bill.
PA residents familiar with gaming law may note that this is close to the 55% tax on slot machine revenue currently imposed on the state's brick-and-mortar casinos. The immense tax burden on slots has resulted in returns for players that are far worse than neighboring states. [E] Licensing will be available for casinos that have a physical presence in the state, and there is no bad actor clause. The permit fee is an introductory $10 million for the first five years and then a $1 million annual fee after that.
As far as sign-ups, the bill requires players to register at land-based casinos before they can deposit online. However, players can deposit at online sites if they are 20 miles or more away from the casino. Critics of the bill have pointed to the high tax rate and in-person registration requirement as two potentially devastating drawbacks to the bill.
History of Gambling in Pennsylvania
(More information found here [F])
Land Based Poker in Pennsylvania
Poker fans in Pennsylvania have a number of regulated options available to them.  Visitors to the state's casinos and horse racing tracks can play poker in poker rooms hosted by these locations.
Home poker games seem to be somewhere in a grey area, based on the fact that there is no specific definition of this activity under Pennsylvania gambling laws.  It does seem to be illegal to host or operate home poker games based on Section 5513(2) [H] of Pennsylvania's gambling laws which makes it a misdemeanor if anyone, "allows persons to collect and assemble for the purpose of unlawful gambling at any place under his control."
One of the most controversial land poker cases in Pennsylvania was the State vs Watkins, where a Columbia County Court ruled that poker was a game of skill and not luck.  The Judge Thomas A. James, therefore ruled that poker did not constitute illegal gambling according to state statutes.  "This court finds that Texas Hold'em poker is a game where skill predominates over chance", he said. "Thus, it is not "unlawful gambling" under the Pennsylvania Crimes Code."
Unfortunately, the Pennsylvania Superior Court overturned Judge James' ruling that, "poker is the one and only [card] game where a skilled player may hold bad cards for hours and still win the money", and in a 2-1 ruling found that poker is a game that is dominated by luck.
Gambling Laws in Pennsylvania
Gambling laws in Pennsylvania are governed by code 18 5513 et seq; 4 525.101 et seq [I], where it is determined that the three elements of gambling are consideration, element of chance and reward. Pennsylvania law defines what 'unlawful' means, but does not define what 'gambling' means, making for some interesting interpretations of the law.
For the record, unlawful is defined as follows: "As used in this section, the term 'unlawful' means not specifically authorized by law."  As such, it can be understood that gambling has to be specifically made lawful by the state in order for it to be considered legal.  Yet, again, there is no clear definition of what the term 'gambling' constitutes.
Residents of the state are able to enjoy a satisfactory range of gambling options, including playing the state lottery, wagering on races at a number of state race courses, pari-mutuel wagering at off-track locations, playing slots and table games at state racetracks and visiting commercial casinos which are licensed by the state.  Interestingly, there are no tribal gambling options in Pennsylvania.  In some instances, charitable gambling is also available in the state.
Gambling legislation and licensing is controlled by the Pennsylvania Gaming Control Board [J] which, according to its mission statement, "will protect the interest of the public by ensuring the integrity of legalized gaming through the strict enforcement of the law and regulations, the licensing of qualified individuals and entities, and fulfilling the objectives of limited gaming in the Commonwealth to deliver a significant source of revenue, assist the horse racing industry, provide broad economic opportunities and enhance tourism."
You need to be 21 years of age to wager at a land based casino, but if you wager on horses at a racino, you only need to be 18 years old.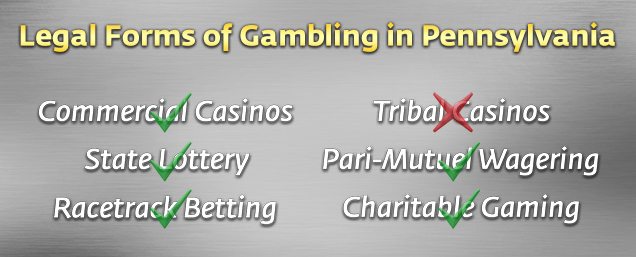 Casinos in Pennsylvania
According to the American Gaming Association, there are 12 commercial casinos in operation in Pennsylvania, employing over 10,000 people.  The first one opened in 2007. Gaming tax revenue brings in nearly $1.5 billion each year.  Some of the big names in the US gambling industry are represented in Pennsylvania, such as Harrah's and Sands.  The Harrah's Philadelphia Casino and Racetrack is located in Chester, while the popular Sugarhouse Casino is located in Philadelphia.
Up until 2010, casinos were only allowed to offer slot games and electronic games, however a law signed by Governor Rendall in January of that year finally allowed licensed casinos to offer card games such as poker and blackjack as well. Large casinos are allowed to have 250 tables and 5,000 machines, while resorts are allowed to offer 50 tables and 600 slot machines.
Pennsylvania casino machines need to return a minimum of 85% and are open 24 hours a day.  Admission is free into these locations.  All casinos offer slots, video poker, craps, blackjack, roulette, three card poker, mini baccarat and Pai Gow Poker.  Some also offer poker, Let it Ride, Big 6 Wheel, Spanish 21, four card poker and casino war.
Racetracks in Pennsylvania
Pennsylvania is home to six state of the art racing and gaming complexes [K], which were constructed following the introduction of the 2004 Race Horse Development and Gaming Act that expanded gambling in the state.  The six, namely Harrah's Philadelphia, The Meadows, Parx Racing, Penn National, Pocono Downs and Presque Isle Downs, offer free admission and parking.
Lotteries in Pennsylvania
The lottery in Pennsylvania is operated by Pennsylvania Lottery [L] which was first launched in 1971. Over 60% of the proceeds are paid as prizes, while another 30% funds state programs – mainly programs for the elderly.  The rest goes towards retailer and vendor commissions and operating expenses.  The Pennsylvania Lottery offers draw games such as the Daily Number, Big 4 and Cash 5, and also takes part in multi jurisdictional games such as Powerball and Mega Millions.  You have to be 18 years and older to play the lottery in Pennsylvania.
Charitable Gambling in Pennsylvania
State level regulations, namely the Pennsylvania Local Option Small Games of Chance Act, govern charitable gambling in Pennsylvania [M], although in some instances local governments have been known to regulate these activities in these areas.  As long as games such as bingo, 50-50, daily and weekly drawings, pull tab games, punch-boards and raffles are conducted in accordance with the law, they are allowed in Pennsylvania. Charitable games that are considered illegal include quarter auctions, Night at the Races, Monte Carlo/casino/poker nights (outside of authorized casinos), sports betting and number games (outside the Pennsylvania Lottery).
Author: Joseph Falchetti (twitter)
(C) Copyright PokerWebsites.com, 2018
References and Citations