Poker Laws in North Dakota
Important ND Notes
Licensed poker sites offshore legally allow ND players
Currently, nothing in the ND pipeline regarding online poker
Most likely would enter into compacts due to its small pop.
Racetracks, tribe casinos, pari-mutuel, charity, lottery legal
Commercial casinos are not allowed in North Dakota
Last updated: July 26, 2018 by Savanah
Gaming news has been pretty slow in North Dakota. The state doesn't appear to be moving forward with significant gambling expansion anytime soon. They already boast 30+ gambling establishments throughout the state. Officials are looking to help improve any problem gambling issues they might have.
RECOMMENDED POKER WEBSITE FOR
NORTH DAKOTA


Being one of the top five least populated states in the USA, North Dakota won't be legalizing internet poker within their state anytime soon unless they pass it on an interstate level. North Dakotans looking to play poker online for real money can do so at the licensed offshore website BetOnline.
Operating an online poker business is not legal in the state of North Dakota, with the state having strict laws pertaining to all forms of gambling. There is no legal framework set up – or in the pipelines – to license online poker operators, nor is there any legislation that would indicate impending changes to the current law. While it is illegal – by default – to operate online poker sites in North Dakota, it has to be said that many North Dakotans can be found playing at offshore online poker sites today, legally.
Future Outlook of Online Poker in North Dakota – Estimated date of legalization:
2020-2021
The following graph tracks our expected legislation of online poker in North Dakota on a state law level. It is currently already legal on a Federal level. This graph monitors the current rise or fall of expected legalization.

North Dakota Gambling News

In one day, North Dakota's House first voted against a bill to allow legal...

SB 2221, a gambling bill that would have allowed instant-racing machines (or...
Recent Activity
While it is an almost sure bet that North Dakota will not be among the next round of states to push for the introduction of online poker and gambling, it may be said that Peace Garden State could be convinced to introduce new laws if enough of its neighboring states went down that path.
There are several reasons why North Dakota would not be a good candidate for an intrastate online poker industry, the most obvious being its size. There are only around 723,400 people living in North Dakota, making it the 4th least densely populated state in the US, and therefore, a standalone online poker platform would probably not be economically viable. That is not to say, however, that the state could not enter into compacts with other states when and if their neighbors introduce their own industries, as in the case of the tiny Delaware and the larger Nevada.
In 2005, attempts were made to amend Section 25 of Article XI of the North Dakota Constitution [A] relating to poker, to allow for the introduction of live internet poker. Rep. Jim Kasper (R-Fargo), along with Reps Dosch, Iverson, Thoreson and Weiler, pushed for the change; however, without the support of the Attorney General, and lack of cooperation in both houses of the legislature, the act failed. His idea was to put the Attorney General's office in charge of regulating internet poker sites, which would pay a $50K application fee, $20K annual license renewal fees and $10 per player. The wording of the proposed act read:
"The legislative assembly shall authorize internet live poker located in the state and licensed and regulated by the state." However, as stated, the law failed to move forward.
In late 2011, the Department of Justice changed its opinion of the 1961 Wire Act, removing the legal question of online poker and gambling in states. In an article written by Dale Wetzel for Associated Press in January 2012, Rep. Kasper was asked whether he would take up the issue again, after failing the first time to get online poker legislation passed. However, Kasper said that since he was up for re-election in 2012 he was, "just worried about getting endorsed and re-elected and, not about issues like that [online poker]."
"I am not talking about promoting (Internet poker), and I have not made any decision to do anything at all", Kasper was quoted in the article. "Whether I do anything or not in the next session, I have no idea."
Rep. Jim Kasper was re-elected in 2012, but no new efforts have been made by lawmakers to revive the online poker measures.
Lastly, we need to look at the Attorney General's interpretation on internet gambling in North Dakota. When asked to give an opinion on whether online gambling is legal in the state, the AG wrote: "No. Online gambling is prohibited under the state's Constitution, regardless of the amount wagered. In North Dakota, gambling may be conducted only by licensed non-profit organizations, Tribal casinos or through a state run lottery."
Therefore, despite the reinterpretation of the 1961 Wire Act, the state's Attorney General is still of the opinion that online gambling is illegal in North Dakota, and shows no intention of changing that opinion in the near future.
History of Gambling North Dakota
1976
A constitutional amendment allows certain forms of gaming for charitable purposes.
1987
Pari-mutuel wagering for charitable organizations legalized in North Dakota.
2002
Voters approve a constitutional amendment for a state lottery, allowing only multi state games and not instant tickets.
2004
North Dakota Lottery launches.
2005
Efforts made by Rep. James Kasper to change the Constitution to allow internet poker games. The proposal failed to move successfully through the legal pipelines and dies.
2010
North Dakota Lottery introduces Mega Million Game.
2012
Dakota native Grey Raymer makes history by winning four out of six Heartland Poker Tour events in just 100 days. North Dakota makes changes to its laws governing charitable gambling.
2014
The State Lottery kicks off ten year anniversary.
2015
Horse racing at Horse Park located in Fargo, North Dakota was cancelled for the year.
2016
The new city commissioner of Fargo, Dave Piepkorn, led the way to resume horse racing at Horse Park.
Land Based Poker in North Dakota
Land based poker is available in North Dakota at a number of tribal casinos, where it can be played for real money.
Other than home poker games (see restrictions below), other forms of real money poker playing falls under the state's gambling laws, namely Section 12.1-28-01 [B] which states:
"Gambling means risking any money, credit, deposit, or other thing of value for gain, contingent, wholly or partially, upon lot, chance, the operation of gambling apparatus, or the happening or outcome of an event, including an election or sporting event, over which the person taking the risk has no control."
Tribal casinos such as Sky Dancer Casino [C] in the Turtle Mountain region of the state offer good poker rooms, where real money tournaments and games are run regularly around the clock.
Poker players will also find options to play charitable poker games, which fall under the Gaming Division of the North Dakota Attorney General.
Low stake social gambling is allowed, with Section 12.1-28-02(1) of the law stating: "It is an infraction to engage in gambling on private premises where the total amount wagered by an individual player exceeds twenty-five (25) dollars per individual hand, game or event."
Gambling in North Dakota
Gambling laws in North Dakota are covered by Section 12.1-28-02(1) (see Land Based Poker in North Dakota above). Laws are tough and do not allow unregulated gambling. Any infringement of the law is dealt with in a strict manner.
Gambling laws in North Dakota differentiate between participants (players) and operators. Anyone caught gambling illegally in North Dakota is looking at an infraction or Class A misdemeanor, while an operator or, as the law defines, one who "engages or participates in the business of gambling", could face a Class C felony.
The law defines a gambling operator under Section 12.1-28-01(3) as:
"Without limitation, a person is deemed to be engaged in the business of gambling if that person:
Conducts a wagering pool or lottery;
b. Receives wagers for or on behalf of another person;
c. Alone or with others, owns, controls, manages, or finances a gambling business;
d. Knowingly leases or otherwise permits a place to be regularly used to carry on a
gambling business or maintain a gambling house;
e. Maintains  for  use  on  any  place  or  premises  occupied  by  that  person  a
coin-operated gaming device; or
f. Is a public servant who shares in the proceeds of a gambling business whether
by way of a bribe or otherwise."
So what types of legal gambling will players find in the state of North Dakota? The state runs a lottery, as well as pari-mutuel wagering on horse racing (including, surprisingly, online betting), as well as a number of tribal gambling options.
There is also charitable gambling, as well as low stakes social gambling.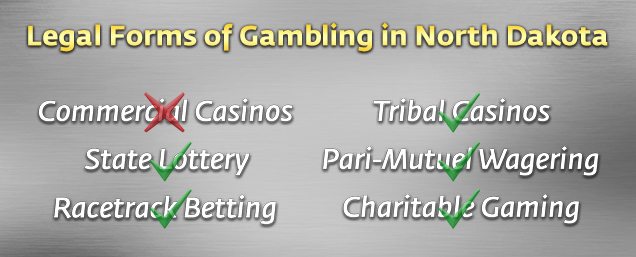 Indian Casinos in North Dakota
All five tribes in North Dakota have taken advantage of the gaming compacts with the state and created gambling establishments. Under the North Dakota Century Code Section 54-58-03 [D], the state's Governor has the right to negotiate the terms of the compact without any pre-approval from the legislature. Tribal compacts are signed for 10 year terms, with extensions occurring automatically unless the tribe or the state wants to renegotiate.
The law defines a tribal gaming compact as a, "duly executed agreement between the state and a federally recognized Indian tribe as approved by the secretary of the department of interior of the United States pursuant to the Indian Gaming Regulatory Act of 1988."
There are currently five active Indian owned casino and bingo halls in the state of North Dakota, namely, the 4 Bears Casino and Lodge, the Prairie Knights Casino and Resort, Spirit Lake Casino and Resort, Dakota Magic Casino and Hotel and Sky Dancer Hotel and Casino.
4 Bears Casino and Lodge: This casino, located in New Town, ND, offers slot machines with denominations ranging from 1c to $25, as well as various table games such as poker. The casino is open seven days a week.
Prairie Knights Casino and Resort: Located in Fort Yates, ND, this gaming establishment offers over 700 slot machines, including high limit games, reel slots, video slots, video poker and more. The casino, open 24 hours a day and 7 days a week, also boasts table games such as blackjack, craps, Three Card Poker and Ultimate Texas Hold 'em.
Spirit Lake Casino and Resort: Boasting to carry the largest selection of games in North Dakota, this casino is popular among residents of the state. Over 700 reel and video slot machines are available along with blackjack and craps. The casino runs a weekly poker calendar with tournaments running from Wednesdays to Sundays.
Dakota Magic Casino and Resort: Run by the Sisseton-Wahpeton Sioux Tribe through its Dakota Nation Gaming Enterprise business, the casino offers blackjack, roulette, slots and craps 24 hours a day and 7 days a week to players of 21 years and older.
Sky Dancer Hotel and Casino: The Sky Dancer Casino is open 24 hours a day and offers slots, as well as table games such as Let it Ride, Phil 'em Up, Mac Extra, 4 Card Poker and more.
Racing Laws in North Dakota
Horse racing in the state falls under the auspices of the North Dakota Racing Commission [E], which, according to its site is, "the regulatory body in charge of regulating live and simulcast racing in North Dakota and administers three special funds for the benefit of the horse racing industry in North Dakota." The Governor appoints five members of the commission, which is located in Bismarck.
The Commission oversees North Dakota race tracks which offers online betting. According to the track's site, "online simulcast betting is the only form of legal online wagering in the United States and is an important part of keeping live racing alive in North Dakota."
Lotteries in North Dakota
The North Dakota Lottery [F] is, according to its website, "responsible for administering, regulating, enforcing and promoting the state's lottery".
Moreover, the lottery, "selects and licenses retailers, trains employees of retailers to use lottery terminals, sell tickets and redeem winning tickets, assists retailers in promoting lottery games, pays high-tier prizes to players and ensures that retailers and players comply with the lottery law and rules"
The lottery is involved in five multi-state games, namely, Powerball, Mega Millions, Hot Lotto, Wild Card 2 and 2by2. Voted in by public approval in 2004, North Dakota is unique in that it is the only state in the US which is only allowed to offer multi-jurisdictional games and no in-state games. As such, no instant tickets are sold.
Tickets can be purchased at over 400 licensed retailers across the state, seven days a week. Winners have 180 days to claim their prize from the draw date, and all unclaimed prizes are retained by the lottery and transferred to the state general fund. Players need to be at least 18 years of age to play the lottery.
Lottery winnings are taxed, as required by federal law, on amounts of $600 or more. Federal income tax of 25% and state income tax of 3.22% are withheld on any prizes over $5,000 in total.
On each $1 spent on lottery tickets, 26% is earmarked for the state general fund, 1% each goes to the Compulsive Gambling Prevention and Treatment Fund and the Multi-Jurisdictional Drug Task Force Grant Fund. The rest goes to prizes expenses, contracted services, retailer commissions, advertising expenses and administrative expenses.
Charitable Gaming in North Dakota
The Gaming Division of the North Dakota Attorney General permits several forms of charitable gaming. The following answer by the Attorney General relates to the type of charitable gaming allowed, as well as the legal age:
When it comes to legal gambling age in North Dakota, the Attorney General states [G] that, "persons under the age of 21 are restricted from playing pull tabs, punchboards, twenty one, calcuttas, sports pools, paddle-wheels, and poker." In addition, "persons under 19 years of age are restricted from playing bingo unless accompanies by an adult, or the bingo is constructed under a local permit, or the prize structure does not exceed that allowed for a local permit." The AG goes on to say that there is no age restriction on raffles unless the organization sets a minimum age based on the type of prize being awarded.
The law states that all licensed gaming organizations need to file a quarterly tax return. Unsold pull tabs need to be retained for one year from the end of the tax return quarter.
Charitable organizations are allowed to conduct poker tournaments. The Attorney General lays down the following restrictions:
"According to state law, each licensed charitable organization may conduct poker on not more than two occasions per year. Poker activity must be conducted at an authorized site of the licensed organization. A poker tournament if it includes satellite qualifying tournaments may be conducted for not more than three consecutive calendar days of play. An organization may allow players to re-buy or add-on additional poker chips, which may be less than or equal to the original entry fee, provided that the total amount collected during a satellite tournament does not exceed $300 and the main poker tournament event does not exceed a separate $300 total entry amount. The total amount of prizes for a poker tournament may not exceed ninety percent of the gross proceeds".
In 2012, to mark the 35th anniversary of the introduction of House Bill 1264 which paved the way for the conduct of charitable gaming in North Dakota, the Administrative Rules Committee reviewed the Games of Chance rules and introduced a number of changes.
Author: Joseph Falchetti (twitter)
(C) Copyright PokerWebsites.com, 2018
References and Citations