"Reviewed by Chuck Humphrey – 50 year Gaming Law Practitioner"
There is no legal framework in existence in Kansas that makes it a legal option to play online poker at an operated site within the state. The issue of online poker – and online gambling in general – does not seem to occupy lawmakers (barring a number of random comments and attempts over the years). As such, there are no authorities that seek to oversee online gambling or poker in Kansas, nor are any moves to license future online gambling operators in the state. Kansas has a healthy gambling public and it is shown that online poker players from the Sunflower State regularly visit offshore sites and wager for real money legally.
Future Outlook of Online Poker in Kansas – Estimated date of legalization:
2020-2021
The following graph tracks our expected legislation of online poker in Kansas on a state law level. It is currently already legal on a Federal level. This graph monitors the current rise or fall of expected legalization.
Recent Activity
As a state that has a healthy appreciation for the entertainment aspects of gambling, and poker in particular, the idea of introducing online poker in the future is not a strange one, although for the time being, doesn't seem too likely.  The most obvious reason for keeping Kansas out of any online poker landscape is simply because the state is too small to support a viable industry.  Kansas, with less than three million residents, is ranked the 34th state in terms of size, with many of its residents living in rural communities.
In 1996, the idea of online gambling was addressed by the Kansas Attorney General in response to a query by State Senator Lana Oleen where it was stated in a synopsis [A] that, "placing, receiving or forwarding a bet and participating in or conducting a lottery on the Internet violates Kansas criminal gambling statutes. If a bet is placed or a lottery is engaged in from a computer located in Kansas any person or entity participating in such crime may be prosecuted in this state".
In 2013, the question of online poker was addressed in House Bill 2055 [B] which sought to expand brick and mortar casinos in Kansas.  In order to appease gambling opponents, the bill also had a specific clause that intentionally sought to ban all forms of internet gambling within its borders.  The bill called for making online gambling participation as a Class B non person misdemeanor which could be punishable by a $100,000 fine and up to half a year in prison.  It also sought to prohibit the introduction of electronic gaming machines at state racetrack premises until at least 2032.
HB 2055 was voted down by a count of 24 to 15, although analysts believe that the failure to introduce this bill does not mean that a similar clause banning online gambling and poker will not land up in a similar bill in the future.
Kansas Attorney General, Derek Schmidt signed a letter, along with the attorney generals of 15 other states, calling for the expansion of 1961 Wire Act which would ban all forms of online gambling in the United States on a Federal level.  The letter was part of a campaign started by the head of the Las Vegas Sands casino empire, Sheldon Adelson and his Coalition to Stop Internet Gambling [C] movement, created at the beginning of 2014.  Analysts believe that while Adelson seems determined to get as many states as possible on board, his efforts are doomed to fail since online gambling is a reality that cannot be ignored in the United States.
The Governor of Kansas, Sam Brownback, signed HB 2155 in 2015 making it clear that playing at online daily fantasy sports betting sites for real money is legal in their state. This only helps the case of legalizing and regulating poker and/or casino games over the internet.
History of Gambling in Kansas
Land Based Poker in Kansas
The laws governing gambling in Kansas are the same laws which cover poker by default.  Gambling (and therefore poker playing) is defined under Section 21-4303 [G] as, "making a bet; or entering or remaining in a gambling place with intent to make a bet, to participate in a lottery, or to play a gambling device."
And how does Kansas law define a bet in Section 21-4302 (a) [H]? It states that a bet is defined as, "a bargain in which the parties agree that, dependent upon chance, one stands to win or lose something of value specified in the agreement."
Poker wagers are therefore not legal under Kansas law unless they take place an establishment or situation which is specifically allowed by law (more about those later).  Those found guilty of breaking Kansas poker and gambling laws could be charged with Class B non person misdemeanor, facing up to 6 months in prison and a significant fine.  As in most states, the laws seem to be more directed towards gambling operators and less towards poker players themselves.
So where can players enjoy legal land-based poker in Kansas? There are a number of options available to poker fans. Indian casinos, for example, offer a good range of table games, while the four state owned casinos, run by the Kansas Lottery, are also a good place to seek out real money poker action.  For more details about live poker rooms, see the section below: Casinos in Kansas.
Social gambling for fun is allowed, although the legal aspects of home poker game for stakes are more ambiguous.
Gambling Laws in Kansas
Gambling in Kansas is governed by the laws in section 23-4303 (as noted above in the section entitled poker) and is fairly strict in punishment for illegal gambling.  On the other hand, the state offers quite a number of gambling options for its residents in state-owned establishments, Indian casinos and others.
Gambling in Kansas is governed by the Kansas Racing and Gaming Commission which states that its, "primary mission is to ensure that gambling at facilities with state owned casino games and pari-mutuel racetrack gambling is conducted with integrity. As a regulatory agency, our chief mission is to seek compliance. As a criminal justice agency, our charge is to enforce the law. We take these responsibilities seriously, and we require our licensees do as well."
There are several types of legal gambling in Kansas – Bingo and instant bingo games that are conducted by licensed and regulated non-profit organizations; horse racing, dog racing and pari-mutuel wagering on horse and dog races at state licensed and regulated facilities in specific counties in Kansas, and state owned and operated lotteries, including casino style gambling in lottery owned and operated casinos.  Electronic gaming machines are allowed at licensed race track gaming facilities.
Gambling at tribal casinos is also legal in the state. Kansas players need to be at least 18 years of age to play bingo or play the lottery, and 21 years of age to take part in pari-mutuel betting or play at lottery-owned casinos. Quarter pushers, 'skill stop' or 'cherry master' machines, as well as fantasy sports leagues are all considered illegal under Kansas gambling laws.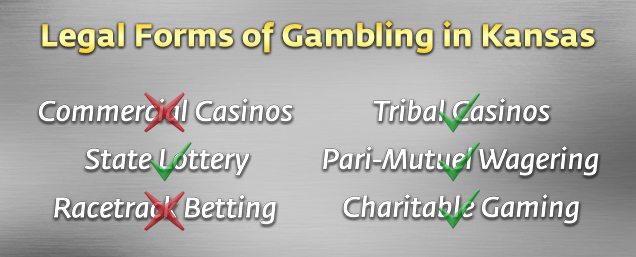 Casinos in Kansas
Kansas has a unique set up in that the state lottery operates Vegas style commercial casinos.  Legislation was passed in 2007 allowing four casinos to be built and operated by a private company, as long as it was wholly owned by the lottery.  27% of gross gambling revenue goes to the state treasury, while the rest goes to the builder-operator.
There are currently four state owned casinos in Kansas, namely Boot Hill Casino in Dodge City, Kansas Star Casino in Mulvane, Hollywood Casino in Kansas City, and the Kansas Crossing Casino in Pittsburg. No one was touching the fourth casino to be built mainly because of the high fees and undesired location which is near an Oklahoma casino on its border. However, the fees and initial investment costs were lowered which sparked interest from investment groups to get the fourth casino built. On June 23, 2015, the state board selected the Kansas Crossing Casino and Hotel as its fourth commercial casino. It cost $80 million and offers 625 slot machines, 16 table games, 123 room hotel, which opened on April 8, 2017.
Boot Hill Casino – This Dodge Hill based casino and resort was the first state owned and operated casino gaming establishment in Kansas.  The casino boasts 800 slot machines as well as 18 table games, including craps, blackjack, roulette and poker.  The resort's Steve Walker Memorial Poker Room offers five poker tables, with limit and no limit poker games.   The casino restricts entry to those who are 21 years of age and older.
Kansas Star Casino – Located near Wichita, the Kansas Star casino offers visitors the opportunity  to try their luck at over 1,850 slot machines, 50 table games including craps, roulette, no-ante blackjack, an Asian Gaming pit and a 13 table poker room.  The live action poker room is considered the best in South Central Kansas, offering no-limit and Limit Texas Hold 'em, as well as Omaha poker games and a progressive bad beat jackpot which increases daily. The poker room is open seven days a week and 24 hours a day.
Hollywood Casino – Visitors to Hollywood Casino in Kansas City are treated to 2,000 slot machines, including traditional reel and video slots, as well as video poker.  The casino also offers blackjack, craps, mini baccarat, roulette, 21 + 3, double deck blackjack, royal match, Let it Ride, 3 Card Poker and more. The resort's 24/7 poker room offers Texas Hold 'em, Omaha, Omaha Hi Lo and Seven Card Stud.
Kansas Crossing Casino – The fourth, and newest, casino located in Southeast Kansas (Pittsburg). It opened on April 8, 2017, cost $80 million, and features 625 slot machines, 16 table games, and a 123 room hotel.
Native American Casinos in Kansas
In the mid-1990's, the state entered into tribal-state compacts with four resident tribes to allow Class II gaming at Indian casinos.  The State Gaming Agency [I], which was created as per the requirements made by the tribal-state compacts, is part of the Kansas Racing and Gaming Commission. The objective of the agency is to, "foster a spirit of cooperation with all tribal gaming entities; Promote and maintain the public's trust in Kansas tribal gaming operations; Develop a sense of pride, professionalism and teamwork among our staff; Perform our duties in the most effective and efficient manner possible; and continually build the capabilities of our employees."
Casino White Cloud is located on the Iowa Tribe Reservation and offers blackjack, bingo and slots.
The Golden Eagle Casino, located in Horton, Kansas, was opened by the Kickapoo Tribe in 1996 – the first Kansas Indian casino in operation.  The resort offers bingo, blackjack, craps, roulette, slots, 3-Card Poker and poker.
The Prairie Band Casino, located in Mayetta , is owned by the Prairie Band Potawatomi , and offers a spacious gaming floor which features over 1,000 slot games, nearly 30 table games including live poker, and much, much more.
The Sac & Fox Nation owns the Sac & Fox Casino in Powhattan, which boasts over 29,000 square feet of gaming space, incorporating 700 slot games, and table games such as blackjack, Texas Hold 'em, Double Deck Blackjack, craps and 3 card poker.
Racing in Kansas
In 1986, Kansas residents voted on a constitutional amendment to allow the Legislature to permit, regulate, license and tax horse and dog racing by non profit organizations and pari-mutuel wagering.  The vote led to the creation of the Kansas Racing Commission [J], which is authorized to license and regulate all aspects of racing and wagering in Kansas. The Commission's objective is to, "ensure that gambling at facilities with state owned casino games and pari-mutuel racetrack gambling is conducted with integrity."
At present, pari-mutuel licenses for horse and dog racing has elapsed and been revoked in Kansas, with no pari-mutuel racing having taken place in the state since 2008. Prior to that, there were two pari-mutuel racetracks operating in Kansas – the Woodlands located in Kansas City and the Wichita Greyhound Park in Wichita.
Lotteries in Kansas
The Kansas Lottery [K] plays a big part in the state's gambling landscape, as it is the only state lottery in the United States which runs full blown commercial casinos.  The Kansas Lottery Act was passed in 1987, followed by the establishment of the lottery.  The lottery's mission statement is to, "produce the maximum amount of revenue possible for the State of Kansas while ensuring the integrity of all games".
The Kansas Lottery sells scratch tickets of $1, $2, $5, $10 and $20, as well as $1, and $2 pull tab games. The lottery also offers players Powerball, Mega Millions, Hot Lotto, Super Kansas Cash, Pick 3, 2by2, Keno and Kansas Hold 'em online games. Tickets are sold through 1,800 retail locations around the state. Lottery tickets are not sold over the internet. Prizes up to $599 can be claimed via Kansas Lottery retail locations, while any larger prizes need to be claimed at the Kansas Lottery office. Winners may opt to remain anonymous. The minimum age to play the Kansas Lottery is 18 years of age.
Charitable Gambling in Kansas
Charitable gambling is legal in Kansas in the form of licensed charitable bingo and raffles.  The state was only one of four states that did not have a charitable exception that allows churches and non-profit organizations to legally fundraise using raffles. However, as of November 4, 2014, Kansas is now legally allowed to offer charitable raffles. Bingo, instant bingo games, and raffles are allowed to be conducted by licensed and regulated, nonprofit religious, charitable, fraternal, educational and/or veterans organizations. 
Charitable gambling in the state is governed by the Kansas Department of Revenue [L], through which all distributors and premise owners are required to register if they want to offer charitable bingo and/or raffles, and receive a license.  A license is not required if free bingo games are offered, while a bingo license costs $25 (good for 12 months) if games are to be charged for.  The law states that illegal bingo operation is a crime in Kansas and is considered a class A non person misdemeanor.  Offenders face up to one year in jail, a fine of up to $2,500, or both.
Author: Joseph Falchetti (twitter)
(C) Copyright PokerWebsites.com, 2018
References and Citations