Important FL Notes
FL citizens legally play at offshore poker sites (via Federal)
Online gambling has been discussed in the state legislature
Live poker is available at racetrack facilitates
Commercial casino gambling is not yet legal in the state
Tribal casinos can also offer live poker in Florida
Last updated: August 9, 2018 by Savanah
A new poll shows Floridians not favoring expanded gambling in the state. Governor Rick Scott's $3 billion agreement with the Seminole Tribe, which involves a substantial expansion of gambling, did not pass this year. Blackjack, roulette, craps and many other casino games would be authorized at all of the tribe's seven casinos in the state. More slot machines would have been approved with measures passing the legislature, and off-track betting parlors could have turned into smaller casinos with poker rooms. The House and Senate seem to be split on gambling expansion in general.
RECOMMENDED POKER WEBSITE FOR
FLORIDA


Since Florida does not have a license to facilitate online poker, we must defer to the offshore site of BetOnline.ag as our #1 choice. This is mainly due in part because they will always accept all 50 USA states while other sites remove states.
"Reviewed by Chuck Humphrey – 50 year Gaming Law Practitioner"
Future Outlook of Online Poker in Florida – Estimated date of legalization:
2019-2020
The following graph tracks our expected legislation of online poker in Florida on a state law level. It is currently already legal on a Federal level. This graph monitors the current rise or fall of expected legalization.


Florida has inked a brand new 30 year year gaming compact with the Seminole...

In Tuesday's midterm elections, Floridians passed Amendment 3 which...
Recent Activity
Currently, Florida is one of three States with a Prohibition Law on internet poker.  However, the future of online poker in the State isn't necessarily at a dead end. Online gambling was discussed in Florida's Senate Gaming Committee hearing, but internet gambling, in any form (poker or casino) has not been a part of any reform bill thus far.
Some speculated that a separate bill that called for regulation of online gambling would be introduced, but this has not been the case. Online gambling was not legalized in the Sunshine State in 2016, but has a strong chance within the next 2-3 years. Florida generates more than $385 million in revenues per year from land-based gambling, including offshore gambling cruises, Indian casinos and horse and thoroughbred racing.
It's likely a gambling reform bill will be passed within the next few years, whether that includes online poker is the million dollar question. Internet gambling may also be introduced as a separate bill. Florida may take a wait and see approach, however. With other states likely launching regulated intrastate markets in 2017, their success may push the state to move forward faster. I think legalization sometime in 2017-18.
Poker is legal in Florida if played at specific, licensed land based card rooms and under strict regulations.  The game can also be played for small stakes in a home setting, as long as certain conditions are met.  Living in Florida myself, I believe certain corrupt dealings and money is making its way to the wrong hands – we had 3 poker rooms in less than 30 minutes of each other in the Greater Jacksonville Area.
Ambiguity rules in the case of online poker in Florida.  While there are no specific laws per se governing online poker or gambling sites, the definition of the law as it stands today is that if you operate an online poker site in the state of Florida, you'll be guilty of breaking the law. There is no Federal law criminalizing mere poker players playing online.
Current Gambling Laws in Florida
Florida Statues divide gambling into games of chance and games of skill. The definition of games of chance and the consequences for playing them are found under section 849.08 where it is stated:
"Whoever plays or engages in any game at cards, keno, roulette, faro or other game of chance, at any place, by any device whatever, for money or other thing of value, shall be guilty of a misdemeanor of the second degree…"
Unregulated games of skill related to bookmaking are defined under section 849.14 [A] as:
"Whoever stakes, bets or wagers any money or other thing of value upon the result of any trial or contest of skill, speed or power or endurance of human or beast, or whoever receives in any manner whatsoever any money or other thing of value staked, bet or wagered, or offered for the purpose of being staked, bet or wagered, by or for any other person upon any such result, or whoever knowingly becomes the custodian or depository of any money or other thing of value so staked, bet, or wagered upon any such result, or whoever aids, or assists, or abets in any manner in any of such acts all of which are hereby forbidden, shall be guilty of a misdemeanor of the second degree."
Land Based Poker in Florida
In 2010, the Florida House voted 74-39 to approve a new bill that would expand gambling significantly in the state, days after it was approved by the Florida Senate by a 29-9 vote.
Among other things, the bill scrapped the $100 maximum buy in at all cash games restriction, and was considered a huge victory for the rights of poker players in Florida.
Poker at Home (Penny-Ante Games)
Brick and mortar Florida Statues [B] allows poker to be played at home in the form of 'penny-ante' games, as long as the "winnings of any player in a single round, hand or game do not exceed $10 in value".  The Division of Pari-Mutuel Wagering in Florida [C] stipulates that penny-ante games…
"Must be conducted in residential premises, owned or rented by a participant in the penny-ante game."
Charity Poker Tournaments:
It is currently illegal to play at poker tournaments that are not held in a licensed cardroom, even if the tournaments are fundraising activities for charity, and even when there are no cash prizes.  The law stipulates that the only form of charity gambling that can take place is bingo and some forms of sweepstakes
The Licensing Division also elaborates [D] on this law:
"The current law, Chapter 849.086 Florida Statutes allows gambling on poker games only at licensed pari-mutuel facilities.
If poker is played at any other venue, caution should be exercised to ensure that it is not played in a gambling manner. To constitute gambling, there must be three elements present: 1) Consideration (ie. an entry fee), 2) a game of chance (the Florida Attorney General's Office has determined that poker is a game of chance; and 3) prizes are awarded to winners (ie. cars, trips, etc.)  A game that is operated for the purpose of some of the proceeds going to charity does not circumvent or negate the definition of gambling."
Live Poker
Live poker has been permitted in Florida since 2001 as long as it is played at licensed pari-mutuel facilities or at tribal casinos. Examples of pari-mutuel facilities include horse racing tracks, dog racing tracks and jai alai frontons. Play at these facilities is still subject to strict stake limits, although these limits were adjusted significantly in 2010 by state legislature.
Live poker games are regulated by the Division of Pari-Mutuel Wagering of the Department of Business and Professional Regulation and governed by Section 849.086 of the Florida Statutes [E].
Twenty five pari-mutuel facilities in Florida have card rooms, while several tribal casinos such as the Seminole Hard Rock in Tampa also offer poker operations. The tribal casinos are not subject to the same limitations as pari-mutuel facilities.
Gambling Laws in Florida
Summary
Gambling laws in Florida are governed by Title XLVI – Chapter 849 of the Florida Gambling Statutes [F].
There are essentially three types of casino gambling in Florida, namely Indian casinos, pari-mutuel facilities and casino boats.  The minimum age for pari-mutuel betting is 18 years old, while the minimum casino gambling age is 21.  No free alcoholic beverages may be provided by these facilities.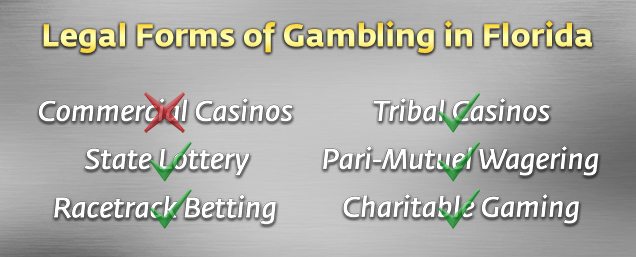 Brick and Mortar Gambling Laws in Florida
When it comes to casino gambling in Florida's brick and mortar facilities, these differ between tribal casinos and pari-mutuels.
Pari Mutuels
Pari-mutuel facilities in two Florida counties – Broward County and Miami-Dady County – offer slot machines, while the majority of pari-mutuel facilities also offer poker.
Pari-Mutuels are allowed to remain open up to 18 hours a day during the week and 24 hours a day over weekends and certain holidays. The legal age to play poker or pari-mutuel betting is 18 at these facilities, or 21 to play at the gaming machines.
Boat Laws in Florida
Gamblers are offered the opportunity to board cruise ships that travel offshore to international waters where casino gambling is allowed. The boats travel nine miles into the Gulf of Mexico if they travel from the West coast or three miles into the Atlantic if the leave from the East coast.
The vast majority of these boats offer blackjack, craps, slots, video poker and roulette, while a select few have expanded their games selection with mini baccarat, pai gow poker, three card poker, classic poker, Caribbean stud poker, let it ride, big 6 wheel, bingo and sports betting.
Gamblers need to be 21 years of age to order an alcoholic beverage while on board.
Tribal Casinos
Seven out of the eight tribal gaming locations in Florida are owned by the Seminole Tribe, while the eighth is owned by the Miccosukee Tribe.
The Miccosukee offer limited Class II gaming machines as they have not signed a compact with the state government, and these include slot style bingo games.
The Seminoles' compact with the state means, however, that the tribe is allowed to offer Class III gaming machines and gamblers will find blackjack, baccarat, mini baccarat, three card poker, Let it Ride and Pai Gow Poker in five out of the seven casinos run by this tribe.
Other games that can be found at all eight tribal casinos include high stakes bingo, video pull tabs and poker. The vast majority of these casinos are open 24 hours a day.
The minimum gambling age for bingo or poker is 18, while you need to be at least 21 years of age to play electronic gaming machines at tribal casinos in Florida.
Lotteries in Florida
Florida Lottery offers seven Terminal games [G] and over 60 scratch off games at 13,000 lottery retailers around the state, while games can also be played online at the Florida Lottery website.
Florida lottery laws are governed by Title IV, Chapter 24 State Lotteries [H]. Among the limitations placed on lottery players is that no tickets may be sold to anyone under the age of 18.
History of Gambling in Florida
1924
Hialeah Park race course established, despite horse racing being illegal in the state.
1926
Hialeah Park shut down after intense church pressure.
1931
A single vote legalizes horse and dog racing in Florida and the State Racing Commission is established.
1935
Slot machines legalized in Florida.
1937
Slot machines (one armed bandits) repealed.
1950
Law enforcement authorities raid gambling dens.
1958
Permission to open four casinos in Florida reversed.
1969
Division of Parimutuel Wagering incorporates the State Racing Commission.
1970
Bingo is legalized in Florida.
1978
Casino ballot initiative defeated through No Casinos campaign.
1979
Seminole Tribe defies wagering limits and open high stakes Indian bingo hall.
1981
Tribe's rights to offer high stakes bingo upheld by US Supreme Court.
1984
Gambling "cruises to nowhere" begin.
1986
State lottery approved; casinos rejected 2 to 1.
1987
Self regulation of tribal gaming introduced.
1988
National Indian Gaming Regulatory Act passed.
1989
'Penny-ante' poker legalized and police stop policing games played at home or at community centers, as long as the pot doesn't exceed $10.
1994
Casino referendum fails; Seminole casinos begin to offer poker.
1996
Parimutuel facilities legalized in card rooms.  Horse tracks, Jai Alai frontons and kennel clubs allowed to offer poker during races.
2000
State seizes over 350 video slot machines.
2003
Gov. Jeb Bush passes a bill allowing poker to grow, allowing the pot to surpass $10, but limiting players to bet no more than $2 per action.
2004
Broward and Miami-Dade approved to introduce slot machines.
2006
Slot casinos opened by Broward pari-mutuels.
2007
Seminole Tribe granted permission to offer Vegas style slots, blackjack and baccarat.  Betting limits raised slightly, regulated poker tournaments and instant bingo approved.
2009
Bill allowing expanding gambling and poker passes.
2010
Expansion of gambling in the state begins. Poker room hours extended, $100 max buy-in in cash games restriction removed.  Card games of "No Limit" are introduced superseding the "Limit Only" games.
2011
Legislators create
Internet Poker Consumer Protection and Revenue Generation Act of 2011
[I]
, calling for intrastate online poker to be provided by brick and mortar cardroom operators. Bill dies in Business & Consumer Affairs Subcommittee in the same year.
2014
Governor Rick Scott comes out against online gambling.
2016
Internet Poker Licensing and Consumer Protection Act of 2016 (IPLCPA) is drafted by poker pro, Martin Shapiro. Bill regulating daily fantasy sports is introduced.
Author: Joseph Falchetti (twitter)
(C) Copyright PokerWebsites.com, 2018
References and Citations