Important MT Notes
Players from MT can legally play at poker websites offshore
Legal online poker is several years away in Montana
Land-based casino gambling is not legal, including poker
Horse racing and state lottery, only legal forms of gaming
The state still boasts several tribal casinos
Last updated: July 17, 2018 by Savanah
Montana is one of the few states that offer limited sports wagering. They don't have traditional sports betting like Nevada, but they do offer sports lotteries similar to Delaware. However, that could all change once the US Supreme Court makes its ruling on sports betting which could come any day. No movement has been made in regards to legalizing and regulating online poker.
RECOMMENDED POKER WEBSITE FOR
MONTANA


Although Montana has passed laws to allow horse racing wagers and some lottery games online, they have yet to legalize poker over the internet. Until they pass online poker, BetOnline is the most trusted offshore website that accepts players in Montana.
Unlike in many other American states where online poker is deemed illegal to operate such a business, in Montana online poker is explicitly illegal based on legislation passed in 2005. However, as in other American states, residents of Montana are known to play poker online at offshore sites which is legal as a player at the Federal level.
Future Outlook of Online Poker in Montana – Estimated date of legalization:
2020-2021
The following graph tracks our expected legislation of online poker in Montana on a state law level. It is currently already legal on a Federal level. This graph monitors the current rise or fall of expected legalization.

Recent Activity
Since online poker is explicitly illegal, the future outlook is bleaker than in other American states. In the case of live poker, which is illegal under certain conditions, the maximum bet is only $800. Such restrictions would make online poker enviable. Further, there is absolutely no action in the state legislature for legalizing online poker. The only silver lining is that Montana allows online betting for horse racing and certain online lottery games. This could lead to a move to legalize online poker sometime in the future. However, residents play poker online and no arrests or punitive actions have been reported in the media.
Current Gambling Laws in Montana
Gambling related activities are covered under Title 23 [A] Parks, Recreation, Sports and Gambling of the Montana Code Annotated 2013.  Horse Racing is in Chapter 4, Gambling is in Chapter 5 and State Lottery is in Chapter 7. Section 23-5-110 outlines the public policy regarding gambling. Section 23-5-112-(12) [B] defines gambling. The section states:
"(a) "Gambling" or "gambling activity" means risking any money, credit, deposit, check, property, or other thing of value for a gain that is contingent in whole or in part upon lot, chance, or the operation of a gambling device or gambling enterprise. (b) The term does not mean conducting or participating in a promotional game of chance and does not include amusement games regulated by Title 23, chapter 6, part 1. (c) The term does not include social card games played solely for prizes of minimal value, defined as class I gaming by 25 U.S.C. 2703."
Gaming Law Masters [C] explains that, "Where chance plays a predominant factor in the outcome of the game, then the game will qualify as gambling". It also clarifies that unless expressly exempted games where players bet against the casino or house such as blackjack, baccarat, roulette and craps are illegal.
Any forms of gambling which are not licensed and regulated by the state or do not take place in tribal casinos qualify as illegal acts under state law and are subject to prosecution. Chapter 5 of Title 23 of the Montana Code specifies that most offenses related to gambling qualify as misdemeanors, unless they involve fraudulent behavior, in which case they can be treated as felony offenses. Citing an example of a felony gambling offense, BillingsGazette.com reports [D] that in September 2013 a couple was charged with a felony for trying to pass fake bills in a casino.
Section 23-5-112-20(a), which states, "Internet gambling", by whatever name known, includes but is not limited to the conduct of any legal or illegal gambling enterprise through the use of communications technology that allows a person using money, paper checks, electronic checks, electronic transfers of money, credit cards, debit cards, or any other instrumentality to transmit to a computer information to assist in the placing of a bet or wager and corresponding information related to the display of the game, game outcomes, or other similar information" Section 23-5-112-20(b) lists specific exclusions with respect to pari-mutuel wagering, state lottery and defined events at tribal casinos.
History of Gambling in Montana
Information on the history of gambling in Montana is available here [E].
1889
Montana's new constitution makes all forms of gambling illegal.
1925
Pari-mutuel wagering on horse racing commences without legal authority.
1937
The Hickey Act legalizes various table games in various locations if licensed by a county.
1945
Illegal slot machines are installed by nonprofit organizations as "trade simulators" under license from the State Board of Equalization.
1949
A "law enforcement emergency" established to enforce gambling laws.
1950
The Montana Supreme Court rules that slot machines and punch boards are illegal. Voters defeat, by a 4-1 margin, an initiative to legalize gambling.
1972
Voters approve a Constitutional Convention referendum giving the legislature or the people authority to approve or disapprove gambling.
1973
The legislature passes the Card Game, Bingo, Raffles and Sports Pool Act.
1976
The Montana Supreme Court legalizes video keno as a form of live bingo.
1983
Voters defeat Initiative 92, which would establish a Gaming Commission and a limited list of games allowed by counties.
1984
The Montana Supreme Court rules that video poker machines are illegal slot machines.
1985
The legislature passes the Video Poker Machine Act, which allows five poker machines per liquor license and unlimited keno machines.
1986
Voters approve the Montana Lottery.
1987
The legislature passes a 15 percent tax on video gambling machine income.
1989
Gambling regulation centralized at the state level under the Department of Justice.
1991
The Senate Judiciary Committee rejects a blackjack bill.
1993
The Montana Supreme Court rules that only those gambling activities specifically listed in statute are legal.
1994
The state negotiates gambling compacts with four Indian tribal governments: Crow, Northern Cheyenne, Fort Peck and Rocky Boy.
2005
Legislation enacted that prohibits Internet gambling.
2011
Legislation authorizing video line games approved.
2013
Payout limits for live card games raised from $300 to $800.
2015
State Rep. Forrest Mandeville drafted House Bill 181 to legalize daily fantasy sports betting but it did not pass.
Poker at Home
Social gambling, such as a home poker game, is permitted under Montana law so long as no player, host or proprietor is profiting in any way outside of participation in the game.
Charity Poker Tournaments
Charity poker tournaments are permitted subject to restrictions imposed by charitable gambling laws.
Live Poker
The traditional forms of poker are legal at licensed card rooms and tribal casinos. All forms have limit restrictions, maximum $2 bet and a $800 payout.
Gambling Laws in Montana
Summary
There are no state-licensed casinos in Montana, but there are a number of tribal casinos. Also, there is a good spread of other gambling activity regulated by the state legislature, including charity gaming, bingo, Keno, poker, panguingue, a state lottery, horse-racing, raffles, video line gambling machines, fantasy sports and a range of local games such as shake-a-day and fishing derbies.
The Montana Department of Justice is the governing body [F] that regulates gambling within the state, with the exception of the state lottery and horse racing.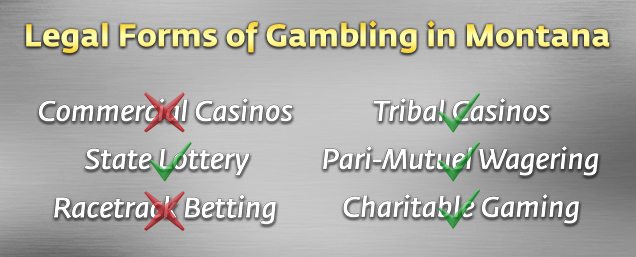 Brick and Mortar Casinos in Montana
There are no state licensed regular casinos in Montana. However, liquor licensed venues and video lottery establishments can apply for permission to run various low stakes card games, sport pools and electronic gaming. There are restrictions concerning frequency of games run, hours of play, and the size of prizes awarded, the upper limit of which has been recently raised to $800 per game.
Casino type card games like blackjack and other casino games such as roulette and craps, in which players wager against the house, are not permitted. The electronic machines allowed are bingo, poker and keno games. Card games include, apart from poker, gin rummy, spades, cribbage, hearts, and panguingue, bridge, pinochle, pitch, poker, solo, and whist (Section 23-5-311).
There are nine tribal casinos [G] in Montana. Most of them just run a hundred or so slot machines, some keno, bingo, and video poker. The Glacier Peaks Casino in Browning run by the Blackfeet Tribe does run a poker room with a few games.  Reservation casinos are not allowed standard casino table games.
Though not regulated by the state, Montana reservation casinos generally follow the same rules as Montana card rooms, but are allowed some additional advantages.  For example, reservations do not have a limit on the number of video lottery machines that they can have in one location, they can also offer commercial style bingo and they are not covered by the smoking ban.
Pari-Mutuel Wagering in Montana
Pari-mutuel wagering on horseracing is allowed under state law, and is under the oversight of the Board of Horse Racing [H], under the Department of Commerce. The web site of the board lists three track locations in Montana, which are Great Falls Race Meet, Miles City Bucking Horse Sale and Yellowstone Downs. The races are held in the late summer every year. The Montana Board of Horse Racing approves and licenses locations around the state to offer off-track betting on live horse and greyhound racing in North America 365 days a year. These include licensed bars and casinos [I] throughout Montana.  Horse race wagers can also be made by phone as well as over the internet.
Lotteries in Montana
Montana has a state lottery [J], which has been running since 1986. It offers scratch off tickets, lotto drawings including multi-state drawings Powerball and Mega Millions and some unique products.
One of these is EZPlay. Terminals are set up at participating lottery retailers where players can buy tickets. When a predetermined number of tickets are purchased, the next ticket is the winner of the prize pool. It has been proposed that this game will be available over the Internet, but no schedule is available.
Montana offers two sports lotteries, Fantasy Football and Fantasy Racing. In Fantasy Football, a player will choose a Quarterback, Running Back, Wide Receiver, Tight End, Kicker and Defensive Unit.  For Fantasy Racing, a player will choose five drivers of different pole rankings. These sports pools are handled like a pari-mutuel type wager where the state takes a commission from the overall prize pool. Sports Action retailers tend to be located at bars and casinos. In order to offer these services Montana has been exempted [K] from certain provisions of the Professional and Amateur Sports Protection Act.
Charitable Gambling in Montana
The part of the Montana Code pertaining to charitable gambling can be read here [L]. Charitable organizations as defined in the statute are allowed to conduct bingo, keno, raffles and casino nights. The restrictions imposed in terms of frequency, hours and prizes are specified in the statutes. Despite the name, casino nights cannot offer casino type games. Only card games permitted under the Card Games Act and listed earlier are allowed.
Other Gambling in Montana
Certain popular mini gambling games are allowed in the state. One of these is a dice game called shake-a-day. In this game, customers shake some dice similar to poker dice, and pay a small fee for a chance to hit hand combinations which allow them to win a portion of a prize pool built up from the previous payments made.  In another game, Fishing Derbies, fishermen wager on catches of various sizes and specimens of fish. Wagers are also permitted on predicting natural occurrences in the climate.
Montana has legalized video keno games and video poker. Any establishment with an alcohol license can offer video lottery. A licensed establishment can operate up to 20 machines on a premise. Montana taxes video lottery machines 15% of their net win and charges $220 a year in licensing per machine. The maximum win is capped at $800. Video lottery games must pay back between 80 and 92 percent. In 2009, video lottery establishments were forced to ban smoking and revenue collapsed by over 20% statewide.
Author: Joseph Falchetti (twitter)
(C) Copyright PokerWebsites.com, 2018
References and Citations