Important OH Notes
Regulated offshore poker websites accept players from OH
No internet poker bills are pending in the state legislature
Probably won't pass online gambling until nearby states do
Lottery, racetracks, pari-mutuel, charity, com. casinos legal
Indian casinos are illegal in the state of Ohio
Last updated: May 14, 2018 by Savanah
The state passed a bill on December 22, 2017 to legalize and regulate online daily fantasy sports (DFS) betting. Ohio's state lottery had record sales in the 2016 fiscal year, generating $3.06 billion in revenue. Ohio's four casinos had an overall revenue decrease of 2% in 2016 compared to the previous year which did $812.3 million. However, 2017 revenues were up about 2% year over year. These casinos offer 7,980 slot machines and 440 table games.
RECOMMENDED POKER WEBSITE FOR
Ohio


Legislative efforts are focused on live and Indian gaming, with online poker being left out. Players in Ohio have shown their continued interest at BetOnline's offshore poker site making it one of the most popular for the past 5 years.
The Federal Unlawful Internet Gambling Enforcement Act 2006 holds operating an online poker business in Ohio as illegal, unless a state has passed legislation permitting it. Since Ohio has not passed any such legislation, operating an online poker site is deemed illegal in the state. However, residents of Ohio continue to play poker legally at offshore sites not regulated under United States jurisdiction.
Future Outlook of Online Poker in Ohio – Estimated date of legalization:
2020-2021
The following graph tracks our expected legislation of online poker in Ohio on a state law level. It is currently already legal on a Federal level. This graph monitors the current rise or fall of expected legalization.

Recent Activity
There are no bills for legalization of online poker pending in the Ohio state legislature, nor have the legislators tried to enact any such bill. A recent article on online gambling in Cleveland.com [A] cited the view of Christie Prince, an attorney on gaming law at the Columbus firm of Kegler Brown Hill & Ritter. Prince said that the state is occupied with the issues concerning the land casinos and VLTs at racetracks, and is therefore unlikely to open up the online gambling front anytime soon. The Ohio Roundtable has challenged the legislation permitting VLTs at racetracks and has gone on record that it would challenge any online gambling legislation.
Prince also pointed out that under the 2009 Ohio Casino Amendment, casino gambling is allowed only at the four sanctioned land casinos. Any legislation permitting online gambling would have to find a way around this amendment. Nelson Rose, an American gambling law expert, suggested that Ohio could adopt the New Jersey solution for this. The servers of the online casinos could be located at the land casinos, thus apparently meeting the requirement. However, the legality of this method would have to be tested in Ohio.
Danielle Frizzi-Babb of the Ohio Lottery clarified that the state has no immediate plans to get involved with online gambling. Kim Arnold, chief operating officer of the gaming consultancy firm Innovation Group, predicted that the Ohio legislators would not act until the neighboring states start online gambling initiatives.
History of Gambling in Ohio
1802
Ohio Constitution ratified with no gambling prohibitions included.
1851
Ohio Constitution amendment Article XV Sec. 6 bans lotteries.
1971
State Representative Ron Mottl, D-Parma, lobbies for a state lottery.
1973
State Issue 1 for creation of Ohio State Lottery Commission passes by a 2-1 margin.
1974
The first lottery tickets go on sale.
1975
Ohio Constitution changed to permit the Ohio Lottery.
1980
Casino gambling rejected by Ohio Legislature.
1983
A constitutional amendment specifies lottery profits can only be used for funding stated education categories.
1987
Ohio Lottery TV game show Cash Explosion goes on air.
1990
Ohio voters reject casino amendment by large margin.
1996
Ohio voters reject Issue 1, a Constitutional amendment to legalize Riverboat gambling.
2001
Proposal for Racetrack Casinos fails in Ohio Senate Committee of Ways & Means. Ohio General Assembly passes Governor Taft's request for Mega Millions lottery expansion.
2002
Proposal for Racetrack Casinos fails in Ohio Senate Committee of Agriculture. Proposal to link Sales Tax Increase to Racetrack Casinos fails in the Ohio Senate.
2009
Ohio Casino Amendment passed authorizing only one casino in each of Cincinnati, Cleveland, Columbus, and Toledo.
2011
Ohio legislature approves installations of VLTs at racetracks.
2013
Act banning gambling cafes passed.
2014
The American Gaming Association came out with a study stating Ohio's casinos contributed $3 billion to the state's economy.
2015
The state's four casinos generated $812.3 million in revenue. These casinos offer 7,980 slot machines and 440 table games.
2016
The state lottery had record sales, generating $3.06 billion in revenue.
2017
A bill to regulate internet daily fantasy sports wagering was signed into law on December 22nd.
Land Based Poker in Ohio
The Ohio statutes hold land based poker games as illegal, except when specifically allowed under law. There are three cases under which Ohio citizens can play land based poker.
Poker at Land Casinos
The 2009 Casino Amendment [B] has permitted four land casinos in the state of Ohio. Poker games are permitted at these four casinos. The Horseshoe Casino in Cincinnati has 31 poker tables in a special World Series of Poker room. The Horseshoe Casino in Cleveland has 30 poker tables in a special World Series of Poker room. The Hollywood Casinos in Columbus and Toledo have 30 and 20 poker tables respectively.
Poker at Home
Citizens can legally play poker at home in Ohio so long as no one profits from conducting the game or hosting the games at their residences as per Section 2915.02(A)(2).  If a rake is taken from the pot then the game becomes illegal. Also if players are earning more from home poker games than they are from any other source of income, then they would be violating Section 2915.02(A)(4) of the Ohio code.
Charity Poker
Under Ohio law, a charitable organization is defined as one that has been exempt from federal taxation by the Internal Revenue Service. Charitable organizations have been allowed to conduct land based poker games subject to their meeting a number of specified conditions. These conditions include restricting the number of poker events as specified in the statute and controlling the manner in which the proceeds are disbursed.
Gambling Laws in Ohio
Summary
The gambling laws are covered under Section 2915 [C] of the Ohio code. These cover casino gambling, poker and bingo. Horse Racing is covered under Section 3769 [D].  Lotteries are covered under Section 3770 [E].  Section 3763 specifies the conditions under which players can legally claim gambling losses, even if the gambling activity was illegal.
Section 2915.02 (F) classifies the offense of gambling as follows: "Whoever violates this section is guilty of gambling, a misdemeanor of the first degree. If the offender previously has been convicted of any gambling offense, gambling is a felony of the fifth degree."
There are some specific cases when gambling is legal in Ohio.  It is legal to bet on skill based electronic games provided that there is no payout in cash and the payout in merchandise is worth less than $10.  A player engaged in a game of skill like chess can wager with his opponent that he will win. However, a spectator to the game cannot wager on any of the players.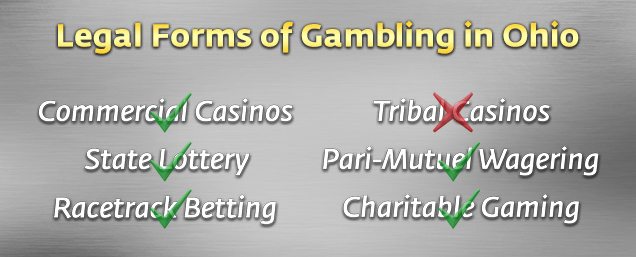 Casino Gambling in Ohio
Apart from restricted extent of home poker and charitable gambling, casino games are allowed only at the four land casinos sanctioned by the Ohio legislature in 2009. All four have become functional. Horseshoe Casino in Cleveland and Hollywood Casino in Toledo opened in May 2012, Hollywood Casino in Columbus opened in October 2012 and Horseshoe Casino in Cincinnati opened in February 2013. These casinos offer slot machines and video poker machines, table games that include blackjack, craps, baccarat and roulette and poker. Oversight of casino gambling is the responsibility of the Ohio Casino Control Commission.
In 2015, a study came out from the American Gaming Association that mentioned Ohio's casinos contributed $3 billion to the state's economy the previous year. The total casino tax revenue collected by the state in 2014 was $267.5 million. Cleveland Cavaliers owner and billionaire, Dan Gilbert, is buying out Caesars stake in both of its two Ohio casinos. Gilbert is also planning to build Phase II on his Horseshoe Cleveland casino which would touch on residential, hotel, retail and the casino itself.
Horse Racing Gambling in Ohio
Horse racing in Ohio is carried out under the oversight of the Ohio State Racing Commission. There are three tracks for thoroughbred racing, which are Beulah Park, River Downs and Thistledown. There are four tracks for harness racing, which are Lebanon Raceway, Northfield Park, Raceway Park and Scioto Downs. The Racing Commission also supervises simulcast wagering at the racetracks and licensed off track betting parlors and that allow patrons to wager on any race in the country.
In 2012, horse racing tracks were allowed to offer video lottery terminals. These terminals were under the oversight of the Ohio Lottery Commission. Racetracks that did not have sufficient space to install these VLTs were allowed to relocate so that they could offer these products in an elegant casino environment with entertainment and dining facilities. However, they are not allowed to offer casino games. These expanded racetracks have come to be known as "racinos".
The Scioto Downs Racino opened in Columbus in June 2012, and the Thistledown Racino opened in Cleveland in April 2013. Hollywood Gaming at Dayton Raceway opened on August 28th, 2014 and made a healthy $1.9 million in its first four days of business. Hollywood Gaming at Mahoning Valley Race Course, Ohio's seventh and final racino, opened on September 17, 2014.
Lotteries in Ohio
Lottery games are conducted by Ohio Lottery. A person must be 18 years or older in order to purchase a lottery ticket. Five draw games are conducted within the state. Ohio Lottery also subscribes to the national Powerball and Mega Millions draws. The profits of the lottery are used to fund various state educational programs as determined by the general assembly.
Charitable Gambling in Ohio
Gambling conducted by charities is covered by code 2915. Three forms of charitable gambling are permitted, which are bingo, raffles and games of chance. Charitable organizations are defined as those exempt from paying federal taxes. Charitable organizations wanting to conduct bingo games require a license from the Attorney General. Specific licenses are not required by charitable organizations for conducting raffles. Games of chance include games like poker, craps and roulette. Games of chance may be conducted only on festivals of the charitable organizations and do not need specific licenses.
Author: Joseph Falchetti (twitter)
(C) Copyright PokerWebsites.com, 2018
References and Citations