Poker Laws in Mississippi
Important MS Notes
Players from MS are legal to play at offshore poker sites
There is positive momentum for online poker legalization
Mississippi has a vibrant casino scene
Land-based casino gambling, including poker, is regulated
State compacts would be a must with its low population
Last updated: July 26, 2018 by Savanah
Mississippi is taking a serious look at passing a state lottery and sports betting this year. Casino revenue was slightly down last year, about 2%, compared to the previous year. An online gambling bill was introduced in 2015 by Rep. Booby Moak but did not pass. Another similar bill is anticipated to be introduced this year. Some industry experts predict Mississippi to be one of the next three states to pass online gambling behind California and New York.
RECOMMENDED POKER WEBSITE FOR
MISSISSIPPI


Mississippi continues to push for legal and regulated poker online, having introduced bills four out of the last five years; it's only a matter of time. Until it gets passed, poker players in the state can play at the offshore website BetOnline legally.
Online poker has not been specifically legalized in the state of Mississippi. Therefore, it is covered under the general prohibition of gambling and deemed illegal but you can play legally at licensed offshore sites. Since online poker has not been legalized by the state legislature, it is currently illegal to operate an online poker business.
Future Outlook of Online Poker in Mississippi – Estimated date of legalization:
2019-2020
The following graph tracks our expected legislation of online poker in Mississippi on a state law level. It is currently already legal on a Federal level. This graph monitors the current rise or fall of expected legalization.

Mississippi Gambling News
With Labor Day – and the official start of the NFL and Southeastern...

All the legal issues may have been smoothed out but the reality at the moment...
Recent Activity
It's very clear that a section of Mississippi legislators are in favor of legalizing online poker. Every year from 2012-2015 an online poker bill has been introduced in the legislature. It is also clear that these legislators are in the minority because these online poker bills introduced in 2012, 2013, 2014 and 2015 have died in the legislature. In April 2014, State Representative Richard Bennett has asked for a task force to do an in-depth study on the pros and cons for legalizing online poker in their state.
In 2012, Democratic Representative Bobby Moak proposed a measure to legalize and regulate online gambling, including poker, within Mississippi. This bill would have allowed gaming operators already holding licenses in the state to offer Internet wagering. The bill was introduced after the Department of Justice stated in December 2011 that The Wire Act does not cover online poker. However, the bill failed to become a law as it could not pass through the Ways and Means committee and the Gaming committee.
Moak is a former Chairman of the House Gaming committee and has many contacts in the Mississippi casino industry. In 2013, he introduced a near identical bill banking on support from local casinos after he promised them protection from online only operators. He also projected substantial income for the state through a 5% tax on Gross Revenues. However, the bill came under fire from anti-gambling and religious groups. This bill also met the same fate. Another bill was reintroduced in January 2014, but was struck down by the state legislatures in February 2014. A similar bill was introduced again in January 2015, with the addition of players caught playing offshore under the bill could get 90 days in jail and a fine of up to $10,000, but this billed also died in February 2015.
Current Gambling Laws in Mississippi
In the Mississippi Code, the laws related to gambling fall under Title 97 Crimes, Chapter 33 Gambling and Lotteries [A]. This chapter includes laws related to charitable gambling.
Section 97-33-1 [B] defines illegal gambling, specifies penalties and lists exclusions. In main, it states, "If any person shall encourage, promote or play at any game, play or amusement, other than a fight or fighting match between dogs, for money or other valuable thing, or shall wager or bet, promote or encourage the wagering or betting of any money or other valuable things, upon any game, play, amusement, cockfight, Indian ball play, or duel, other than a fight or fighting match between dogs, or upon the result of any election, event or contingency whatever, upon conviction thereof, he shall be fined in a sum not more than Five Hundred Dollars ($500.00); and, unless such fine and costs be immediately paid, shall be imprisoned for any period not more than ninety (90) days."
The clearly stated exceptions under this section are cruise vessels, casinos located on shore and river vessels provided the stipulated conditions are met. There is also a general exception of gambling legal in Mississippi.
The Gaming Control Act is found in the Mississippi Code under Title 75 Regulation of Trade, Commerce and Investments, Chapter 76.
Internet sweepstake cafes are illegal under Section 97-33-8. This section is a recent one and is effective from July 1, 2013. Clause (2) of this section states:
"It shall be unlawful for any person or entity to possess, own, control, display, operate or have a financial interest in an electronic video monitor that:  (a) Is offered or made available to a person to play or participate in a simulated gambling program in return for direct or indirect consideration, including consideration associated with a product, service or activity other than the simulated gambling program; and (b) The person who plays or participates in the simulated gambling program may become eligible to win, redeem or otherwise obtain a cash or cash-equivalent prize, whether or not the eligibility for or value of the prize is determined by or has any relationship to the outcome or play of the program." Simulated gambling program has been defined as any method intended to be used by a person playing, participating or interacting with an electronic video monitor.
History of Gambling in Mississippi
1990
Mississippi Gaming Control Act passed.
1992
First regulated dockside casino opened.
1993
Mississippi Gaming Commission assumes responsibility.
2005
Gulf Coast casino industry devastated by Hurricane Katrina. Major amendment to casino laws.
2012
Online poker bill introduced but not passed.
2013
Online poker bill introduced but not passed. Internet sweepstake cafes made illegal.
2014
Online poker bill introduced but not passed. Casinos generated $935 million in tax revenue, had a $4.1 billion economic impact, and supported more than 37,000 jobs.
2015
Internet gambling bill introduced in January but died in February. The $290 million Scarlet Pearl Casino opened in December.
2016
Casino revenue was up 1.6% compared to 2015.
2017
Casino revenue was down about 2% compared to 2016.
Poker at Home
Home poker games are illegal in Mississippi, though they are not specifically illegal under any section and there is no exemption for home poker games under any clause. Therefore, they are deemed illegal. An exemption that has been repeated again and again in the Mississippi Code is, "a fight or fighting match between dogs". This has riled many poker players who claim that the legislators are of the opinion that placing wagers on the life of domesticated animals is acceptable, while playing poker among friends in your own home is not.
Charity Poker Tournaments
Charity gambling is permitted in some forms but that does not include poker tournaments.
Live Poker
Live poker is permitted only in licensed Indian and commercial casinos.
Gambling Laws in Mississippi
Summary
Mississippi has been notorious for illegal back room and rogue gambling operations for over a century. In order to curb these activities the Mississippi Gaming Control Act was enacted on June 29, 1990. The forms of legal gambling in Mississippi are commercial casinos, Indian casinos and charitable gambling.  The organizations that have been given oversight and regulatory authority on gambling activities are the Mississippi Gaming Commission and the Mississippi Department of Revenue.
The Mississippi Gaming Commission [C] was established under the Gaming Control Act 1990.  It assumed responsibility from October 1, 1993. Its objective is to ensure public confidence in the gaming industry by maintaining the integrity of the gambling activities. The Department of Revenue [D] is the primary agency for collecting tax revenues, including those from gambling. The pertinent information is provided in the public domain at its website.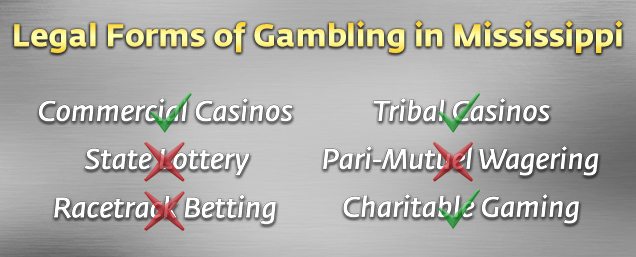 Lotteries in Mississippi
Mississippi is one of only a few states in the USA that does not have a state lottery. Sections 97-33-31 to 97-33-47 prohibit the operation of lotteries or the sale of lottery tickets in the state.
Brick and Mortar Casinos in Mississippi
Land casinos were permitted in Mississippi only in 2005, after Hurricane Katrina leveled the boat casinos on the Gulf Coast.  In order to prevent a recurrence of this, Gulf Coast casinos were allowed to be located on dry land, as much as 800 feet away from the shoreline.  All other Mississippi casinos, except Indian casinos, must be on water.
Both types of above casinos are regulated in the same manner. Mississippi has 30 state-regulated casinos along the Mississippi River and on the Gulf Coast. The main casino cities are Tunica, Gulfport, Lula, Greenville, Natchez and Vicksburg. The complete list is available here [E]. Mississippi casinos can offer all standard casino games including slot machines, video poker, live poker and table games like blackjack, craps, roulette and table poker variants. The Mississippi casinos do not have any bet limits, may operate round the clock and serve alcohol at all times.
In addition, there are three Indian casinos on reservations that operate under separate compacts with the state. These are owned and operated by the Mississippi Band of Choctaw Indians. The casinos are Silver Star Casino in Philadelphia, Golden Moon Casino in Choctaw and Bok Homa Casino in Heidelberg. Indian casinos have the same rules as the state regulated casinos, except that they are allowed to offer commercial bingo games.
Pari-Mutuel Wagering in Mississippi
Mississippi does not allow pari-mutuel wagering on horse or dog racing as a legal form of gambling. It is only one of four states in America that do not to offer this forms of gambling; Utah, Hawaii, and Alaska being the other three.
Riverboat Casinos in Mississippi
After the enactment of the Mississippi Gaming Control Act in 1990, the first riverboat casino opened in 1992. Actually it was a casino on a boat docked in the sea off the Gulf Coast. This gambling activity is covered in the Mississippi Code under Title 27 Taxation and Finance, Chapter 109 Cruise Vessels. Today, riverboat casinos operate on rivers as well as off the coast.
Charitable Gambling in Mississippi
Charitable gambling is covered under the Sections 97-33-50 to 97-33-101 [F]. It is under the oversight of the Mississippi Gaming Commission. Raffles and bingo are the two forms of charitable gaming being permitted, with bingo being the dominant one. In order to qualify for a license an organization must meet the conditions of being non-profit under 501(c) or (d) of the Internal Revenue Code. The clauses under the above sections also specify the frequency and location of the games and the prizes that can be awarded.
Author: Joseph Falchetti (twitter)
(C) Copyright PokerWebsites.com, 2018
References and Citations