Important TN Notes
Poker players in TN can play legally at offshore poker sites
Most likely one of the last states to pass internet poker
Eleven straight years of record lottery sales; $1.475 billion
The Tennessee Lottery is the only form of gambling allowed
Racetracks, charity, pari-mutuel, comm./tribal casinos illegal
Last updated: July 14, 2018 by Savanah
Not much has been happening in the gambling front in Tennessee. The latest significant news has been a bill to legalize and regulate online daily fantasy sports (DFS) betting was signed into law by Governor Bill Haslam on April 27, 2016. DFS operators are now required to pay a $50,000 licensing fee, and 6% of the revenue generated from TN players will be paid to the state. Tennessee's state lottery set a record in revenue for the twelfth straight year; $1.657 billion in 2016 (most current numbers available). Tennessee is one of the least favorable states when it comes to gambling in general, but maybe things will be turning around with the regulation of DFS wagering.
RECOMMENDED POKER WEBSITE FOR
TENNESSEE


Tennessee offers no legal forms of poker in their state, online or offline, which could put them in the last handful of states to pass and regulate internet poker. However, Tennesseans can play poker online legally at BetOnline, a licensed offshore site.
Under current law, it is illegal to operate an online poker business in Tennessee but it is legal to play at regulated offshore sites. There are no online poker rooms legalized or regulated by the state, nor is there any authority planning to license online poker operators in the future. There are also no motions to introduce online poker in Tennessee any time in the near future.
Future Outlook of Online Poker in Tennessee – Estimated date of legalization:
2021-2022
The following graph tracks our expected legislation of online poker in Tennessee on a state law level. It is currently already legal on a Federal level. This graph monitors the current rise or fall of expected legalization.


On Friday, the Tennessee Lottery gave the green light for two more sports...

In its first month of legal sports betting, Tennessee reported on excellent...
Recent Activity
Anybody willing to lose a lot of money will wager that Tennessee will be introducing legal online poker in the near future.  This is one of several states where the chances of seeing any movement towards the regulation of any type of online gambling industry are slim to none.  The state has never shown any interest in developing any type of internet wagering platform (except for sparks of interest to expand the sale of lottery tickets online), and it seems that this will remain a fact for many years to come in the Volunteer State.
This seems almost ironic considering that the man who many say was responsible for the meteoric growth of online poker popularity, Chris Moneymaker, lived in Tennessee when he qualified for the World Series of Poker through a $39 buy in online tournament at Poker Stars and eventually went on to enjoy an incredible rags to riches story by winning the 2003 Main Event and taking home $2.5 million in prize money.
As described in an article in PokerNews [A], "May 23, 2003 – the poker world changed. Chris Moneymaker turned an online satellite and a dream into $2,500,000 and an industry was born."
Even more ironically, Chris Moneymaker continues to live in Nashville with his family.
Another poker personality worth mentioning is one of the most successful female poker players in history, Kathy Liebert, a Nashville native who has won countless events, including the Poker Superstar in 2002 and a World Series of Poker bracelet in 2004.
One politician also worth mentioning in Tennessee's dismal legal online gambling landscape is Rep. Steven Cohen, the Democratic congressman who was a co-sponsor of an online poker bill introduced by Texan Rep. Joe Barton in 2011.  The Internet Gambling Prohibition, Poker Consumer Protection and Strengthening UIGEA Act of 2011, (HR 2366 [B]), came with an objective to establish a program for state licensing of internet poker and other purposes.  HR 2366 died when it was referred to a Committee.
At the time, Cohen said that he supported HR2366 because, "legalizing online poker would not weaken Tennessee's Lottery because online poker caters to a different population of gamblers."
In his paper, Gambling on Lotteries and Casinos in Tennessee [C], College of Charleston's Douglas M. Walker examines the possibility of the state one day introducing online gambling and predicts that the, "introduction of online gambling is likely to lead to a net increase in overall state revenue."
"Since Tennessee currently has neither casinos nor online gambling, if it were to introduce the two simultaneously it would likely maximize its revenues from legalized gambling offerings", he writes. "The new forms of gambling would likely have a negative impact on lottery sales… However, the introduction of new forms of gambling would almost certainly increase the overall amount of tax revenues from legalized gambling."
History of Gambling in Tennessee
1804
First official horse race held in the state at Gallatin.
1839
Ten established race tracks and at least 20 organized Jockey Clubs in Tennessee.
1887
West Side Park replaces Burns Island track and horse racing as the official Nashville racetrack.
1906
Anti betting laws passed by the Tennessee General Assembly, bringing an end to horse racing to Tennessee for several years.
1940
First Iroquois Steeplechase run at a brand new $45,000 steeplechase course constructed.
1980s
Government shuts down around 300 bingo halls
[D]
in the state.
2002
The question of creating a Tennessee State Lottery added to the referendum in the November election.  Residents asked if they want lottery legalized in the state and vote overwhelmingly in favor.
2003
Tennessee State Lottery legalized.
2004
Lotto 5 added to Tennessee Lottery.
2010
Following flooding disasters in the state, the government moves to allow charitable gaming under restricted circumstances.
2014
Charitable gaming in Tennessee grossed $8.3 million which was very pleasing to state representatives.
2015
The Tennessee Lottery set a sales record for the 11th consecutive year. Total sales were $1.475 billion, up 4.1% from last year.
2016
A bill to legalize and regulate online daily fantasy sports betting was passed and signed into law on April 27th. The state lottery set a record in sales for the 12th consecutive year; $1.657 billion.
Land Based Poker in Tennessee
The game of poker, despite being a skill based game, is governed by state codes 4-36-101 et seq. and 39-17-501 [E] under the definition of gambling, where it is stated: "Gambling is contrary to the public policy of this state and means risking anything of value for a profit whose return is to any degree contingent on chance, or any games of chance associated with casinos, including, but not limited to, slot machines, roulette wheels and the like."
In other words, even if an activity has a tiny element of chance involved, Tennesseans are not allowed to bet anything of value and it is clear that poker falls under this definition.
In 2005, the Office of the Attorney General gave an opinion [F] to the question: Whether poker tournaments charging an admission fee to play 'Texas Hold 'em' for a chance to win a prize are legal in Tennessee?
The answer was a unanimous 'no' since, according to the opinion, "the pay to play poker tournament with a chance to win a jackpot prize violates Tennessee's gambling statutes."
"A poker tournament charging an entry fee to play poker and to have the chance to win a prize constitutes "gambling" under Tennessee law. Additionally, a "Texas Hold'Em " poker tournament, with the opportunity to win a jackpot prize, could be considered a lottery prohibited by TENN. CONST. art. XI, § 5 and Tenn. Code Ann. § 39-17-506. The described pay to play poker tournaments for a chance to win a prize remain prohibited under the Tennessee Charitable Gaming Implementation Law, Tenn. Code Ann. §3-17-102(8)(B)", wrote the Attorney General.
There are no legal options to play poker in Tennessee, given the total lack of commercial and tribal casinos, as well as card rooms.  Even home games are not allowed under Tennessee's strict poker laws.  The state is also not afraid to go after players and operators of home games, as can be seen from police records.  Even charitable poker games are nonexistent in Tennessee.
Gambling Laws in Tennessee
Gambling in Tennessee is a barren landscape, with almost no opportunity to partake in any form of gambling beyond the state lottery.  In fact, until the lottery was introduced in 2003, Tennessee was one of only 3 states (the other two being Utah and Hawaii) where no form of gambling was allowed.  There are no casinos of any kind, and today the only forms of gambling permitted are charitable options and the state lottery.
Players caught gambling are charged with a Class C misdemeanor, although they could also face Class B misdemeanors for the promotion of gambling or possessing gambling devices.  The state is even harsher with gambling operators who could face a Class E felony for aggravated gambling promotion.  A gambling operator, under Tennessee law, is one who, "knowingly invests in, finances, owns, controls, supervises, manages or participates in a gambling enterprise."
Tennessee laws [G] dictate 30 days in prison and/or a fine of $50 for a Class C misdemeanor, six months in prison and/or a fine of $500 for a Class B misdemeanor, and 1 – 6 years and/or a $3,000 for a Class E felony.
Tennesseans regularly cross state border lines to play in other states and a small riverboat casino in Caruthersville, MO, which is located right on the Missouri-Tennessee state line.
The Future of Gambling Laws in Tennessee
While it may not look like it at first glance, it is generally believed that a serious public debate on the question of gambling expansion in Tennessee may become a focal point of interest among lawmakers in the future.  Tennessee borders seven states, with casino gambling already available in several of them, including Missouri, North Carolina and Mississippi.  In fact, Tunica, Mississippi, considered the ninth largest casino market in the United States, is only 30 miles from Memphis and 30% of Tunica casino patrons cross the border from Tennessee.
In his paper, Gambling on Lotteries and Casinos in Tennessee, Douglas M. Walker says that gambling supporters may argue that casinos are already available to many Tennessee residents anyway and it may be worthwhile for the state to regulate and legalize its own industry to bring in the tourist dollars and keep gambling dollars within state borders.  Other advantages of a flourishing casino industry, which cannot be ignored, include employment opportunities, tax revenue and the boost of local industries.
"A completely free market for gambling is not politically feasible, nor is it something that would win popular support from voters", writes Walker. "But a ban on gambling (except the lottery) is a highly inefficient policy because it prevents willing buyers and sellers of a popular pastime industry from operating in the state.  As with other sectors of the economy, a more free market with respect to the gambling industry would increase economic development in Tennessee."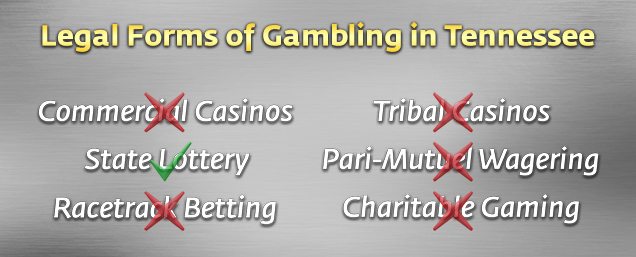 Indian Casinos in Tennessee
There are no tribal casinos in Tennessee.  Residents usually cross over into neighboring states in order to enjoy Indian casinos such as Harrah's Cherokee Casino in North Carolina, which forms part of the world's largest provider of branded casinos and offers casino games such as poker, blackjack, craps, roulette, video poker, slots and more.
Racing Laws in Tennessee
Under Tennessee racing laws, licensed horse racing, interstate simulcast wagering and pari-mutuel wagering at licensed satellite teletheaters are legal.  Only two counties in Tennessee have legalized pari-mutuel betting on horse racing, although no group has stepped forward to construct a viable race track.
Charitable Gambling in Tennessee
In 2010, a number of major cities in Tennessee were struck by flooding, and millions of residents were affected.  Added to these natural disasters were a string of tornadoes in the eastern part of the state, leading to politicians trying to come up with ideas to find fast, extra funding to help with the big clean up and assistance to residents.  As such, in early 2011, lawmakers opted to allow charitable gambling in the state under very restricted circumstances.
Governed by the Tennessee Secretary of State [H], charity gaming falls under the Tennessee Charitable Gaming Implementation Law [I] which allows an IRC 501(c)(3) organization to operate one annual game of chance.  The organizations have to be approved by two-thirds vote of the General Assembly.  Authorized games include raffles, cakewalks, reverse raffles and cake-wheels.
Organizations are restricted in terms of documentation that they have to produce, the location where the annual event can be held and the fact that only two organizations may operate an event each month at the same location.
Lotteries in Tennessee
Tennessee was a latecomer to the lottery game, following most other states who had already established their lottery platforms in the 80s and 90s. The lottery, officially known as the Tennessee Education Lottery (so that there would be no question about where the funds are to be directed to and to offset any moral arguments), has provided billions for education programs and subsidizes college students, after school studies and pre-K programs.
The Tennessee Lottery [J] offers jackpot draw games and scratch and win games such as the Tennessee Riches.  Tickets are sold through nearly 5,000 retail outlets across the state, and may not be purchased over the internet.  Winners of instant games have 90 days to claim their prizes, while drawing style games winners have 180 days to claim. Prizes are subject to federal income tax, and players need to be 18 years of age or older to take part in the Tennessee Lottery.
Author: Joseph Falchetti (twitter)
(C) Copyright PokerWebsites.com, 2018
References and Citations