Important UT Notes
Offshore sites legally accept UT players on a Federal level
Gambling as an individual in Utah is a misdemeanor
Probably the last state to pass iGaming
Utah has no forms of legal gambling
There are plenty of live cardrooms in neighboring states
Last updated: July 14, 2018 by Savanah
Utah is one of two states to prohibit all forms of gambling; Hawaii being the other. When Powerball fever swept the country the past two years, citizens of UT went to neighboring states to get their lottery fix. However, the state isn't likely to get a lottery anytime soon. On another note, federal law recognizes the right of Indian tribes to build gambling establishments on their reservations, provided the state has some form of legal gambling. The outlook for any sort of gambling in Utah continues to look bleak.
RECOMMENDED POKER WEBSITE FOR
UTAH


Utah will most likely be the last state, if ever, to legalize poker on the web. The good news is, Utahns can still play poker at the licensed offshore poker website BetOnline (one of very few sites to accept players in Utah).
Current state laws in Utah proclaim that it is illegal to operate an online poker business. There is no sign of any pending legislation that will change that fact in the near or far future, nor are there any plans to create a regulatory body that may eventually license online poker or gambling operators in Utah. The state has not initiated any studies to examine the impact of online poker on the economy or social makeup of Utah.  Despite this, offshore online poker sites report on Utahans playing at their sites for real money legally as a player on the Federal level.
Future Outlook of Online Poker in Utah – Estimated date of legalization:
2023-2024
The following graph tracks our expected legislation of online poker in Utah on a state law level. It is currently already legal on a Federal level. This graph monitors the current rise or fall of expected legalization.

Recent Activity
If odds were being offered on the state least likely to introduce online poker, the state of Utah would be the favorite on the list. It seems highly unlikely that in a state where absolutely no gambling is allowed in any shape or form (including the lottery), online poker will be welcomed with open arms in the next decade. Utah is one of two states in the entire US (Hawaii being the other), where no form of gambling is legal and therefore, to put it mildly, the future outlook of online poker in Utah looks very bleak.
In fact, Utah's lawmakers are so adamant that they will never be part of any future plans to change online poker laws on a federal level, that they became the first (and, as of yet, only) state to pass a law, HB 108 (Internet Gambling) [A] that actually forbids Utah from participating in any federal online poker scheme in the future.
Part of HB 108 reads:
This bill defines Internet gambling; clarifies that gambling, which is prohibited in Utah, includes any form of Internet gambling provides that any person who knowingly transmits, receives, or relays any form of Internet or online gambling into or within this state is guilty of a class A misdemeanor; provides that if any federal law authorizes Internet gambling in the states, this state shall opt out of allowing Internet gambling by the procedure provided in the federal law.
The law also states that, "a person is guilty of a Class A misdemeanor who intentionally provides or offers to provide any form of internet or online gambling to any person in this state."
Not only is Utah not likely to allow online poker anytime in the future, but as a state that has taken such a proactive stance against any possibility of potential federal laws affecting its citizens, it can be expected that Utahan lawmakers will be the most vocal when expressing opposition to the idea of changes to federal legislation when Congress eventually needs to vote about the future of online poker in the United States.
History of Gambling in Utah
1800s
Casinos flourish in Utah as the area becomes a magnet for silver miners.
1840s
The arrival of the Mormon settlers in Utah led to the one of the first laws passed in the then State of Deseret, prohibiting gambling.
1866
Brigham Young, early LDS Church president, says in a
sermon
[B]
:  "Let a judge decree that… a gambling saloon shall be established in our city, and we will give him the privilege to get out of the city as quickly as possible."
1925
Utah briefly allows betting on horse racing.
1927
Utah Legislature suspends betting on horse racing in the state.
1990s
Organized effort to change gambling laws in the state, led by Utah horsemen who lobby lawmakers to lift the ban on pari mutuel wagering.
1992
Supporters of pari mutuel betting push a statewide petition drive to put the issue on the general election bill in November, collecting more than 100,000 qualifying signatures.   Utah voters, however, reject the initiative 60:40.  Supporters blame the LDS Church for its extreme take on gambling and for their influence over state residents, especially in statements such as one issued in January 1992: "The Church of Jesus Christ of Latter-day Saints opposes gambling in its various forms. Experience has clearly shown gambling to be harmful to the human spirit, financially destructive of individuals and families, and detrimental to the moral climate of communities. The attitude of the Church on this matter has been consistent and clear over a period of more than a century."
2000s
Bingo and poker clubs operate widely in Utah, despite their illegal status, offering video gaming and other similar pastimes.  Owners claim loopholes in the law allow them to operate the video games.  Many are closed down by authorities, but some continue to operate without trouble from the law.
2007
State Rep. Stephen Sandstrom unsuccessfully tries to outlaw 'gambling-like' activities in establishments that hold liquor licenses, despite the games being free.
2011
Salt Lake City police raid three buildings in a swoop on covert poker games, seizing poker tables, chips, cards and other gambling related equipment.  14 players and two dealers arrested.
2012
Utah passes a law updating its state statutes, where the issue of online gambling and poker is expressly addressed and forbidden.  The bill is passed in response to the December 2011 opinion by the Justice Department that the Wire Act (1961) applies only to sports betting and not to any other form of online gambling.  Efforts by the Poker Players Alliance to halt Utah introducing the law are unsuccessful, although the group lobbied successfully to stop making it a felony to wager online in Utah. Governor Gary Herbert signed the bill into law, which states that, "if any federal law is enacted that authorizes Internet gambling in the states and that federal law provides that individual states may opt out of Internet gambling, this state shall opt out of Internet gambling in the manner provided by federal law and within the time frame provided by that law."
2015
Jason Chaffetz, Utah Representative, has been pushing the Restoration of America's Wire Act (RAWA) which would prohibit online gambling in the country. Chaffetz failed to make his case to enact the law in a December hearing.
Land Based Poker in Utah
Utah makes no apologies for its stance on the game of poker, which is lumped together with every other possible of gambling.  Reflecting the opinion of most residents of the state that "gambling is a sin", the law states that poker is simply not allowed in any form or shape.  Laws governing poker are the same as those governing all other forms of poker, covered by Section 76-10-1101 (2) (a) [C], which states that, "gambling means risking anything of value for a return or risking anything of value upon the outcome of a contest, game, gaming scheme, or gaming device when the return or outcome: (i) is based upon an element of chance; and (ii) is in accord with an agreement or understanding that someone will receive something of value in the event of a certain outcome."
Having said that, a recent article that ran in the Deseret News, entitled: "Utahns find Ways to Gamble Despite it Being Illegal in the State – but the Cost is High" [D], written by Dennis Romboy, showed that the game of poker is alive and kicking in the state, albeit its illegal status.
The article quotes the past Utah Director of the Poker Players Alliance, Chadler Cowles who said: "There is so much poker going on in this state. You'd be surprised at who you saw at game – doctors, lawyers, dentists, sometimes bishops, active members of every church you could imagine."  These games take place in homes across the state, and even in businesses, where the authorities seem to turn a blind eye.  The article also quotes Slat Lake County District Attorney Sim Gill admitting that "it's a changing environment because with electronics and everything, it's getting sophisticated in a different way."
Gambling Laws in Utah
According to statistics, Utah has more church goers than any other state and two thirds of the residents belong to the Mormon Church which explicitly forbids gambling. As such, it can easily be understood why Utah has some of the strictest gambling laws in the United States, where is there is absolutely no room for any type of flexibility.  The laws covering gambling in Utah are explained in more detail in the section "Land Based Poker in Utah" above.
It is not a good idea to find yourself on the wrong side of the law when it comes to gambling in Utah. Players could be charged [E] for a Class C misdemeanor, where penalties could be up to 90 days in jail and a fine of up to $750.  Those who are caught gambling for the second time will have their charges pushed up to a Class A misdemeanor which could mean up to one year in jail and a fine of up to $2,500.  Gambling operators have it even worse in Utah and charges range from a misdemeanor to a felony.
In this sea of anti-gambling sentiments and laws in Utah, however, there are sometimes voices of reason that can be heard.  For example, assistant general Thom Roberts clarified last year that if nothing is being risked, the activity is probably not considered illegal gambling.  "There are three elements to illegal gambling," he said. "To the extent you have all three, you probably have illegal gambling. To the extent you're missing one of those, you probably don't".
Utah Senator Orrin Hatch [F], referring to Nevada Senator Harry Reid's efforts to introduce federal law to legalize online gambling in 2012, said that he didn't blame the senator for standing up for the industry in his state.  "I don't think the people of Utah would tolerate it, but you never know," he said. "It's one thing to bet a dollar on a University of Utah-BYU game. That may be fun to do. Or do the normal small things, bet on a golf course or something like that. But I think it's better not to gamble, period."
Some local businesses have also found original ways of allowing their patrons a taste of gambling excitement, such as restaurants who charge a fee for a meal and "free bingo", with a real money cash prize up for grabs.
In a nutshell, Utah offers no form of regulated gambling whatsoever, making absolutely no exception for other types of gambling that may be acceptable in other strict states, including lotteries, social gambling, charitable gambling or tribal gambling.
On the flip side, only ten cities across Utah handled 48 gambling cases since 2008, according to the Utah Department of Public Safety crime stat reports. Most of them involved commercial businesses such as internet cafes or organized high stake operations with a rake.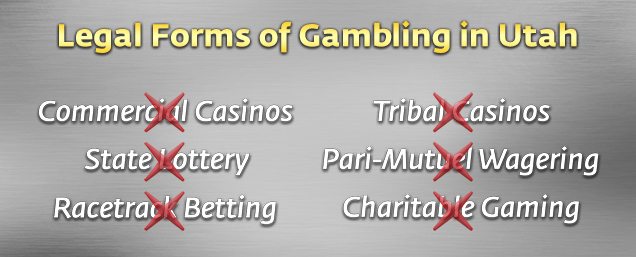 Casinos in Utah
There are no casinos, tribal or state licensed, that operate in Utah.  However, that doesn't mean that Utahans are deprived of casino entertainment – it simply doesn't take place within the borders of their own state.  Utahans help support a number of casinos in the border town of Wendover in Nevada, which is a mere 120 miles from Salt Lake City. Resorts such as the Montego Bay Casino Resort, which offers a live poker room, an active casino floor, plenty of table games, slot machines and a full sports book, help the residents of Utah enjoy gambling, even when it is not a legal option in their state.
Racing in Utah
Utah has an active racing industry, despite the fact that it is illegal to wager on the races themselves.  The Utah Quarter Horse Association's [G] mission is to "develop positive participation with racing activities in Utah in cooperation with the American Quarter Horse Association.  Our mission is to encourage the breeding and ownership of Utah Bred racehorses, to promote and protect racing opportunities in the state, and represent our members' interest at the state capitol…"
To get in on quality horse racing betting action, Utahans travel to states such as Wyoming, where they watch races and bet at tracks such as Wyoming Downs.
Lotteries in Utah
Efforts to introduce a lottery in Utah are ongoing, with a couple of active websites and social networking campaigns running.  These include 1,000,000 People in Favor of Utah Lottery on Facebook and Utahlottery4utah.com.  In addition, Utahans regularly make their way over the state border to purchase lottery tickets, and statistics from recent years show that 19% of Idaho's lottery tickets are bought by Utah residents [H].  According to a spokesman for the Idaho Lottery Commission, the state knows that Utahans "contribute significantly to Idaho public schools and the state of Idaho's permanent buildings, which are our beneficiaries."  Pro-lottery campaigners in Utah argue that lottery-dollars could be kept inside the state's borders, instead of funding the needy causes of neighboring states, if the government legalized a Utah lottery, since residents play the lottery anyway.
Charitable Gambling in Utah
Utah lawmakers are clear about their take on charitable gambling, with the Constitution [I] stating that "the Legislature shall not authorize any game of chance, lottery, or gift enterprise under any pretense or for any purpose."
Author: Joseph Falchetti (twitter)
(C) Copyright PokerWebsites.com, 2018
References and Citations