Important CO Notes
Regulated offshore poker websites accept players from CO
iGaming bills have been introduced in the state legislature
Most likely one of the next few states to pass internet poker
Commercial & tribal casinos, & racetrack wagering are legal
Lottery, pari-mutuel betting, & charitable gaming also legal
Last updated: July 18, 2018 by Savanah
Poker room revenue in Colorado was slightly down last year compared to the previous year. Governor John Hickenlooper signed a bill into law in June of 2016 that legalized and regulates online daily fantasy (DFS) sports betting. Colorado is an extremely liberal state when it comes to social issues and they already have just about every legal form of gambling, aside from online poker and casino games. Although it's not a top priority for lawmakers at the moment, online gambling's long term prospects remain positive. Casino revenue in the state continues to grow at a fast rate compared to other states in the U.S.
RECOMMENDED POKER WEBSITE FOR
COLORADO


Colorado is predicted to be one of the next seven states to pass and regulate poker online. It seems to be only a matter of time, but until that time comes, poker players in Colorado currently play for real money at BetOnline.
"Reviewed by Chuck Humphrey – 50 year Gaming Law Practitioner"
Future Outlook of Online Poker in Colorado – Estimated date of legalization:
2019-2020
The following graph tracks our expected legislation of online poker in Colorado on a state law level. It is currently already legal on a Federal level. This graph monitors the current rise or fall of expected legalization.

Recent Activity
Colorado residents do engage in online poker. Though the law enforcement authorities emphasize and disseminate information on the illegality and undesirability of the act, they have not taken any action against online poker players or online poker sites located outside of the USA. This situation is likely to continue.
There has been no serious move to initiate the legalization of online poker in the state. However, an article in CardPlayer.com [A] stated that the Colorado Gaming Association [B] had drafted a bill for legalizing online poker in the state in May 2012. But, since the association was busy with other gambling-related issues, nothing further was done. The association's executive director Lois Rice said that bill would not be introduced in 2013. However, they would monitor the progress of federal attempts to legalize online poker and also the outcomes in the states that have legalized online poker. The bill is based on the one in New Jersey. The office of then House Speaker Frank McNulty said that the Colorado Gaming Association has not approached any of the legislators for introducing the bill. A Colorado constitutional provision allows players in legalized casino poker rooms in Colorado to wager up to $100 per bet. That provision would have to be considered in any constitutional amendment made to permit online poker.
Colorado is making some headway on their interest of regulating and licensing poker over the internet, although the Colorado Constitution would need to be amended first and foremost. Former Attorney General John Suthers mentioned that if passed it would be as intrastate poker.
Current Gambling Laws in Colorado
Gambling is covered under Article 10 of Title 18 (Criminal Code) of the Colorado Revised Statutes [C]. Under Section 18-10-101 titled "Legislative declaration – construction" the general assembly of Colorado recognizes the close relationship between professional gambling and other organized crime, and therefore, seeks to restrain all persons from seeking profit from gambling activities and to safeguard the public against the evils induced by common gambling houses. However, the objective is not to restrict participation by individuals in, "sport and social pastimes which are not for profit, do not affect the public, and do not breach the peace".
Section 18-10-102 [D] includes relevant definitions. "Gambling" means risking any money, credit, deposit, or other thing of value for gain contingent in whole or in part upon lot, chance, the operation of a gambling device, or the happening or outcome of an event, including a sporting event, over which the person taking a risk has no control, but does not include:
(a) Bona fide contests of skill, speed, strength, or endurance in which awards are made only to entrants or the owners of entries;
(b) Bona fide business transactions which are valid under the law of contracts;
(c) Other acts or transactions now or hereafter expressly authorized by law;
(d) Any game, wager, or transaction which is incidental to a bona fide social relationship, is participated in by natural persons only, and in which no person is participating, directly or indirectly, in professional gambling.
"Professional gambling" is defined as: (a) Aiding or inducing another to engage in gambling, with the intent to derive a profit therefrom; or (b) Participating in gambling and having, other than by virtue of skill or luck, a lesser chance of losing or a greater chance of winning than one or more of the other participants.
Section 18-10-103 of the Colorado Revised Statutes deals with gambling offenses. A person who engages in gambling commits a class 1 petty offense. A person who engages in professional gambling commits a class 1 misdemeanor. Repeating gambling offenses result in a class 5 felony.
The permitted forms of gambling are covered under different Titles of the Colorado Revised Statutes. Sweepstakes and contests are covered under Part 8 of Article 1 of Title 6. Title 12 covers bingo and raffles under Article 9, casino gaming under Article 47.1 and 47.2 and racing under Article 60. State Lottery is covered under Part 2 of Article 35 of Title 24.
Section 18-10-106 of the Colorado Revised Statutes is relevant for the prohibition of online poker. It states, "Whoever knowingly transmits or receives gambling information by telephone, telegraph, radio, semaphore, or other means or knowingly installs or maintains equipment for the transmission or receipt of gambling information commits a class 3 misdemeanor. If the offender is a repeating gambling offender, it is a class 6 felony." Here the Internet is implicit under "other means".
History of Gambling in Colorado
1949
Pari-mutuel wagering legalized in Colorado. Colorado Racing Commission established.
1958
Bingo and raffles legalized.
1983
Colorado lottery started.
1990
State regulation of charitable bingo and raffles strengthened.
1991
Private casinos legalized in historic cities with max $5 bet.
1992
First tribal casino opened at Towaoc.
2000
Regulation of sweepstakes introduced.
2005
Attorney General issues communication on online gambling being illegal.
2009
Maximum bet at casinos increased to $100.
2012
Colorado Gaming Association drafts online poker legalization bill but stalled.
2013
Eilers Research estimates Colorado could generate more than $30 million in annual revenue from internet gambling.
2015
Colorado's casinos generated $790.1 million in revenues and grew at the fifth fastest rate in the USA at 5.9%.
2016
On June 10th Colorado passed a bill to legalize and regulate online daily fantasy sports betting.
Land Based Poker in Colorado
Poker at Home
Home poker becomes permissible in Colorado under the "social gambling exception [E]". There are certain conditions that must be met. There has to exist a, "bona fide social relationship" between the players, which means that they must have an established social relationship based upon some common interest other than poker. The home gambling games cannot infringe into the area of "professional gambling". The implication is that no one other than the players can profit from the game or activity in any manner. Stated simply, this means that there cannot be a rake for the home owner, even to cover costs.
Charity Poker Tournaments
Charity poker tournaments are illegal in Colorado. The activity includes the elements of gambling listed in the statutes and there is no exemption approved by the legislature.
Live Poker
Live poker gambling is permitted only in the licensed casinos or through the social exception clause. Any other form of poker, such as poker tournaments in business establishments and particularly bars, has to fall outside the purview of gambling in order to be legal. One of the following three elements must be absent: consideration, chance, and reward. Poker inherently has chance. Therefore either there must be no buy-in or no payout.
Gambling Laws in Colorado
Summary
The legalized form of gambling in Colorado are casino gaming, pari-mutuel wagering, charitable bingo, state lottery, sweepstakes and social gambling.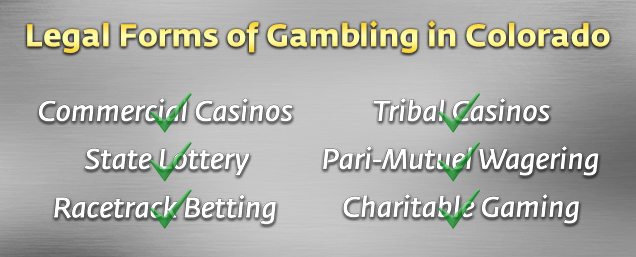 Brick and Mortar Gambling Laws in Colorado
Title 12 (Professions and Occupations) Articles 47.1 and 47.2 of the Colorado Revised Statutes cover casino gaming. Article 47.1 is the Colorado Limited Gaming Act which covers 38 private casinos in the historic gold mining cities of Black Hawk, Central City and Cripple Creek. These casinos are licensed and regulated by the Colorado Gaming Commission [F], which functions under the Division of Gaming, Department of Revenue. Article 47.2 is the Tribal State Gaming Compact for the two casinos run by the Ute Tribe on their reservations in Towaoc and Ignacio. Colorado legalized state regulated private casinos in 1991. At that time the maximum allowed bet was only $5. From 2009 this limit was raised to $100 and more Las Vegas style casino games were introduced. The minimum age is 21.
Pari-mutuel Wagering in Colorado
Title 12 (Professions and Occupations) Article 60 of the Colorado Revised Statutes covers racing. Colorado currently offers live horse racing only at the racetrack facility at Arapahoe Park in Aurora. No live greyhound racing is currently offered in Colorado. The state laws allow wagering on simulcast horse and greyhound racing. Arapahoe Park offers simulcast wagering only during the live racing season. But seven off-track betting facilities offer wagering on simulcast horse and greyhound racing year round. The minimum legal age is 18. The Racing Commission under the Colorado Division of Racing Events [G] regulates Colorado pari-mutuel wagering.
Lotteries in Colorado
The state lottery is covered under Part 2 of Article 35 (Department of Revenue) of Title 24 (Government – State) of the Colorado Revised Statutes. The Colorado Lottery [H], instituted in 1983 regulates the lottery activity. A number of draw and scratch games are offered including the national Powerball and Mega Millions. Colorado Lottery does not currently sell tickets online.
Charitable Gambling in Colorado
Charitable gambling is covered under Article 9 (Bingo and Raffles Law) of Title 12 (Professions and Occupations) of the Colorado Revised Statutes. This activity comes under the oversight of the Secretary of State [I]. Participating charitable organizations are required to obtain a license from the Colorado Secretary of State's licensing center. Section 12-9-102 defines a charitable organization as, "any organization, not for pecuniary profit, that is operated for the relief of poverty, distress, or other condition of public concern within this state and that has been so engaged for five years prior to making application for a license under this article". Section 12-9-107 contains the important rules about who can apply for licenses, how the games are to be conducted and how the collected funds are to be deployed.
Sweepstakes in Colorado
The laws governing sweepstakes fall under Title 6 (Consumer and Commercial Affairs), Article 1 (Colorado Consumer Protection Act), Part 8 (Sweepstakes and Contests). The objective of regulating sweepstakes, as stated under Section 6-1-801, was to ensure that consumers were given the complete and correct information regarding the contest. Any contest that offers prizes and is determined by skill or chance is covered along with sweepstakes, except forms of gambling otherwise covered. The most important condition is that the sponsor cannot ask for any fee or any other consideration as a condition of participating in the sweepstake. The complete terms and conditions have to be made available in the prescribed manner. If a special group has a greater chance of winning the sweepstake, then this must be made public along with the odds.
Author: Joseph Falchetti (twitter)
(C) Copyright PokerWebsites.com, 2018
References and Citations