Poker Laws in South Dakota
Online Poker in South Dakota
South Dakota, like the vast majority of states in the US, deems operating an online poker site to be illegal. There are no laws in the state's legal pipelines that would indicate a move away from this tough stance and in fact, the Mount Rushmore State is one of the few states which actually introduced laws making it a felony to run online gambling businesses.
As such, there are no authorities that make it possible for operators to apply for online poker licenses, and online poker is neither legalized nor regulated in the state.  With that being said, off-shore online poker rooms report that South Dakotans regularly visit their sites and play in cash games and tournaments for real money legally.
Future Outlook of Online Poker in South Dakota – Estimated date of legalization:
2020-2021
The following graph tracks our expected legislation of online poker in South Dakota on a state law level. It is currently already legal on a Federal level. This graph monitors the current rise or fall of expected legalization.
Recent Activity
While South Dakota has a flourishing land gambling industry and is therefore not opposed to gambling per se, the state is remarkably opposed to moving any part of the industry online – poker or otherwise.  In fact, South Dakota went as far as to pass a law (Chapter 22-25A [A]) specifically aimed at online gambling operators, threatening them with felony charges if they ran operations which accepted bets that began or ended in South Dakota over the internet, or if they established online gambling businesses within the state's borders.
The law defines internet gambling as, "For the purposes of this chapter, the term, bet or wager, means to directly or indirectly take, receive, or accept money or any valuable thing with the understanding or agreement that the money or valuable thing will be paid or delivered to a person if the payment or delivery is contingent upon the result of a race, contest, or game or upon the happening of an event not known to be certain."
Interestingly, the law states that every bet made by the bettor counts as an individual offense, and could see charges placed separately for each one.  The law only addresses operators and not players.
Few states have taken the step to counter online gambling with a specific law, with most preferring instead a wait-and-see policy as the landscape changes so quickly in the United States.  With this in mind, it is difficult to imagine South Dakota adopting any type of online poker platform in the near future.
Following the Department of Justice's reversal of its interpretation of the 1961 Wire Act, a spokesman for Governor Dennis Daugaard issued a statement [B] saying: "The governor feels like any time that the federal government acts to give the states more discretion or authority is a positive step. Are we going to do anything? Are we thinking about online gaming? He's willing to learn more about that and have that discussion, but he doesn't have any immediate plans to take on that issue."
However, South Dakota's stance was soon made known. In February 2014, the State Attorney Generals of several states, South Dakota included, wrote a fiery letter [C] to the Chairmen of the Committee on the Judiciary in the House of Representatives, Bob Goodlatte and Patrick Leahy, expressing their strong opposition to the Department of Justice's reversal of its interpretation of the 1961 Wire Act.
"The impact of this opinion – which in effect opens the door to the spread of internet gambling – will have a potentially significant impact on state and local law enforcement", lamented the Attorney Generals. "As such, we urge Congress to fully review, assess, understand and debate the significant policy implications entailed in the spread of internet gambling, including concerns related to money laundering; access by minors; fraud; exploitation of individuals with a gambling addiction; and terrorist financing."
The letter goes on to ask that Congress restore the decades-long interpretation of the Wire Act, "to allow Congress and the states to more fully consider the public policy ramifications of the DOJ's reinterpretation of the Wire Act and to give federal and state law enforcement agencies time to fully assess and report on the implications internet gambling has on our respective charges to protect the citizens of our states."
What is clear is that South Dakota will first and foremost protect its land gambling industry in Deadwood, and will not even consider online gambling if it believes that it will affect the industry in any way.  "I think that it [online gambling] would detract from the critical mass of bringing people to Deadwood to not only enjoy gambling but winter sports, summer sports, Mount Rushmore – the whole visitor experience that happens in the Black Hills", notes Senator Tom Nelson (R-Lead). "Deadwood is part of a package with other attractions in the region and the history of region. If online gambling ultimately keeps people at home, that detracts from the whole package."
History of Gambling in South Dakota
Land Based Poker in South Dakota
In a state where the term 'Dead Man's Hand' originated (the hand held by Wild Bill Hickock when he was shot by Jack McCall in Deadwood), it is only natural that poker remains a favorite pastime.
Despite its tough stance on online poker, South Dakotans enjoy a good range of land poker options at the many casinos in the state and on Indian lands. Live room poker action is popular and an undisputed form of gambling entertainment allowed by the government in regulated poker rooms.
The most popular form of poker in the state is Spread Limit Texas Hold 'em, similar to a no-limit variant, besides the fact that a maximum bet exists.  Many poker rooms also offer tournaments.  A house fee needs to be 10% or less for a poker tournament, according to state gambling laws.
Poker rooms such as Cadillac Jack's and The Lodge, both in Deadwood and Royal River in Flandreau, offer poker rooms with a $1,000 bet limit.
The bad news is that South Dakota's law does not make any exception to home poker games (as it does in states such as California, for example), making it a crime to play the game anywhere but in these regulated gambling establishments.
Gambling Laws in South Dakota
Gambling in South Dakota is governed by Chapter 22-25 under Gambling and Lotteries, which is defined as: "Gambling defined–Keeping gambling establishment–Letting building for gambling–Misdemeanor. Any person who engages in gambling in any form with cards, dice, or other implements or devices of any kind wherein anything valuable is wagered upon the outcome, or who keeps any establishment, place, equipment, or apparatus for such gambling or any agents or employees for such purpose, or any person who knowingly lets any establishment, structure, place, equipment, or apparatus for such gambling is guilty of a Class 2 misdemeanor."
The long and the short of it is that why the definition is very broad, it does make mention of dice and cards, therefore incorporating practically all types of gambling activities.  The only exceptions are those particularly allowed in regulated environments in the state and on Indian land.  Anyone breaking the law and playing unregulated gambling games, including poker, faces misdemeanor charges.
These tough rules however, don't rule out any gambling altogether, and there is a good choice for South Dakotans in commercial casinos, tribal gambling establishments and places which carry video lottery terminals on behalf of the state lottery.
Parimutuel gambling on live horse races is also permitted.
The gambling limit is 18 years of age for simulcast and live racing, and 21 years of age for other forms of casino gambling, both in Deadwood and on Indian casinos.
The maximum betting limit climbed from $5 to $100 in 2000, before jumping to $1,000 in 2012.  Not all casinos in the state offer the maximum betting limit as it requires an upgrade of their security system.
The South Dakota Commission of Gambling regulates the majority of gambling activities in the state and issues different types of gaming licenses [F]: Individual Licenses – Support License Application and Key Employee License Application; Business Licenses – Operator License Application, Route Operator License Application, Retail License Application, Slot Machine Manufacturer or Distributor License Application; Live Gaming and Simulcast Licenses – Hub Key License Application, Multi Jurisdictional Totalizator Hub License Application, Simulcast Provider License Application, Simulcast Site Application, Simulcast Pari-Mutuel License Application, Multiple Category Live Racing License Application.
Future of Gambling in South Dakota
There are several efforts being made to expand gambling in the state.  State representatives and senators from both political parties approved a measure in 2014 for a statewide vote on gambling expansion in South Dakota.  Residents of the state will be asked whether or not the state constitution should be changed [G] to make way for table games that include roulette, craps and keno. This law was passed on November 4, 2014, and went live on July 1, 2015. Voters approved the Amendment by a 57-43 percent margin.
The main reason for this move is that it's clear that Deadwood cannot remain competitive amidst the growth of gambling in neighboring states such as Iowa.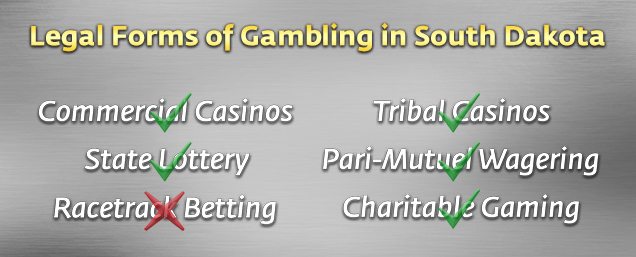 Commercial Casinos in South Dakota
The first licensed casinos opened in Deadwood in 1989, and this remains the only place in the state where commercial casinos are allowed (with the exception of tribal casinos). Buildings are required to conform to the authentic architecture of the late 1900s, maintaining a historical, nostalgic charm.
Several of the larger casinos are open 24 hours a day, but most of the smaller ones run from 8am until midnight.
In most cases, all casinos offer slot machines and video poker, while others offer blackjack, Let it Ride, three card poker, Caribbean Stud poker and regular poker.  Tribal casinos offer bingo as well.  As of November 4, 2014, South Dakota citizens passed an Amendment that will allow craps, roulette, and keno to be played at all casinos.
The largest casino in South Dakota is the Gold Dust Gaming Complex [H], with a total casino floor square footage of 30,000 feet.  The casino has over 300 gaming machines and table games.  Games include Wheel of Fortune video slots and Jeopardy slots (both IGT games) and 47 of them are progressive slot games.  The casino also boasts 20 table games, including five poker tables, 3 blackjack tables, 3-card poker tables and a Let it Ride table.
Another commercial casino that is popular in Deadwood is Silverado Franklin Gaming Establishment and Restaurant, with over 360 gaming machines and table games, established on 20,000 square feet of casino floor.
South Dakota's rules allowing minors onto casino floors (without actually gambling) are considerably liberal, and it is the only state that allows children to remain next to their parents on the casino floor while they are gambling.
In April 2014, International Gaming Technology (IGT) [I], announced that it was creating an industry first by linking casino properties in Deadwood, SD and New Jersey with a commercial, inter-jurisdictional Wide Area Progressive – Powerbucks.  Powerbucks jackpot machines in Deadwood will be linked to Caesars Entertainment and Boyd Gaming properties in New Jersey.  "Linking the Deadwood, South Dakota properties and New Jersey properties with Powerbucks is an exciting occasion for IGT", Joe Sigrist, IGT VP of Product Management and Global Product Development was quoted as saying in the press release. "Bringing industry-first innovation and truly transformative gaming experiences to the players who crave it, is at the core of what IGT does. The Company looks forward to the expansion of Powerbucks and creating jackpot mania like never before."
Tribal Casinos in South Dakota
A significant number of South Dakota's tribes operate casinos, some of them also operating motels and RV parks for players' convenience.  These include the Dakota Connection Agency Casino and Bingo near Agency Village, the Dakota Sioux Casino near Watertown, Fort Randall Casino and Hotel near Wagner, Royal River Casino near Flandreau, the Lode Star Casino near Fort Thompson, Grand Buffalo Casino near Lower Brule, Rosebud Casino near Mission, Prairie Wind Casino near Pine Ridge, and Grand River Casino near Mobridge.
The Dakota Sioux Casino offers a modern casino floor which is open 24 hours a day, and includes over 300 slot games (1c – $5 denominations), a poker room which includes Texas Hold 'em and 7 Card Stud, as well as blackjack. Keno, roulette, and craps is now allowed at tribal casinos as of November 4, 2014.
The Grand River Casino, owned by the Sioux Tribe, offers over 250 different reel and video slots, as well as blackjack with limits of up to $50, seven days a week.
The South Dakota Commission on Gaming [J], part of the Department of Revenue, regulates gambling activities in tribal casinos.  Permitted games are bingo, blackjack, craps, roulette, keno, poker and slot machines, and the maximum bet limit is $1,000.
The age limit to wager at Indian casinos is 21 years of age.  Those casinos that offer bingo games have an age limit of 18 years of age.
Racing Laws in South Dakota
Betting on horse racing comes under the authority of the South Dakota Commission on Gambling, which regulated pari-mutuel wagering in the state. No tax dollars are used in the regulation of this sport.
Live horse racing is offered in the spring of each year at the Stanley County Fairgrounds [K] in Ft. Pierre (on four weekends), as well as the Brown County Fairgrounds in Aberdeen (three weekends).
South Dakota also offers simulcast horse and dog wagering at Triple Crown Casino in North Sioux City and Time Out Lounge in Rapid City.  The activity is derived from a payment schedule prescribed by South Dakota state law.   Money received from pari-mutuel wagering is remitted back into the industry.
Rules governing horse and dog racing in the state are covered by Chapter 42-7 [L].
The age limit to wager on simulcast and live horse racing is 18 years of age in South Dakota.
Lotteries in South Dakota
The South Dakota Lottery [M] is run by the state government and is a member of the Multi State Lottery Association.  To play the lottery, ticket holders need to be 18 years of age or older, although they need to be at least 21 years of age to play video lottery.
Lottery tickets can only be purchased through authorized lottery retailers, and are not available for sale online.  Prizes of $100 or less can be claimed through a lottery retailer, however anything over has to be claimed through an official form at a Lottery officer or by mail.  Prizes need to be claimed within 180 days or they will expire. The lottery withholds 25% of prizes of more than $5,000.
Funds earned through the lottery are used to help multiple causes in the state, including education and the development of natural resources.
Video Lottery – There are approximately 9,000 video lottery terminals in around 1,500 establishments across the state, offering poker, blackjack, keno and bingo, with quarter and nickel games available.  Players can wager up to $2, with top prizes of $1,000 being offered. Winnings are not dispensed from the terminal; instead vouchers are issued and prizes need to be claimed the same day.
The South Dakota Lottery also offers scratch cards, Powerball, Mega Millions, Dakota Cash, Wild Card 2, Hot Lotto and more. Lottery revenues were $106.3 million in the 2014 fiscal year.
Charitable Gambling in South Dakota
Under sections 22-25-23 [N] to 51 of South Dakota poker laws, charitable organizations are permitted, under particular circumstances, to offer bingo games and conduct certain types of lotteries.  The details are listed under the law.
Poker is not allowed as a form of charitable gambling in the state.
Author: Joseph Falchetti (twitter)
(C) Copyright PokerWebsites.com, 2018
References and Citations