Important IA Notes
Poker players from IA can play at offshore sites legally
Several bills have been introduced legalizing online poker
Land-based poker is legal throughout Iowa
There are many live poker options for such a small state
Outlook for iPoker regulation in the state is strong
Last updated: July 14, 2018 by Savanah
Iowa's casinos generated $1.45 billion in the 2017 fiscal year, up $15.7 million from 2016. The Chief Executive Officer of the Iowa State Lottery, Terry Rich, is continuing to push hard for an online lottery. Two pieces of legislation were proposed last year by state lawmakers to legalize and regulate daily fantasy sports (DFS) betting. If passed, it would impose a 7.5% tax on revenue generated by DFS companies. Iowa has been expanding gambling quite a bit in recent years.
RECOMMENDED POKER WEBSITE FOR
Iowa


Iowa appears to be only a few years away from legalizing poker over the internet, and they will most likely be in the first handful of states to do so. In the meantime, Iowans continue to play poker for real money at the safe and secure BetOnline website.
"Reviewed by Chuck Humphrey – 50 year Gaming Law Practitioner"
Despite attempts being made, the legislature of Iowa has been unable to legalize online poker in the state thus far. Therefore, under the current state laws it's deemed illegal to operate an online poker website in Iowa but it's still federally legal to play at offshore sites. Players in Iowa do engage in legal online poker, as do players in the rest of the United States.
Future Outlook of Online Poker in Iowa – Estimated date of legalization:
2019-2020
The following graph tracks our expected legislation of online poker in Iowa on a state law level. It is currently already legal on a Federal level. This graph monitors the current rise or fall of expected legalization.


There are winds of change blowing across Iowa - especially when it comes to the...

Iowa's gambling authorities reported that the state has set a new sports...
Recent Activity
In March 2012, the Iowa Senate passed Senate File 2275 by a vote of 29-20. The bill sought to legalize intrastate online poker, but not online casino gambling. Only companies with land casino gaming licenses, such as riverboat casinos, tribal casinos and racetracks, would be eligible for online poker licenses. However, in the Iowa House the bill was not even considered for a vote [B] because of lack of support.  A similar bill Senate Study Bill 1068 [C] was introduced in January 2013 Iowa legislative session.  Ultimately, the sponsors of the bill realized that the Republican controlled House would not consider it, so they let it die.
Despite the double failure, the issue of online poker is being discussed. Lobbyist Matt Eide explained the situation as follows. He said that there was a two-fold need for legalizing online poker. The first was regulatory. A study [D] undertaken by the Iowa Racing and Gaming Commission (IRGC) [E], the oversight body for gambling in Iowa, reported that online poker at unregulated sites does occur in Iowa. There was a need to bring it under regulation to protect the players from unscrupulous operators. The second need was revenue oriented.
An IRGC study showed that online poker could bring in up to $13 million in state tax revenue. Eide pointed out that Iowa was more conservative than New Jersey, Nevada, and Delaware which have legalized online poker. When a few other states also legalize online poker, the conservatives in the Iowa legislature will have to rethink the issue.
In March, 2015, the Iowa State Daily authored an op-ed [F] which called for legalize gambling in the state. It called for individual liberty and for allowing "consenting adults" to do what they please with their own money. It's a step in the right direction and another good sign for momentum for iGaming regulation in the next few years.
Current Gambling Laws in Iowa
In the Iowa Code gambling is covered under Chapter 725 (Vice) [G] of Title XVI – Criminal Law and Procedure. Section 725.7 [H] defines illegal gaming and betting. Clause (1) of the section states:
"1. Except as permitted in chapters 99B [bingo] and 99D [racetracks], a person shall not do any of the following: (a.)  Participate in a game for any sum of money or other property of any value; (b.)  Make any bet; (c.)  For a fee, directly or indirectly, give or accept anything of value to be wagered or to be transmitted or delivered for a wager to be placed within or without the state of Iowa; (d.)  For a fee, deliver anything of value which has been received outside the enclosure of a racetrack licensed under chapter 99D to be placed as wagers in the pari-mutuel pool or other authorized systems of wagering; (e.)  Engage in bookmaking." Clause (2) of the section classifies the violations as misdemeanor, aggravated misdemeanor, class D felony and class C felony. The classification depends on the frequency of the offense and the amount involved. The penalties are specified elsewhere in the Iowa Code.
Chapter 99 of Title III Public Services and Regulation covers specific forms of gambling, including charitable gambling, pari-mutuel wagering, state lottery, riverboat gambling and casinos. Tribal casinos are not covered in the Iowa Code. Section 99B.1 lists important definitions.
History of Gambling in Iowa
1983
The Pari-Mutuel Wagering Act allowed wagering on horse and dog racing.
1985
Legislation to create Iowa lottery passed.
1989
Pari-mutuel wagering expanded to allow simulcast races. Casino wagering on riverboats permitted in counties with voter approval. Riverboat gaming referendums passed in eight Iowa counties.
1991
First riverboat casinos opened for business.
1994
Loss limit removed and riverboats permitted to remain docked.
2002
Voters in 11 counties approved referendums to continue casino gaming at racetracks and riverboat casinos.
2003
Iowa Lottery Authority Act passed in place of earlier law.
2004
Casinos on moored barges permitted.
2005
The Iowa Racing and Gaming Commission voted to allow four additional licenses.
2012
Iowa Senate approves a bill to offer internet poker, but bill dies in House.
2013
Bill to study internet poker dies in the legislature.
2014
Iowa lawmakers decided not to take up the issue (online poker).
2016
Iowa's casinos generated $1.437 billion in the 2016 fiscal year, up $21.6 million from 2015.
2017
State casinos generated $1.45 billion in the 2017 fiscal year.
Land Based Poker in Iowa
Poker at Home
Home poker games are illegal in Iowa because they are not excluded from the general illegality of gambling. Under Section 99B.9 any gambling is illegal unless carried out under a license.
However, under Section 99B.6 gambling, including poker, is permitted in a licensed beer or liquor establishment that holds a social gambling license, provided that a stringent set of conditions are met in totality. The holder of the license or his agent does not participate in, sponsor, conduct or act as cashier, except as a participant while playing on the same basis as every other participant. Only social games, as listed under Section 99B.12 (2), are permitted. The participants must be 21 years or older, and cannot win or lose more than $50 in a 24-hour period. This social gambling license only costs $150 and is good for two years.
Also, under Section 99B.7B poker tournaments, along with other specified card game tournaments, are permitted to be conducted by qualified organizations for veterans, subject to the listed conditions being met.
Charity Poker Tournaments
Certain games are permitted for charity in Iowa, but they do not include live poker tournaments.
Live Poker
Apart from the social gambling exceptions described above, live poker is allowed only at Indian casinos, racetrack casinos and riverboat casinos.
Gambling Laws in Iowa
Summary
Online gambling is not permitted in Iowa. Casinos are allowed at Indian reservations, racetracks and riverboats. Other forms of legally permitted gambling are pari-mutuel wagering, state lottery and charitable gambling.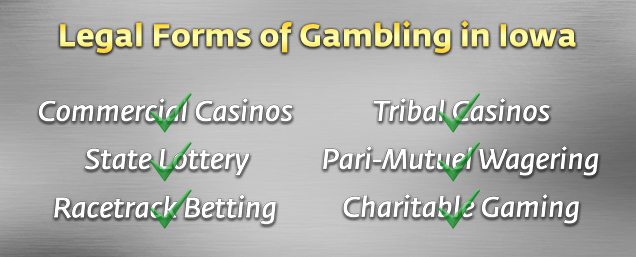 Brick and Mortar Gambling Laws in Iowa
In Iowa, standalone land casinos are allowed only on Indian reservations under compacts between the tribes and the states. Iowa has three reservation casinos [I].  They are Meskwaki Bingo Casino Hotel in Tama, WinnaVegas Casino in Sloan and Blackbird Bend Casino in Onawa. All the casino games allowed at riverboat casinos and racetracks are permitted at Iowa reservation casinos. In addition these casinos are also allowed to offer commercial style bingo.
Pari-Mutuel Wagering in Iowa
Pari-mutuel wagering is covered by Chapter 99D of the Iowa Code. The Pari-Mutuel Wagering Act passed in 1983 allows wagering on dogs and horses.  There are two greyhound tracks in Iowa.  They are the Horseshoe Council Bluffs Run Casino in Council Bluffs and the Dubuque Greyhound Park and Casino in Dubuque.  Both greyhound tracks offer live and off track betting.
The only horse track in Iowa is Prairie Meadows in Altoona, which offers live race betting and also off track betting on simulcast races. When casino gambling expanded in Iowa, both greyhound and horse racetracks were allowed to offer slot machines, video poker, live poker and table games like roulette, craps and blackjack. The Iowa Racing and Gaming Commission has oversight on pari-mutuel wagering in the state.
Lotteries in Iowa
The state lottery is covered by Chapter 99G of the Iowa Code. The earlier law under Chapter 99E was repealed in 2003 and the Iowa Lottery Authority Act enacted. The Iowa Lottery [J] has oversight of the lottery operations in the state. The Iowa lottery was legally approved in April 1985 and began selling lottery tickets in August 1985. Iowa residents can buy pull-tab, instant-scratch and lotto games at more than 2,500 locations throughout the state. Iowa has joined multi state Lotto drawings including Powerball and Mega Millions.
Charitable Gambling in Iowa
Charitable gambling is covered under Chapter 99B, which is Games of Skill or Chance, and Raffles. It is under the oversight of the Iowa Department of Inspection and Appeals [K]. Eligible organizations can conduct bingo games for charitable purposes after applying for and receiving a license from the above authority. The conditions of eligibility are laid out in Section 99B.2.
Games of skill or chance (not including poker or casino games) and raffles may be lawfully conducted under an Amusement Concession by obtaining a license for the same and adhering to the stipulated conditions. The conditions include that cash prizes are not awarded and merchandise awarded as prizes is not repurchased. Games of skill or chance, similarly, may be conducted under an Annual Game Night Concession, but limited cash prizes may be given.
Riverboat Casinos in Iowa
Riverboat gambling is covered by Chapter 99F of the Iowa Code and is conducted under the oversight of the Iowa Racing and Gaming Commission. The complete list of riverboat casinos is available here [L].
In 1989, Iowa became the first American state to legalize riverboat casinos. Counties were permitted to hold referendums to decide whether to allow casinos.  Eight counties initially passed casino riverboats.  In April 1, 1991, three riverboat casinos opened in Iowa.  Till 1994, the boats had to leave the dock before gambling could commence and there was a $200 loss limit per excursion. When the neighboring state of Illinois introduced unrestricted gambling, Iowa was compelled to drop the loss limit and allow riverboats to stay dockside. As of now, there are no bet limits and all standard casino games are allowed.  These include slot machines, video poker, live poker and table games.
Author: Joseph Falchetti (twitter)
(C) Copyright PokerWebsites.com, 2018
References and Citations