"Reviewed by Chuck Humphrey – 50 year Gaming Law Practitioner"
Under current laws in New York, it's not legal to operate an online poker website. While the state has shown interest in seeing changes to online poker on a federal level, no licensing body is currently setup that would make legit online poker a reality on a state level. Having said that, New York players are among the most well-represented at offshore poker rooms and can play for real money legally.
Future Outlook of Online Poker in New York – Estimated date of legalization:
2018-2019
The following graph tracks our expected legislation of online poker in New York on a state law level. It is currently already legal on a Federal level. This graph monitors the current rise or fall of expected legalization.
Recent Activity
Many believe that the ground is fertile for the introduction of online poker in New York, especially since Delaware, New Jersey and Nevada have already entered this realm.  Some believe that Governor Andrew Cuomo's pro-gambling stand may be the catalyst the state needs for the introduction of online poker.
There are two issues that could see the question of legal online poker go either way in the state of New York.
The first is New York's involvement in Black Friday, that fateful day in April 2011 when indictments were made against eleven high-placed executives of online poker rooms such as Full Tilt Poker and Poker Stars (legit sites), predicated that these men violated New York state gambling laws.  While the indictments were issued by the (federal) Department of Justice, many analysts, including writer Jacob Sullum in his 2011 piece entitled Poker Bars [A], which appeared in Reason.com,  feel that the US attorney in Manhattan, Preet Bharara, "piggybacks on a New York statute that makes 'unlawful gambling activity' a Class A misdemeanor."
"Bharara takes an alleged New York misdemeanor with a maximum penalty of one year in jail and turns it into multiple federal felonies—including UIGEA violations, money laundering, wire fraud, and bank fraud" writes Sullum, indicating that Bharara is, "on a pointless puritanical crusade."
The point we are getting to is that with Bharara at the helm of the Attorney General's office for the Southern District of New York (and having been named one of the 100 Most Influential People in the World by Time Magazine [B] in 2012), lawmakers may have an uphill battle on their hands getting online poker legalized in the state.
On the other hand, it cannot be ignored that New York was one of two states (the other being Illinois) that asked the Department of Justice for clarification on its position of the 1961 Wire Act. The states asked for clarification regarding the selling of lottery tickets over the internet, and this served as a catalyst for the DOJ to issue its famous change of position statement [C] over Christmas 2011, ruling that the Wire Act only applies to sports betting.
On February 2, 2016, the state's Senate Racing, Gaming and Wagering Committee passed a bill (SB S5302) to legalize and regulate poker over the internet by a unanimous 9-0 vote. On June 2, 2016, this bill passed the Senate Finance Committee and 12 days later it passed the Senate by a 53-5 vote. The bill then went to the Assembly but no vote was taken since the legislative session ended on June 17, 2016.
Two online poker bills were introduced in 2017. One of the bills sponsored by Senator John Bonacic passed the Senate Gaming Committee on February 15, 2017 (11-0 vote), then passed the Finance Committee by a 27-9 vote on May 9th. The full Senate passed this bill by a 54-8 vote on June 13th and then it went to the Assembly but no vote was taken. Things are moving in the right direction and hopefully 2018 will be the year state licensed online poker gets passed.
History of Gambling in New York
Land Based Poker in New York
Poker laws in New York are governed by state code PEN§225.00 et seq.; 47A:101 et seq.; RW&B 47A§518.
Section 225.00 [E] states that, "a person engages in gambling when he stakes or risks something of value upon the outcome of a contest of chance or a future contingent event not under his control or influence, upon an agreement or understanding that he will receive something of value in the event of a certain outcome.
The law defines contests of chance as, "any contest, game, gaming scheme or gaming device in which the outcome depends in a material degree upon an element of chance, notwithstanding that skill of the contestants may also be a factor therein."
The fact that the skill factor has been mentioned, rules out the poker-is-a-game of skill argument under New York State Law.  This did not stop Judge Jack Weinstein of a lower court in New York from ruling to acquit Lawrence DiCristina [F] from running a poker game in Staten Island and contravening the Illegal Gambling Business Act federal statue of 2011.  The judge ruled that since poker is a game of skill, DiCristini cannot be charged under the Act.  However, a federal court overturned this ruling in 2013 and reversed the judgment.
The bottom line is that poker for real money can be played in New York in licensed tribal facilities.  The law does not make exceptions for legal charity poker games.
Social poker games are allowed under state laws. Penal Law 225.00(3) provides: 3. "Player" means a person who engages in any form of gambling solely as a contestant or bettor, without receiving or becoming entitled to receive any profit therefrom other than personal gambling winnings, and without otherwise rendering any material assistance to the establishment, conduct or operation of the particular gambling activity. A person who gambles at a social game of chance on equal terms with the other participants therein does not otherwise render material assistance to the establishment, conduct or operation thereof by performing, without fee or remuneration, acts directed toward the arrangement or facilitation of the game, such as inviting persons to play, permitting the use of premises therefor and supplying cards or other equipment used therein. A person who engages in "bookmaking", as defined in this section is not a "player."
Land poker laws may be changing in the near future under new laws that are pending and which will expand gambling in the state.
Gambling Laws in New York
As noted, gambling laws in New York [G] are governed by Statute 225.00, 47A:101 and RW&B 47A. All aspects of gaming and gambling activity in the state, including horse racing and pari-mutual gambling, Class III Indian Gaming, video lottery terminals, state lottery and charitable gaming are all regulated by the New York State Gaming Commission [H].  This commission was formally created through Chapter 60 of the Laws of 2012, incorporated in the 2012/2013 Enacted State Budget, and officially became effective in February the following year.
More information about laws, rules and regulations pertaining to gaming in the State of New York can be found here [I].
Current New York Gambling Laws Legislation
In July 2013, Governor Andrew Cuomo signed legislation [J] that will dramatically change gambling in New York State.  According to Buffalo News, "the new legislation, identifying three areas of upstate where the first four of seven eventual casinos may be located, continues the Seneca Nation's decade-old exclusivity arrangement in which it pays a part of slot machine revenues to the state in return for having no casino competition in a vast region from Lake Ontario to the Pennsylvania border." On December 17, 2014, New York approved it's first three commercial casinos.
On December 23, 2015 the state of New York officially licensed three commercial casinos. None will be built in or around New York City, but instead, will be upstate. The three licenses were given to the Finger Lakes, Catskills, and Schenectady areas. There is a fourth casino allowed, but a license has yet to be handed by regulators. Live poker offerings will increase with these new commercial casinos.
The state will allow the expansion of video lottery terminal gambling in the three targeted upstate regions, and Nassau County. Once the measure is set in place, Long Island may open two gambling halls with 1,000 slot devices.
While the legal gambling age in New York is currently 18 (some Indian casinos have a 21 years and older policy), there has been talk of raising that to 21 [K].  Assemblyman Philip Goldfeder and Senator Joseph Addabbo from Queens, have proposed a law that would increase the legal gambling age, and would bring New York's gambling parlors in line with states such as New Jersey and Nevada.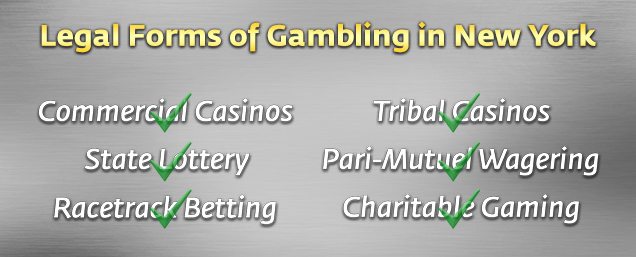 Indian Casinos in New York
Indian casinos operate under the Indian Gaming Regulatory Act of 1988.  Three tribes offer legal gaming in New York State: [L] The Seneca Nations of Indians, the St. Regis Mohawks and the Oneida Indian Nation of New York.
The law allows traditional Indian gaming, bingo, pull tabs, lotto, punch boards, tip jars and certain card games.  All other forms of gaming require a tribal/state compact.
Class I games are traditional gambling and social gaming for minimal prizes.
Class II games are defined as games of chance such as bingo, pull tabs, punch boards, tip jars, instant bingo and other similar games.  It also includes non-banked card games (games played against other players and not against the house).  Slots are specifically excluded from this section.
Class III games are broader in definition, including typical casino games such as slots, blackjack, craps and roulette.
The Seneca Nations – Operate the Class III Seneca Niagara Casino in Niagara Falls, The Class III Seneca Allegany Casino, the Class III Seneca Buffalo Casino in Buffalo and Class II bingo on the Cattaraugus and Allegany Reservation lands.
The St. Regis Mohawks – Operate the Class II Mohawk Bingo Palace and Class III Akwesansne Mohawk Casino, where Class II poker games can also be played.
Oneida Indian Nation of New York – Operates the Turning Stone Casino where Class II poker and bingo are offered, as well as Class III gaming operations.
Video Lottery Terminals and Electronic Table Games in New York
The New York Gaming Commission maintains a centralized system which allows video lottery terminals (VLTs) and electronic table games.  Game play and earnings for each game are tracked by the Commission.   VLTs are similar in appearance to slot machines, while electronic table games (ETGs) are essentially video versions of popular casino games such as roulette, craps and baccarat.
VLT operations were first introduced at Saratoga Gaming and Raceway in Saratoga Springs in 2004 and are now offered at eight different locations around the state. As of the beginning of 2013, over 17,200 such machines operate in the state.
Racing Laws in New York
All horse racing and pari-mutual wagering in New York is regulated by the Gaming Commission. The state offers four thoroughbred and seven standardbred tracks, where pari-mutual legit betting is allowed.
Gamblers may also place bets remotely through any of the five off-track betting corporations which are legal in the state.   Simulcasting of races that take place in and outside of New York are offered at state tracks and at off-track betting locations.
More rules about New York horse-racing gambling can be found here [M].
Gambling Boat Laws in New York
Prior to 1997, gamblers could board "cruises to nowhere" and play slot games and other casino pastimes as soon as they were past the 3 mile jurisdiction of federal gambling laws.  However, according to the New York Times [N], in November '97, then Mayor Guiliani asked federal authorities to ban gambling within 12 miles of the city's shores (citing anti-terrorism regulations).  The federal government complied and a 12 mile limit was imposed under Local Law 57.  This meant that gamblers had to wait 1.5 hours (instead of just half an hour) to start gambling when they went out to sea, and the majority of the floating casinos stopped operating as a result.
Today, gambling boats such as the Southern Elegance operate Long Island casino cruises, where slot machines, video poker and blackjack can be played on-board.
Lotteries in New York
The New York Lottery [O] is run by the State Gaming Commission and offers land and online lottery tickets, jackpot games such as Mega Millions and Powerball, scratch off games, video gaming and more.  New Yorkers need to be at least 18 years of age to purchase a lottery ticket, and 21 or older to buy a Quick Draw ticket where alcohol beverages are being served. New York is looking to expand it's regulated gambling in the form of offering online lottery tickets in 2015.
Charitable Gambling in New York
Each of the 62 counties in New York offer some form of charitable gaming, whether through bingo, raffle or Vegas style nights.  This pastime is controlled and monitored by the Charitable Gaming Division of the New York Gaming Commission, which also issues licenses to bingo and games of chance suppliers and manufacturers.  The division also collects license fees, approves bell jar ticket games and issues identification numbers to applicant organizations.
Click here [P] for more information about charitable gaming in New York.
Author: Joseph Falchetti (twitter)
(C) Copyright PokerWebsites.com, 2018
References and Citations