Poker Laws in Connecticut
Important CT Notes
Players from CT can legally play at offshore poker websites
Need for state revenue may help push online poker
Live poker is popular in Connecticut
Legal gambling includes lotteries, horse racing, tribal casinos
State compact necessary with population at 3.6 million
Last updated: May 14, 2018 by Savanah
State lawmakers were considering to introduce legislation sometime this year to legalize and regulate online gambling within the state, but state lawmakers have decided to wait until next year. Debate and controversy continues in the state in regards to building a third casino. Both Foxwoods and Mohegan Sun have launched free play gaming sites within the past 3+ years and both platforms have been wildly popularly, which makes some people think they could pass online gambling in the near future.
RECOMMENDED POKER WEBSITE FOR
CONNECTICUT


When Connecticut passes poker online it will most likely be in the form of interstate poker, the ability to share player pools with other states, or from a federal law. Until that time comes, BetOnline is a trusted licensed offshore site that accepts players from CT.
"Reviewed by Chuck Humphrey – 50 year Gaming Law Practitioner"
The Department of Consumer Protection [A] of Connecticut clarifies that the state does not authorize, license, permit or regulate in any manner any online gambling in any form, including online poker. Playing poker from within Connecticut at a website regulated outside of the United States is legal. Online gambling has not been legalized by the state to operate such business as of now.
Future Outlook of Online Poker in Connecticut – Estimated date of legalization:
2020-2021
The following graph tracks our expected legislation of online poker in Connecticut on a state law level. It is currently already legal on a Federal level. This graph monitors the current rise or fall of expected legalization.

Connecticut Gambling News

Earlier this month, Governor Ned Lamont announced an agreement between the...

Legal sports betting came one step closer to Connecticut this week after the...
Recent Activity
There are no bills pending in the Connecticut legislature that seek to legalize and regulate online gambling in any form. However, a November 2012 report in The Hartford Courant [B] indicated that some legislators should re-examine the matter. State Representative Stephen Dargan, co-chairman of the legislative public safety committee that oversees legalized gambling, pointed out that revenue from licensed casinos had been dwindling since 2007 and Connecticut needs to look at online gambling but no action materialized. It seems likely that legal online poker will come to Connecticut through a federal law or compact with other states. Any online gambling within the state would have to address the concerns of the Indian tribes that are already operating land casinos.
Illegal and unregulated online gambling is available in Connecticut as it is in other states of America. This was pointed out by Charles Bunnell, the Mohegans chief of staff for external and governmental affairs, to the General Assembly's Public Safety and Security Committee according to a report in CBS New York [C].
Current Gambling Laws in Connecticut
Gambling is covered in the Connecticut General Statutes in Title 53 (Crimes) Chapter 946 Offenses Against Public Policy [D]. Section 53-278a [E] contains the definitions. Clause (2) of this section states:
"Gambling means risking any money, credit, deposit or other thing of value for gain contingent in whole or in part upon lot, chance or the operation of a gambling device, including the playing of a casino gambling game such as blackjack, poker, craps, roulette or a slot machine, but does not include: Legal contests of skill, speed, strength or endurance in which awards are made only to entrants or the owners of entries; legal business transactions which are valid under the law of contracts; activity legal under the provisions of sections 7-169 to 7-186, inclusive; any lottery or contest conducted by or under the authority of any state of the United States, Commonwealth of Puerto Rico or any possession or territory of the United States; and other acts or transactions expressly authorized by law on or after October 1, 1973." Clause (3) defines "professional gambling" as accepting or offering to accept gambling wagers.
Section 53-278b defines the criminality of gambling offenses. Clause (a) states that any person who engages in gambling, or solicits or induces another to engage in gambling, or is present when another person or persons are engaged in gambling, shall be guilty of a class B misdemeanor. Clause (b) states that any person who engages in professional gambling shall be guilty of a class A misdemeanor. The punishments are specified elsewhere in the statutes.
Other sections of the Connecticut General Statutes deal with other specific forms of gambling.
History of Gambling in Connecticut
1939
Charitable bingo legalized.
1955
Raffles introduced for charitable purposes.
1972
Connecticut Lottery established.
1976
Instant games introduced by Connecticut Lottery. Pari-mutuel wagering and off track betting introduced. Plainfield Greyhound Park opened. First jai alai fronton opened.
1984
Lotto introduced by Connecticut Lottery.
1987
Sealed tickets introduced for charitable gambling.
1993
Foxwoods Indian Casino starts slot machines. State owned off track betting sold to private operator.
1996
Mohegan Sun Casino opens. Connecticut Lottery Corporation created and joins Powerball draw.
2001
Last jai alai fronton closed.
2003
Las Vegas nights hosting games of chance banned.
2005
Greyhound racing stopped.
2011
Gambling regulation consolidated under Department of Consumer Protection, Gaming Division.
2014
Both Foxwoods and Mohegan Sun have launched play-money sites in hopes of future internet gaming regulation.
2015
Casino bill passed to allow for the state's third Indian casino, $300 million, near the Massachusetts border.
Land Based Poker in Connecticut
Poker at Home
Connecticut General Statutes allow home poker as social gambling by providing an exclusion in Section 53-278b that states "… provided natural persons shall be exempt from prosecution and punishment under this subsection for any game, wager or transaction which is incidental to a bona fide social relationship, is participated in by natural persons only and in which no person is participating, directly or indirectly, in professional gambling." Two issues are important here. No player or organizer of such poker games must profit in any way for hosting the game. The players must have something in common outside of the home poker game. However, "a bona fide social relationship" has not been defined in the statutes, not been clarified by any enforcement agency and not been tested in Connecticut courts.
Charity Poker Tournaments
Connecticut General Statutes permit limited forms of gambling for charity, but those do not include poker tournaments.
Live Poker
Live poker is allowed only at the two Indian casinos, apart from home games defined above. The Division of Special Revenue has expressly clarified through a press release [F] in 2004 that it is illegal for private clubs, bars and such organizations to host poker games under Connecticut laws, especially because poker playing under these circumstances violates state-tribal agreements that give the Mashantucket Pequots and Mohegans exclusive rights to conduct casino gambling, including poker, in return for a percentage of their slot revenue.
Gambling Laws in Connecticut
Summary
No forms of online gambling are presently allowed in Connecticut. Traditional forms of gambling such as off track betting, reservation casinos, state lottery and charity bingo are permitted. Presently the regulation of gambling in Connecticut has been consolidated under the Department of Consumer Protection, Gaming Division.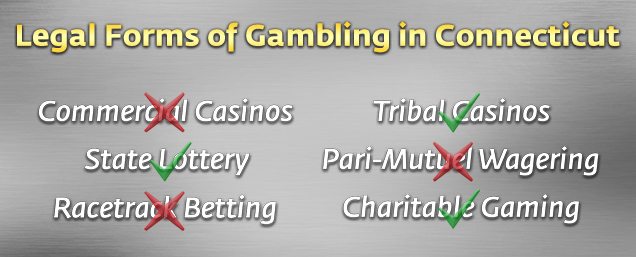 Brick and Mortar Gambling Laws in Connecticut
Connecticut allows casino style gambling only on Indian reservations.  The two reservation casinos in Connecticut, Foxwoods and Mohegan Sun, are among the largest casinos in the world. Foxwoods, located in Mashantucket, opened in 1986 as a bingo hall, which is now the world's largest. In 1992, table games were added.  In 1993, slots and video poker were added.  Foxwoods offers a 100 table poker room, thousands of slots, as well as 350 tables for casino games like Baccarat, Blackjack, Caribbean Stud, Craps, Paigow Poker, Roulette, Sic Bo and others.
There is also a large race book offered. Mohegan Sun is located in Uncasville.  It is not as large as Foxwoods and offers only 40 poker tables. The table games have the same range as Foxwoods. Both casinos pay the State of Connecticut 25% of the casino's slot win. The detailed terms and conditions of the tribal compacts with the state are available on the Department of Consumer Protection Gaming Division website.
Pari-Mutuel Wagering in Connecticut
Pari-mutuel wagering is permitted in the state by the Connecticut General Statutes in Title 12 (Taxation) Chapter 226 Gaming Policy, Regulation and Revenue. The detailed regulations formulated by the Division of Special Revenue are available here [G].
Though wagering is allowed on horse and greyhound racing and jai alai games, these activities are not conducted within Connecticut. Horse racing was never started and greyhound racing and jai alai have been discontinued. However, Connecticut residents can wager through the more than a dozen off track betting parlors within the state. Some of these parlors are dedicated solely to betting, while others offer to their patrons services like sports bars and restaurants. Wagering on telephone is also accepted at these off track betting centers.
Lotteries in Connecticut
Lottery is covered by the Connecticut General Statutes in Title 12 (Taxation) Chapter 229a Connecticut Lottery Corporation. From 1996 the state lottery is operated by the Connecticut Lottery Corporation [H] under the oversight of the Division of Special Revenue. The lottery offers lotto drawings and scratch off tickets.  It also participates in multi-state lotto drawings including Powerball and Mega Millions.
Charitable Gambling in Connecticut
Charitable gambling is covered by the Connecticut General Statutes in Title 7 (Municipalities) Chapter 98 Municipal Powers. The forms of charitable gambling allowed are bingo, sealed tickets, bazaars and raffles. Commercial bingo is only allowed on the Indian reservations. Section 7-170 defines bazaar as disposal of merchandise awards by means of chance. Bingo is the dominant form of charitable gambling in Connecticut.
The detailed regulations for operation of bingo charities have been formulated by the Division of Special Revenue. Similar regulations have been prescribed for other charitable gambling products. The Charitable Games unit of the Department of Consumer Protection regulates and monitors this activity. The Commissioner of Consumer Protection is the permit issuing authority for the bingo and sealed ticket activities, and the chiefs of police and first selectmen of small towns are the permit issuing authorities for bazaar and raffle activities.
Author: Joseph Falchetti (twitter)
(C) Copyright PokerWebsites.com, 2018
References and Citations