Important WY Notes
Poker players in WY can play legally at offshore poker sites
No online poker bills currently in the state legislature
WY has expanded their gambling industry in recent years
Tribal casinos, lottery, racetracks, pari-mutuel, charity legal
Commercial casinos are not allowed in the state
Last updated: July 17, 2018 by Savanah
Gaming news has been slow for quite awhile in WY. There was talk of creating a gaming commission in the state about three years ago, but that has since cooled off according to the Judiciary Committee Chairman.
RECOMMENDED POKER WEBSITE FOR
WYOMING


Being the least populated state in the USA, Wyoming won't be passing intrastate online poker. However, they could pass interstate poker which would allow them to enter into compacts with other states to increase the pool of players. In the meantime, poker enthusiasts can play at BetOnline.
"Reviewed by Chuck Humphrey – 50 year Gaming Law Practitioner"
Operating an online poker website is not specifically permitted under the Wyoming statutes. Therefore, it would not be considered legal under the federal gambling laws. The UIGEA considers intrastate online poker legal only if sanctioned by the state. Though the Wyoming statutes do not specifically outlaw playing online poker, a reading of the law would imply that operating such a business is illegal. Poker players from Wyoming play real money poker legally at offshore online gambling sites without any adverse action by law enforcement authorities, as is the practice in the rest of the United States.
Future Outlook of Online Poker in Wyoming – Estimated date of legalization:
2020-2021
The following graph tracks our expected legislation of online poker in Wyoming on a state law level. It is currently already legal on a Federal level. This graph monitors the current rise or fall of expected legalization.

Recent Activity
The future outlook of online poker in Wyoming is extremely bleak. There is absolutely no intent in the state legislature for legalizing intrastate online poker in the foreseeable future. Part of this could stem from the aversion to gambling introduced in the beginning of the 20th century, but there are practical reasons as well. Wyoming is the least populated state in America. The population is not sufficient to support any major gambling activity unless it is linked to a larger network. Therefore, intrastate online poker or any other form of online gambling will not be viable. Legalized online poker can come to Wyoming through federal legislation or entering into interstate compacts.
Current Gambling Laws in Wyoming
In the Wyoming Statutes gambling [A] is covered under Title 6 Crimes and Offenses, Chapter 7 Offenses Against Public Policy, Article 1 Gambling. Section 6-7-101 (iii) [B] defines Gambling as:
"…risking any property for gain contingent in whole or in part upon lot, chance, the operation of a gambling device or the happening or outcome of an event, including a sporting event, over which the person taking a risk has no control, …".
Specific exclusions cited in the section are bona fide contests of skill, speed, strength or endurance in which awards are made only to entrants or the owners of entries; bona fide business transactions which are valid under the law of contracts; other acts or transactions now or hereafter expressly authorized by law; bingo games and other activities under the provisions of charitable gambling.
Other important definitions include gambling device and professional gambling. Gambling device is any device, machine, paraphernalia or equipment, except an antique gambling device, that is used or usable in the playing phases of any professional gambling activity, whether that activity consists of gambling between persons or gambling by a person involving the playing of a machine. Professional gambling is gambling with the intent to derive a profit or participating in gambling and having, other than by virtue of skill or luck, a lesser chance of losing or a greater chance of winning than one or more of the other participants.
Section 6-7-102 prescribes penalties. A person who engages in gambling commits a misdemeanor punishable by imprisonment for not more than six months, a fine of not more than $750, or both. A person who engages in professional gambling commits a felony punishable by imprisonment for not more than three years, a fine of not more than $3,000, or both.
Pari-Mutuel wagering is covered under Title 11 Agriculture, Livestock and Other Animals, Chapter 25 Pari-Mutuel Wagering. Lottery is covered under Title 9 Administration of the Government, Chapter 17 Wyoming Lottery.
History of Gambling in Wyoming
1901
McGill Act bans gambling in Wyoming.
2011
Pari-Mutuel wagering permitted.
2013
Wagering on historic horse races permitted. Lottery permitted in the state and Wyoming Lottery established.
2014
The state lottery starts selling its first lottery tickets on August 25th.
2015
State lawmakers are considering to create a Gaming Commission.
Poker at Home
Poker at home is allowed [C] under the Wyoming Statutes. It falls under the exception (E) to the definition of gambling, which states, "any game, wager or transaction which is incidental to a bona fide social relationship, is participated in by natural persons only, and in which no person is participating, directly or indirectly, in professional gambling." Professional gambling would require someone to profit indirectly from the actual game, by charging an admission fee, taking a rake etc. Profit is defined under Section 6-7-101 (ix) as benefit other than a gain from winning, which is realized or unrealized and direct.
Charity Poker Tournaments
Poker tournaments or cash games are not included in the permissible games for charitable gambling.
Live Poker
Live poker is permitted only at tribal casinos and at home poker games.
Gambling Laws in Wyoming
Summary
Gambling was a common activity in the 1800s, but was outlawed by the McGill Act of 1901. There was a push for legalization during the Great Depression in the 1930's, but it did not materialize. The only forms of legal gambling in Wyoming are pari-mutuel wagering, tribal casinos, charitable gambling, social gambling and the state lottery.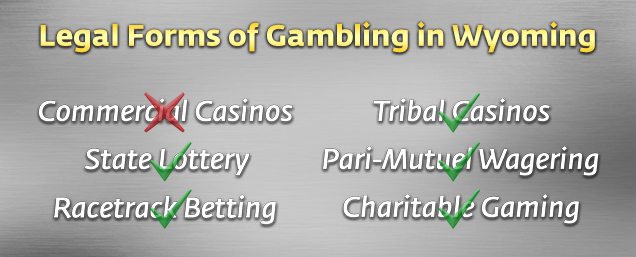 Brick and Mortar Casinos in Wyoming
There are no private or state owned brick and mortar casinos in Wyoming.
Pursuant to the Indian Gaming Regulatory Act, the East Shoshone Tribe of Wind River Reservation opened the Shoeshone Rose Casino in Lander. The Northern Arapaho Tribe has also opened three casinos, but these casinos are generally not recommended. The Shoeshone Rose Casino offers slot machines and table games like blackjack and three card poker. Due to the extremely small population and the remote location of the casinos, poker rooms, though permitted, cannot be sustained on Wyoming reservations.  Since alcohol is not served at Wyoming casinos, the legal age to gamble is 18.
Pari-Mutuel Wagering in Wyoming
Horse race wagering was introduced in Wyoming only in 2011 and is under the oversight of the Wyoming Pari-Mutuel Commission [D]. There is only one horse racing track at Wyoming Downs [E], located in Evanston.  Evanston is just across the border from gambling free Utah. Much of the traffic to Wyoming Downs comes from Utah. Without this traffic the race track would not be viable. But there are four off track betting parlors, where punters can wager on both horse and dog racing. These include bars in Casper and Cheyenne.
In 2013, HB 25 Enrolled Act 46 was passed and Wyoming became the third state in the United States to permit gamblers to bet on historic races [F] using self-service machines at bars and other locations.
Lotteries in Wyoming
In 2012, the multi-state Powerball lottery jackpot reached a record breaking height. It inspired Wyoming legislators to propose that the state start its lottery. The bill HB 77 was signed into an Act on March 13, 2013 and the Wyoming Lottery [G] came into existence. The state lottery started selling lottery tickets within their state on August 25, 2014. The Wyoming Lottery participates in multi-state games, but will prohibit the sale of scratch cards or any other instant-win games and forbids the use of video lottery terminals to sell tickets.
Charitable Gambling in Wyoming
Certain gambling events conducted for charity are specifically excluded from the definition of gambling under clause (iii) (D) of Section 6-7-101 and thus become permitted under law. These are, "bingo games conducted, or pull tabs sold, by charitable or nonprofit organizations where the tickets for the bingo are sold only in this state and the pull tabs are sold only on the premises owned or occupied by the charitable or nonprofit organization". Other conditions have been imposed. The main ones are as follows. The charitable or nonprofit organizations should have been in existence in Wyoming for at least three years. At least 65% of all gross sales shall be redeemed as winnings each month.
Clause (iii) (F) of Section 6-7-101 exempts, "Calcutta wagering on contests or events conducted by a bona fide nationally chartered veterans', religious, charitable, educational or fraternal organization or nonprofit local civic or service club organized or incorporated under the laws of this state" from the definition of gambling. Again, conditions have been imposed.
Author: Joseph Falchetti (twitter)
(C) Copyright PokerWebsites.com, 2018
References and Citations