Important AK Notes
Offshore poker websites can be played legally in AK
Passing internet poker in the state is not likely anytime soon
There are no casinos currently in Alaska
Almost all forms of gambling are illegal, including lotteries
Dog musher racing can be wagered on legally
Last updated: July 14, 2018 by Savanah
Gaming news has been pretty slow in Alaska for quite some time. The latest news to report is former Mayor of Anchorage, Dan Sullivan, was in Juneau in 2016 in hopes of convincing lawmakers to pass a bill authorizing a state lottery but not much headway was made. Alaska is one of the six states in the country without a state lottery; Alabama, Hawaii, Mississippi, Nevada and Utah being the others. Governor Bill Walker's staff estimated that a state lottery could bring in $15 million in revenue each year to the state. The last proposal for a state lottery was in 2003, but the bill never made it to a vote.
RECOMMENDED POKER WEBSITE FOR
ALASKA


With no commercial or tribal casinos, nor a state lottery, it will be awhile until Alaska approves and regulates online poker in their state. Till then, Alaskans can play at legit poker websites offshore such as BetOnline.
The Last Frontier has a gambling offering as barren as its icy landscape, and it comes as no surprise that online poker is not a legal option for state residents to play at sites operated in Alaska. However, Alaskans can legally play at poker websites offshore. Currently, there has not been any moves made by politicians to advance online gambling laws, nor is there authority to govern an online poker licensing process. Alaskans do feature among the many US players that visit offshore poker sites.
Future Outlook of Online Poker in Alaska – Estimated date of legalization:
2021-2022
The following graph tracks our expected legislation of online poker in Alaska on a state law level. It is currently already legal on a Federal level. This graph monitors the current rise or fall of expected legalization.

Recent Activity
It would not be wise to bet that Alaska will be among the states to introduce online poker in the near future. With just 737,000 inhabitants in the state, the player pool would be minute, even if politicians did advance some type of law. In addition, territorial obstacles mean that internet connection is poor in many parts of the state, making it an impossibility to provide quality online poker or gambling.
Additionally, Alaska's relatively strict outlook on gambling in general and the hesitation of authorities to make changes to these laws, it stands to reason that online poker is a far off reality for Alaska residents.
Native Alaskan groups continue in their attempts to establish a gambling presence in the state and could perhaps bring some changes to current legislation. However, their efforts have not yet yielded anything of substance and there is not much hope that they will be the ones to bring online poker to Alaska anytime soon.
History of Gambling in Alaska
1976
Perry Green, an Alaskan native, won bracelets in some of the earliest World Series of Poker tournaments.
1996
Authority to conduct Monte Carlo games repealed.
2000
Early 2000s – House Speaker and Republican Eagle River Rep. Peter Kott begins pushing for a statewide lottery and video poker to increase revenue for the state.
2003
Rep. Kott tells the media that the "time has come" for a state lottery and that "every other state is taking advantage of it."
2008
A move to legalize video lottery in Alaska fails to reach the ballot. State voters reject an initiative to create a seven member gaming commission by a margin of 1.5 to 1. The
official ballot question
[A]
read:
"This initiative would create a seven-member gaming commission in the state Department of Revenue, and change gaming laws. The commission would employ a director, make contracts, adopt regulations, investigate and enforce gaming laws. The commission would have authority to allow games of chance, such as lotteries and casino games, in the future. It could join other states in multi-state gaming. The director would supervise gaming activities, and enforce charitable gaming laws. The initiative would make certain acts related to gaming a felony. Gaming allowed by the new law would be exempted from the criminal prohibition against gambling. Should this initiative become law?"
2009
Local raffle sees a giant
$500,000 payout to a convicted sex offender
[B]
. Ironically some of the money from this charity raffle was earmarked to treat victims of sexual offenses.
2012
Poker pro, Greg Hobson wins a WSOP bracelet in the $1,500 ante-only no-limit hold 'em event, becoming the second Alaskan to take home a WSOP bracelet.
2012
Police crack down on a high stakes poker operation in Unalaska, charging five people for the promotion of unlawful gambling. They are charged with a Class A misdemeanor and face a maximum penalty of $10K fine and a year in prison.
Land Based Poker in Alaska
Alaskan poker fans will have a hard time finding commercial options when seeking out land-based gaming establishments. This is mainly due to the tough laws under Section 11.66.200 [C] which make it a crime to engage in what it terms "unlawful gambling" (ie. any gambling, including poker, which is not made legal under the state laws). If caught for the first time, poker players are charged with a violation, while any further charges are termed Class B misdemeanors.
Real money poker would undoubtedly fall under the definition of gambling in Section 11.66.280, ie. "a person stakes or risks something of value upon the outcome of a contest of chance or a future contingent event not under the person's control or influence, upon an agreement or understanding that that person or someone else will receive something of value in the event of a certain outcome."
With no commercial casinos to visit, nor any legal poker rooms to speak of, it is clear that Alaskan poker players are short of options. It is possible to play limited social poker games if one looks at the wording of section 11.66.280(9) which defines a social game as, "gambling in a home where no house player, house bank, or house odds exist and where there is no house income from the operation of the game."
A person is not allowed to operate any form of poker game for profit or other remuneration in Alaska.
Gambling in Alaska
In a state where residents voted against the establishment of a gaming commission [D], which would have been tasked with the authorization and regulation of gambling facilities, it is clear that there are not many gambling options available to players.
All forms of gambling are illegal, unless stated otherwise, under state code 11.66.200 (see poker above). There are several exceptions as defined by the Alaska Department of Revenue [E], including amusement devices where the only prize is the action of playing the game once more. Games of chance and/or skill are allowed such as bingo, Canned Salmon Classic, Deep Freeze Classic, Fish Derby, Goose Classic, Ice Classic, King Salmon Classic, Mercury Classic, Mushing Sweepstakes, Race Classic, Rain Classic, Snow Machine Classic and Numbers Wheels.
The Department of Revenue states that illegal gambling is, "considered cards, dice, roulette wheels, coin-operated instruments or machines, or other objects or instruments used, designed, or intended primarily for gaming or gambling or any other method or implement not expressly authorized by the Department of Revenue."
Illegal gambling activities also incorporate horse racing and dog racing, although the law does make an exception for dog musher's contests run by the Alaska Dog Mushers Association [F].
Those looking for some type of wagering action will find a limited number of skill based contests on which they can bet. There is no lottery in Alaska, nor are there any land based casinos.
Gambling could take place in a player's home in the form of social gaming, as long as there is no banker and nobody takes a cut. Forms of charitable gaming also exist.
You need to be 19 years of age to play bingo in Alaska, and 21 years of age to play Pull Tab lottery tickets.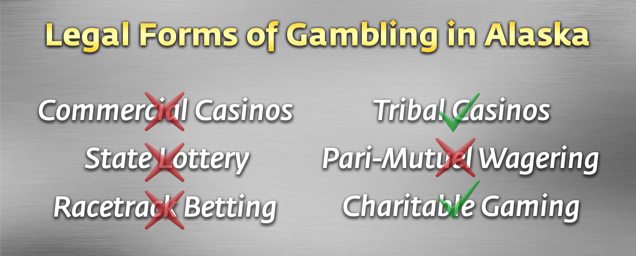 Casinos in Alaska
Casinos are not legal under Alaskan law. As such, no operator has constructed a commercial casino, nor have authorities initiated the creation of a state backed casino to bring in extra revenue as a number of other states have done.
Racing in Alaska
As noted in the section 'Gambling in Alaska' above, the only wagering on racing is on dog musher's contests [G] across the state. There are essentially two types of mushers – spring mushers and distance mushers. Since 1973, the Iditarod Sled Dog Race has been held in Alaska, popularizing the sport considerably. Mushers come to the state from other parts of the country on the first Saturday in March. The biggest long distance race of the year is the 1,000 mile Yukon Quest International Sled Dog Race run in February.
Charitable Gambling in Alaska
According to the Department of Revenue, Section 05.15.010 allows the issue of permits to qualified organizations and municipalities. These organizations are then allowed to conduct bingo, raffles, lotteries, pull-tab games, mushing sweepstakes and so forth within the state. Organizations or municipalities pay annual permit fees ranging from $20 to $100, "depending on the amount of gross receipts from gaming activities for the previous calendar year."
Charities pay a tax on pull tab games at a rate of 3% of ideal net of game. The state levies a 1% fee on net proceeds from gaming activities from the previous year, and those with less than $20,000 in gross receipts from the previous year are exempt from the tax.
A qualified organization (at least 25 Alaskan residents as members) needs to fill out the Games of Chance and Contests of Skill permit application form and apply to the department for permission to run charity games.
Lotteries in Alaska
Alaska is one of seven states in the US that does not have a lottery. Several attempts have been made over the years to introduce a limited state lottery through initiative petitions in 2005 and 2006, but these were all rejected because they failed to meet state constitutional requirements for an initiative proposal. In 2008, Ballot Measure No. 1 made its way to the ballot but was defeated by a vote of 73,463 for, to 116,670 against.
The Anchorage Daily News ran an editorial about the measure [H], criticizing its supporters and warning that those in favor were attempting to "pass this measure off" as a way to expand gambling in the state.
"Alaskans will figure out in a hurry that this initiative is about one thing and one thing only: expansion of gambling in Alaska," read the editorial. "Video gambling, casino gambling, poker tables and anything that fetches a sure buck for the house and maybe seduces those inclined to bet.
Please, let's not try to pass this off as reform or better law enforcement. Sell it for what it is, a call to Alaskans to place their bets in more venues with more games, with those in the bar and entertainment business ready to profit."
Efforts continue to be made to introduce a state lottery.
Author: Joseph Falchetti (twitter)
(C) Copyright PokerWebsites.com, 2018
References and Citations