Important NV Notes
Nevada has state-regulated poker over the internet
However, online casino gambling is not regulated
Nevada was the first state to legalize intrastate online poker
Regulated online poker sites went live in NV in April 2013
Nevada is the only state with fully legalized sports betting
Last updated: July 14, 2018 by Savanah
New Jersey entered into an online poker compact agreement with Nevada and Delaware so all three states can share their player pools (start date was May 1st). Casinos in Nevada brought in revenues of $11.5 billion in 2017 which is up 2.8% from the previous year. The all-time high in NV casino revenue is $12.8 billion in 2007. Nevada's poker rooms generated $8.96 million in revenue in February, latest numbers issued, which is a 1.4% increase from February of last year. In 2017, they had 63 poker rooms and raked in over $118.4 million according to gaming regulators with the all-time high being $167.9 million in 2007. Regarding online poker revenues, it has been a disappointment in Nevada thus far. However, as more states begin to legalize online gambling there will be more opportunities for state compacts which will increase player liquidity and provide more revenue.

In a bid to protect the most important industry in the state of Nevada,...

Nevada's Governor Steve Sisolak has ordered patrons to cover up with masks in...
Nevada was the first state in America to legalize intrastate online poker. The current interpretation of Federal laws allows states to legalize and regulate intrastate online gambling, excluding online sports betting, to the extent desired. The Wire Act is deemed to apply to online sports betting only.
On December 22, 2011, the Nevada Gaming Control Board [A] approved online poker regulations for the state.  In February 2013 the state Senate and House passed the bill legalizing online poker. License applications from over 30 companies have already been accepted. On April 30, 2013 Ultimate Poker, which is a subsidiary of the land casino group Station Casinos, became the first fully regulated and legal online poker room in the United States. On November 14, 2014, Ultimate Poker announced they would be closing down their online poker website on November 17th. On September 19, 2013, WSOP.com owned by Caesars Entertainment became the second regulated online poker room to launch in Nevada. The third online poker room Real Gaming went live in February 2014.
Future Outlook of Online Poker in Nevada
From the applications received, over 30 operators and service providers have been approved by the Nevada Gaming Control Board and recommended for licenses. These include, apart from those licensed, well-known names such as IGT, Bally Technologies, MGM Resorts and 888.
Nevada online gaming law allows for compacts with other jurisdictions that can legally offer this activity within the United States. One such compact has been signed with Delaware which allows them to share player pools. It is an established fact that larger player pools lead to more liquidity and traffic and greater revenues. At present Nevada has legalized only online poker and not online casino games or online bingo. Delaware and New Jersey have legalized these other forms of online gambling including poker. This is another future possibility in Nevada.
2014 Internet Poker Revenue in Nevada (WSOP.com, Ultimate Poker (closed on November 17, 2014) and Real Gaming):
January – N/A (revenue numbers weren't made public until February)
February – $824,000
March – $926,000
April – $792,000
May – $862,000
June – $1,037,000
July – $985,000
August – $742,000
September – $693,000
October – $655,000
November – $641,000
December – Nevada Gaming Control Board has stopped releasing their online poker revenue numbers until they have at least three sites operating.
Current Gambling Laws in Nevada
Title 41, Gaming, Horse Racing, Sporting Events, covers the laws related to gambling in the Nevada Revised Statutes [B]. Chapter 462 deals with lotteries; Chapter 464 deals with pari-mutuel wagering and Chapter 466 deals with horse racing. Chapters 463 and 465 deal with casinos and general provisions.
Nevada is one of the few American states that are proactive towards gambling. Section 463.0129 (1) [C] outlines the importance of gambling to the state. It also recognizes the role that regulation plays in building trust among the public for the various gambling activities. Section 463.0152 defines gambling game as, "any game played with cards, dice, equipment or any mechanical, electromechanical or electronic device or machine for money, property, checks, credit or any representative of value, … ".
Section 463.016425 defines interactive gaming as, "the conduct of gambling games through the use of communications technology that allows a person, utilizing money, checks, electronic checks, electronic transfers of money, credit cards, debit cards or any other instrumentality, to transmit to a computer information to assist in the placing of a bet or wager and corresponding information related to the display of the game, game outcomes or other similar information". The definition specifically excludes online sports books. Under the Nevada Revised Statutes it is illegal to conduct gambling games that have not been licensed by the state Gaming Commission.
Violation of the gambling laws, including violation of license conditions, is a crime. The crime is classified as gross misdemeanor, class B felony or class C felony according to the provisions of Section 463.360 and is subject to the penalties stated therein.
Throughout the history of gambling in Las Vegas casinos, there have been players who have used various devices and methods to break the bank. Nevada Revised Statutes Section 465.075 clearly states what is unlawful in this regard. The section states, "It is unlawful for any person at a licensed gaming establishment to use, or possess with the intent to use, any device to assist: (1.) In projecting the outcome of the game; (2.) In keeping track of the cards played; (3.) In analyzing the probability of the occurrence of an event relating to the game; or (4.)  In analyzing the strategy for playing or betting to be used in the game, except as permitted by the commission".
History of Gambling in Nevada
1861
Territorial legislature imposes stiff penalties to curb rampant gambling.
1864
Nevada becomes 36th state.
1909
All forms of gambling are criminalized under law.
1931
Gambling is legalized.
1931
Bank Club begins legal gaming in Reno.
1931
First Las Vegas gaming license issued for Northern Club of Fremont Street.
1937
Bill Harrah opens his first bingo parlor in Reno.
1942
El Rancho Vegas becomes the first hotel-casino on the Strip.
1945
State Tax Commission authorized to issue gaming licenses.
1946
Nevada becomes first state to tax gambling revenue.
1955
Gaming Control Board created.
1959
Nevada Gaming Commission.
1965
Gaming Industry Association is formed.
1966
Caesar's Palace opens on Las Vegas Strip.
1973
MGM Grand opens on Las Vegas Strip.
1989
The Mirage opens on Las Vegas Strip.
1992
Harrah's Entertainment enters Las Vegas Strip.
1993
Nevada's gaming revenue exceed $6 billion a year.
2004
Nevada's gaming revenue exceed $10 billion a year.
2011
Gaming Control Board approves online poker regulations.
2013
Ultimate Poker becomes the first legal and regulated online poker room in the USA. WSOP.com becomes the second online poker room to go live.
2014
Real Gaming online poker room goes live. Ultimate Poker closes its website on November 17th. Neteller launches in Nevada in April.
2015
Nevada and Delaware begin online poker sharing agreement in March. In September, WSOP.com begins accepting PayPal.
2016
Casinos in Nevada brought in revenues of $11.26 billion for the fiscal year, up 1.3% from the previous fiscal year. The state had 73 poker rooms which raked in over $117.75 million.
Poker at Home
Home poker games are legal in Nevada. As such all unlicensed gambling is illegal, but there is a specific exemption for home poker. The exclusion in Section 463.0152 states, "but does not include games played with cards in private homes or residences in which no person makes money for operating the game, except as a player".
Charity Poker Tournaments
Nevada Revised Statutes permit certain forms of charitable gambling, but poker tournaments are not included.
Live Poker
Live poker, including live poker tournaments, are permitted at licensed casinos only, with the home poker exception. The biggest live poker tournament in the world, the WSOP, is held annually in summer in Las Vegas. It now spans more than a month and has over 50 events. The winners get special diamond bracelets along with cash prizes.
Gambling Laws in Nevada
Summary
Nevada is one of the most permissive states in America as far as gambling is concerned. The Nevada Gaming Commission and the State Gaming Control Board govern Nevada's gaming industry through strict regulation of all persons, locations, practices, associations and related activities.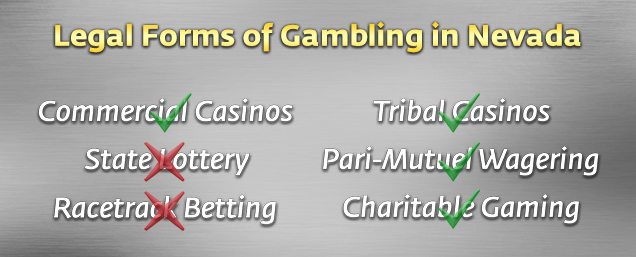 Brick and Mortar Casinos in Nevada
Nevada probably has the greatest concentration of casinos in the world, the total number being in excess of 200. The complete list is available here [D]. Las Vegas, Reno, Lake Tahoe and Laughlin are the popular destinations. In Nevada casinos players can bet on horses, sports, live poker, live keno, bingo, slot machines, video poker and table games.  Every conceivable table game is on offer somewhere in Nevada. The common ones include roulette, blackjack, craps and baccarat. Nevada is the only state that allows commercial keno drawings.
Las Vegas, known as Sin City, is where most of the action is. There are more than 75 casinos in Las Vegas. The biggest and most exquisite of them are located on the Strip, a 4 mile stretch that is actually just outside the city limits. It is home to hotels cum resorts cum casinos.  15 of the 25 largest hotels in the world by room count are on the Strip. Apart from gambling they are known for the live entertainment they offer. Some of the most famous of these are Caesars Palace, The Venetian, The Mirage, Bellagio and MGM Grand.
There are three tribal casinos on reservation land that are not regulated by the Nevada Gaming Control Board, but by separate compacts with the state as required under the federal Indian Gaming Regulatory Act [E]. These casinos are not as successful as in most other states because they do not have exclusive right to offer gambling and because of the large number of private casinos available. They are permitted to offer all of the same games that are offered at state regulated casinos. The casinos are Snow Mountain Smoke Shop, Avi Resort and Casino and Moapa Paiute Travel Plaza.
Pari-Mutuel Wagering in Nevada
Nevada does not have any full time horse tracks.  There are temporary tracks set up at fairgrounds or on private property that operate for a few days a year.  Live wagering is allowed at those races, however, off track wagering on simulcast races from all over the world can be done at most major casinos.
Lotteries in Nevada
Nevada does not have a state lottery. In an interview given to ABC News [F] in May 2013, Nevada Gaming Control Board chairman A.G. Burnett said that over 50 years ago the state legislators decided that Nevada would be just a casino-style gaming state. As a result, the law bans lotteries with the exception of charitable drawings. He added that every few years, there is a proposal to instate a commercial lottery in Nevada, but it has never been fruitful. Burnett said, "I think it's the gaming industry that doesn't want to have a lottery. That's pretty much the prevailing view even today."
Charitable Gambling in Nevada
Charitable gambling in Nevada includes mainly lottery, bingo and raffles. Section 462.075 defines charitable or nonprofit activity as "an activity in support of the arts, amateur athletics, peace officers or health or social services, or conducted for any benevolent, civic, educational, eleemosynary, fraternal, humanitarian, patriotic, political or religious purpose, including the operation of a qualified organization". Chapter 462 lays down the requirements for operation of charitable lotteries and Chapter 463 deals with general licensing procedures and charitable bingo. The Nevada Gaming Control Board has oversight of charitable gambling.
Sports Betting in Nevada
Nevada is the only state where sports betting is legal, regulated, policed and taxed. Under pressure from the sports federations, the Congress enacted the Professional and Amateur Sports Protection Act (PASPA) in 1992, which banned sports betting. Nevada was exempted from this Act because it already had in place a legal and regulated mechanism for sports betting. Players can engage in sports betting from licensed casinos. Total sports bets totaled $3.9 billion in 2014, up 7.7% from 2013, with the sportsbooks collecting $227 million from those wagers.
Author: Joseph Falchetti (twitter)
(C) Copyright PokerWebsites.com, 2018
References and Citations