Important IN Notes
Legal (federally) for IN residents to play at offshore sites
The state currently has no plans to legalize iGaming
Laws criminalize online gambling as a misdemeanor offense
Significant land-based poker presence is a positive
There are no tribal casinos in the state – not allowed
Last updated: August 9, 2018 by Savanah
Indiana's first tribal casino, Four Winds Casino South Bend, opened on January 16th. Full House Resorts proposed to lawmakers last January a $650 million casino to be built near Indianapolis. Unfortunately, the bill did not pass a Senate Committee on February 15, 2017. Indiana became the second state to regulate daily fantasy sports (DFS) betting; Virginia being the first. On March 24, 2016, then Governor Mike Pence signed the bill into law, and the Indiana Gaming Commission oversees this activity. Indiana Representative Alan Morrison introduced a bill, House Bill 1073, to legalize sports betting at their state casinos, racinos and parimutuel facilities. A new study came out fairly recently from the Casino Association of Indiana which mentioned their casinos contribute $4.1 billion to its state economy and supports 25,000 jobs.
RECOMMENDED POKER WEBSITE FOR
INDIANA


Since it's currently illegal to operate poker sites over the internet in Indiana, poker players can still play at licensed sites offshore. We recommend BetOnline as a safe and secure website that accepts players in Indiana.
Indiana's views on online poker are very clear: It is a crime to wager over the internet at a poker site operated in the state, including on the game of poker, and charges range from misdemeanor for players to felony for operators. However, it is federally legal for Indianans to play poker online at offshore sites. Indiana shows no sign of changing their laws in the near future, nor are there any plans to introduce licensing authorities to govern any future online gambling industry.
Future Outlook of Online Poker in Indiana – Estimated date of legalization:
2020-2021
The following graph tracks our expected legislation of online poker in Indiana on a state law level. It is currently already legal on a Federal level. This graph monitors the current rise or fall of expected legalization.


According to a state report issued by the Indiana Gaming Commission, Indiana's...

Indiana's sports betting numbers grew significantly in October 2019, with the...
Recent Activity
Indiana is considered a conservative state and the likelihood that it will blaze the trail to introduce changes to its current anti-online gambling laws is not very large.  On the other hand, some believe that should the issue ever come up in a referendum, there may be enough pro-gambling supporters to see significant changes on the law books.
For now, however, Indianans have remained silent on the law front, with no major proposals seen in several years and none waiting to be discussed in any form at present.
In early October 2013, two Indianapolis attorneys [A] proposed the idea of expanding gambling in Indiana by allowing mobile gambling in the city's airport.  The idea is to allow the use of iPads for low stakes gambling, with the proceeds going to fund a new football stadium.  While state authorities have said that the idea is not possible under existing law, it has nevertheless piqued the interest of the Indiana gambling industry and may at least plant the idea of pushing for online gambling regulation in the state.
History of Gambling in Indiana
1851
The Indiana Constitution includes a ban on lotteries, understood by courts to incorporate a general prohibition on gambling as a whole. (
Article 15, Section 8 of the Indiana Constitution
[B]
stated that, "no lottery shall be authorized, nor shall the sale of lottery tickets be allowed.")
1988
Indiana voters approve the creation of a state lottery.
1989
The governor signs the Lottery Act into law and the sale of lottery tickets begins. Pari-mutuel betting on live horse races also legalized.
1990
Non profit organizations authorized to conduct bingo, raffles and other small stakes gaming (also referred to as charity gaming).
1992
Expansion of pari-mutuel betting laws allows the creation of off track betting facilities.
1993
Riverboat gaming legalized in Indiana.
1994
First riverboat casino opens.
1995
Hoosier Park horse track opened on September 1st.
2002
Indiana Downs horse track opens in Shelbyville.
2003
Evansville off track horse betting parlor opened.
2004
Clarksville off track horse betting parlor opened.
2005
Gambling laws expanded to incorporate restrictions on internet gambling.
2007
Legislation passed allowing 2,000 slot machines at each of the two horse racing tracks in Indiana.
2008
Small stakes gaming on pull tabs and similar games authorized in bars and taverns in Indiana.
2015
Online horse racing bill vetoed. Governor Mike Pence signs bill allowing riverboat casinos to move ashore.
2016
On March 24th, Indiana become the second state to regulate online daily fantasy sports (DFS) betting, Virginia being the first. The Indiana Gaming Commission will oversee this activity.
Land Based Poker in Indiana
Indiana's gambling laws, particularly Section 35-45-5-1 (d) [C], incorporate wagering on all games of chance, skill or a combination of both, performed in an unregulated environment.  This includes the game of poker.
Poker for real money is allowed in Indiana as long as it is played in a commercial casino or at events run by charitable game operators.  There are ten privately owned casinos in Indiana, each one of which offers poker tables, including Texas Hold 'em, Omaha, Stud and variants of Hi/Lo.
A number of noteworthy casinos include Belterra Casino, Blue Chip Casino, Casino Aztar and the Horseshoe Casino.
Another way to play poker for real money in Indiana is to find a poker league – a legal option as long as there is no entry cost involved.  Several of these leagues award real cash prizes or buy-ins to local tournaments.  The Columbus Poker League, for example, charges no entrance fee and is a points based league.
While the majority of US states make allowances for private poker games, this, unfortunately, isn't the case in Indiana.  Authorities in the state view home poker games as unlawful gambling – a crime which carries a hefty Class D felony charge and a potential prison sentence for operators of these games.
Charitable organizers or fundraisers may offer private poker games, under strict state laws, including a specific license from the state.
Gambling Laws in Indiana
Indiana's strict gambling laws, under the state codes 35-45-5-1 et seq.; 4-31-1-1 et seq, define gambling as, "risking money or other property for gain, contingent in whole or in part upon lot, chance, or the operation of a gambling device."
Gambling is only allowed in licensed commercial casinos which offer a wide range of casino games and table games.  It is also legal to place pari-mutual wagers on horse races or play lottery games run by the state lottery, Hoosier Lottery.
The biggest casino or gaming facility in Indiana is the Caesars Indiana which boasts 2,300 gaming machines and 145 tables.  The Argosy Casino and Hotel in Lawrenceburg comes in a close second place with 2,000 gaming machines and just under 100 table games.
Some of Indiana's casinos remain open from 11am to midnight while others are open 24 hours a day.  Games offered include slots, blackjack, craps, roulette and several variants of poker.
Despite the state's strict laws, however, it is estimated that casinos in Northwest Indiana rank third in the gambling market of the United States in terms of revenue, showing that the popularity of this pastime in the Hoosier State is wide spread.
Indiana is one of the few states which have gambling laws that pertain particularly to online wagering.  These laws, introduced in 2005, make it illegal to wager over the internet.
The law refers to professional gambling over the internet as follows:
(a) A person who knowingly or intentionally:
(5) conducts any banking or percentage games played with cards, dice, or counters, or accepts any fixed share of the stakes therein; or
(6) accepts, or offers to accept, for profit, money, or other property risked in gambling;
commits professional gambling, a Class D felony. However, the offense is a Class C felony if the person has a prior unrelated conviction under this subsection.
(b) An operator who knowingly or intentionally uses the Internet to:
(5) conduct any banking or percentage games played with the computer equivalent of cards, dice, or counters, or accept any fixed share of the stakes in those games:
(A) in Indiana; or
(B) in a transaction directly involving a person located in Indiana; or
(6) accept, or offer to accept, for profit, money or other property risked in gambling:
(A) in Indiana; or
(B) in a transaction directly involving a person located in Indiana; commits professional gambling over the Internet, a Class D felony.
Future of Gambling in Indiana
The future of gambling in Indiana will depend mainly on competition from neighboring states, which continues to grow with each passing year.  Not only are neighboring states setting up new casinos, but smaller drinking establishments in states such as Illinois are also allowing the introduction of video gaming machines – something that will prove to be direct competition to casinos in Indiana.
The state's high unemployment rates continue to affect local casinos, offset slightly by a boost from the Indiana General Assembly which voted recently to exempt Indiana casinos up to $5 million per year in free slot play from taxes.
In May 2013, Governor Mike Pence signed into law the Senate Enrolled Act of 528 [D] which allowed existing casinos and racinos in Indiana to improve their market competitiveness without expanding gaming in the state. The law, "authorizes the use of limited mobile gaming systems at racetracks, satellite facilities and in the gaming area of a riverboat or racino" according to OpenStates.org.
Adjustments were made to the gaming tax structure and the law codifies the limited use of mobile gaming devices approved by the state's Horse Racing Commission.
When passing the law, the governor said [E]: "Recognizing the competitive environment in the gaming industry and its importance to local communities, I signed this legislation to give gaming businesses within our state the tools to compete with surrounding states. I appreciate the opportunity to work with the legislature on this bill and am pleased that it did not include an expansion of gaming."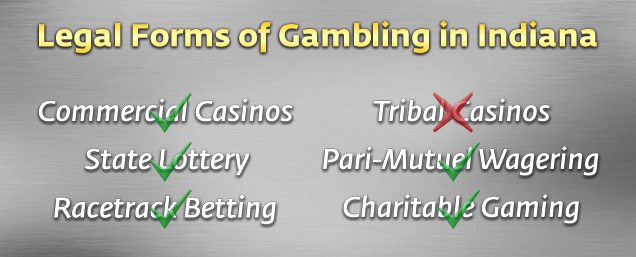 Indian Casinos in Indiana
After regaining federal recognition in 1994, the Pokagon Band of Potawatomi Indians voted to purse casino gaming.  While speculation was high that the tribe would construct a casino in South Bend or Elkhart in Indiana, these plans never surfaced, and in 2001, it was announced that that no casino would be built in the state.  However, in 2012, the tribe said that it was planning the construction of a tribal village which includes a casino in South Bend [F].  The casino, Four Winds Casino South Bend, opened on January 16, 2018.
Racing Laws in Indiana
The regulation and oversight of Indiana's horse racing industry is the responsibility of the Indiana Horse Racing Commission [G], which aims to ensure, "that pari mutual wagering on horse races in Indiana will be conducted with the highest of standards and the greatest of integrity."
There are two horse tracks in Indiana, Hoosier Park which opened in Anderson in 1994 and Indiana Downs track in Shelbyville which opened in 2006.  Five off track horse betting parlors are located in five Indiana cities, namely Fort Wayne, Indianapolis and Merrillville which are operated by Churchill Downs, as well as in Evansville and Clarksville, operated by Indiana Downs.
The horse tracks are home to several thousand slot machines. The minimum legal age to take part in pari-mutual betting in Indiana is 18.  The minimum age to enjoy casino gambling is 21.
Rules and statutes pertaining to horse track racing and gambling in Indiana can be found here: http://www.in.gov/legislative/ic/code/title4/ar35/index.html [H]
Riverboat Gaming in Indiana
In July 1993, the Indiana Riverboat Gaming Act was passed to allow riverboat gaming in the state for the first time, and allowing the creation of ten riverboat casinos.  The first of these opened in 1995.  The regulation and oversight of casino river boats falls under the auspices of the Indiana Gaming Commission [I]. In 2015, the House, Senate, and Governor passed a bill to allow riverboat casinos to move onto land within their footprint.
Lotteries in Indiana
The Hoosier Lottery [J] is operated by the State of Indiana, and was created after a 1988 citizens referendum voted in favor of its establishment.  Over the decades, the lottery has returned millions of dollars to the state and its residents, including pension and disability funds, lower taxes, education and so forth.
The Hoosier Lottery offers nine draw games (including three big jackpot games – Powerball, Mega Millions and Hoosier Lotto), as well as instant games, scratch offs, raffles, Mix and Match and a range of others.
Charitable Gambling in Indiana
While charity gaming is permissible in Indiana, it can only be offered by specific organizations, including bona fide religious, educational, senior citizens, veterans or civic organizations that operate in the state.  Some of the restrictions on charity gambling include that fact that these organizations must:
Operate with a profit to their members
Be exempt from taxation under Section 501 of the Internal Revenue Code
Be in existence for at least five years
Be approved by the Indiana Gaming Commission unless the total value of all prizes awarded during the event does not exceed $1,000 or $3,000 during the calendar year.
Charity games approved in Indiana include bingo, raffles, door prizes, pull tables, punch boards, tip boards, charity game nights, festivals and special events. The minimum legal age to take part in charity gaming in Indiana is 18.
Author: Joseph Falchetti (twitter)
(C) Copyright PokerWebsites.com, 2018
References and Citations