Poker Laws in North Carolina
Important NC Notes
NC poker players play for real money legally at offshore sites
There are no bills in the NC legislature on internet poker
Their has been gambling expansion in NC recently
Lottery, charitable gaming, and tribal casinos allowed
Commercial casinos, pari-mutuel, and racetracks are illegal
Last updated: June 13, 2018 by Savanah
The Eastern Band of Cherokee Indians are looking to potentially build its third casino in the state. They are looking to spend roughly $61 million for a 200 room casino hotel with 25,000 square feet of gaming space, 250 slots, and 20 table games.
RECOMMENDED POKER WEBSITE FOR
North Carolina


With no proactive approach by the state for licensed online poker, players have turned to the offshore emporium. BetOnline continues to withhold a stance that an offshore license lets them accept poker players from NC, and players are not doing anything unlawful by playing for real money.
"Reviewed by Chuck Humphrey – 50 year Gaming Law Practitioner"
Though online poker is not directly mentioned in the North Carolina statutes, it is held illegal in the state to operate an online poker site. The only poker permissible is in the Indian tribal casino. All other forms of poker, including online poker, are illegal to operate within the state. Since North Carolina has not specifically legalized operating an online poker business, it is therefore deemed illegal. However, federal law does not make playing an illegal activity.
Future Outlook of Online Poker in North Carolina – Estimated date of legalization:
2020-2021
The following graph tracks our expected legislation of online poker in North Carolina on a state law level. It is currently already legal on a Federal level. This graph monitors the current rise or fall of expected legalization.

Recent Activity
North Carolina is a gambling unfriendly state. The legislators are expending all their effort in trying to restrict various forms of land based gambling. Certain strong public interest groups are also against online gambling. When the Federal government said that the UIGEA does not prevent states from enacting online gambling legislation, family-centric groups from 13 states, including the North Carolina Family Policy Council, asked the Congress to prevent states from legalizing online gambling [A] and to strengthen the antigambling provisions of the UIGEA. Some legislators, such as Senator David Hoyle, D-Gaston, had in 2010 tried to legalize electronic gambling machines [B] under the state lottery. However, they were unsuccessful. In such a scenario the future outlook for legalized online poker websites in North Carolina is bleak.
Current Gambling Laws in North Carolina
Gambling is covered under Chapter 14 Criminal Law [C] of the North Carolina General Statutes. The specific section is Article 37 of Subchapter XI titled General Police Regulations. Part 1 deals with the Lotteries and Gaming and Part 2 deals with Bingo and Raffles. Section 14-292 on Gambling states, "any person or organization that operates any game of chance or any person who plays at or bets on any game of chance at which any money, property or other thing of value is bet, whether the same be in stake or not, shall be guilty of a Class 2 misdemeanor." Specifically permitted forms of gambling are excluded from the purview of this section.
Continuing offenses will be treated as felony and will incur the following additional punishment under Section 14-7.20. (1) The profits obtained by the person in the enterprise, and (2) Any of the person's interest in, claim against, or property or contractual rights of any kind affording a source of influence over, such enterprise.
History of Gambling in North Carolina
1749
Gambling debts greater than £100 abolished.
1753
All gambling debts invalidated, gambling in public banned, and gambling losses limited to 40s a day.
1784
Anti gambling laws repealed and taxes imposed on playing cards and dice.
1939
First greyhound racing track sanctioned by General Assembly.
1945
Charitable bingo allowed in first in Mecklenburg County.
1954
All greyhound racing tracks closed.
1977
Laws allowing charitable raffles passed.
1979
State wide laws allowing bingo and raffles for non profit organizations.
1982
Eastern Band of Cherokee Indians start high stakes bingo on their territory.
1994
Gaming compact with Cherokee Indians for casino with electronic games of skill.
2000
Restrictions on video poker machines imposed.
2006
North Carolina Education Lottery established.
2007
Video poker machines completely banned.
2012
Gaming compact with Cherokee Indians for table games in casino.
2013
Sweepstake parlors banned.
2015
On September 28th, the $110 million Cherokee Valley River Casino & Hotel opened.
Land Based Poker in North Carolina
Poker at Home
Home poker games are not allowed in North Carolina because they are covered by illegal gambling as defined by Section 14-292 [D] cited earlier. Most states that hold poker as illegal at unlicensed locations, exempt home poker games provided no rake is taken. However, this is not the situation in North Carolina.
Charity Poker Tournaments
Charity poker tournaments are also not exempted from the general ban on gambling. Therefore, holding charity poker tournaments is illegal in North Carolina. The only forms of charity gambling allowed are bingo and raffles.
Live Poker
Live poker has been permitted in North Carolina only in the licensed Harrah's Cherokee tribal casino which went into affect in 2012. However, there have been agencies trying to exploit the value of live poker tournaments to their businesses from quite some time according to an article in Poker News [E]. One of them is the Poker Tavern League, which has over 2,500 members and aims to host poker tournaments in various bars across the state. Ryan Turner, one of the organizers, has expressed an opinion that the state's gambling laws are open for interpretation from county to county. The Poker Tavern League website states that prizes will be offered where legal and that the host organization should check the local laws. The Graduate, a Charlotte restaurant, offers poker twice a week but without any prizes so as to remain within the law.
Charlotte-based 5th Street Entertainment LLC hosted free to play poker tournaments with prizes like trips to Las Vegas as promotional events for businesses. After they were stopped by the authorities, they filed a suit in Guildford County court for declaration of their games as legal in 2005. Nothing came of the law suit and subsequently the poker tournaments were held for bragging rights only.
Gambling Laws in North Carolina
Summary
North Carolina falls within the Bible belt states of America and has an extremely hostile attitude towards gambling. The only legal forms of gambling are the state lottery, charitable bingo and raffles, and two Indian casino.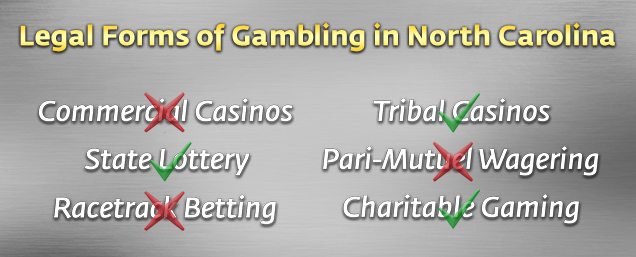 Brick and Mortar Gambling Laws in North Carolina
There are no casinos in North Carolina other than the single tribal casino (soon to be two tribal casinos).
Tribal Casinos
North Carolina has only one federally recognized tribe, the Eastern Band of Cherokee Indians. This tribe owns Harrah's Cherokee casino on its Qualla Boundary territory in the Great Smoky Mountains, and the new Cherokee Valley River Casino & Hotel scheduled to open in September of 2015. The casinos are operated by Caesars Entertainment Corporation. The gambling permitted there has been forced by federal regulations rather than state initiatives. The tribe started high-stakes bingo games in 1982, based on a federal court decision that exempted Indian reservations from state limits on bingo prizes. Then in 1994, the tribe reached a compact with the Governor under the Indian Gaming Regulatory Act for offering electronic games requiring skill or dexterity. The $82-million casino opened in November 1997. A new compact in 2012 led to the casino offering table games like roulette, blackjack, craps and poker.
The second Indian casino broke ground on October 15, 2013, called the Cherokee Valley River Casino & Hotel. It is scheduled to open in September 2015 and will employ 900 people with $39 million in annual wages to those employees. The casino will host 50,000 square-feet of gaming space as well as 300 hotel rooms.
A September 2013 report in TheOneFeather.com [F] states that the Catawba Indian tribe of South Carolina has expressed the demand to be allowed to operate a casino in Cleveland County of North Carolina. This has been opposed by the Cherokee Indians.
Pari Mutuel Wagering in North Carolina
Wagering on horse races was never allowed in North Carolina. However, two greyhound tracks with pari mutuel wagering operated in Morehead City and Moyock from 1948 to 1954. These were closed by a North Carolina Supreme Court order that the state constitution had been violated by granting a monopoly and giving special privileges to a private entity.
Charitable Gambling in North Carolina
Charitable Gambling is covered under Subchapter XI Article 37 [G]. Exempt organizations as defined in Section 14-309.6(1) of the North Carolina statutes are allowed to operate bingo games, excluding instant bingo, for fund-raising. The organization must receive a bingo license from the Department of Public Safety, and may run at most two sessions per week, with prizes not exceeding $500 per game. Under Section 14-309.15 exempt organizations can also run up to two raffles per year, with cash prizes not exceeding $10,000 per year and non-cash prizes not exceeding $50,000 per year. Unregulated bingo games with prizes of $10 or less, referred to as "beach bingo", may be run commercially with few limitations that have been stipulated under Section 14-309.14.
Lotteries in North Carolina
Lottery is the biggest gambling medium in North Carolina. Historically, there are examples of isolated lotteries allowed to raise money for various good causes. Under Chapter IV of the Acts of North Carolina General Assembly, 1761 [H] a lottery to raise £200 for navigation improvements on the New River was approved. However, the modern lottery came late to North Carolina, being established only in 2006. The enactment of House Bill 1023 [I] added Chapter 18C to the statutes by which the North Carolina State Lottery Commission came into being. Under its oversight the commission created the North Carolina Education Lottery [J]. Today a number of lottery draws and scratch-off games are offered, including the national Mega Millions and Powerball games.
Electronic Gambling Machines in North Carolina
Today electronic gambling machines are banned in North Carolina, except at Harrah's Cherokee, but this was not always the case. At one time video poker machines were rampant. Regulations enacted in 2000 put a limit of three machines per location and banned the installation of new machines. In 2006, an article in Star News [K] estimated there were 10,000 legal machines and 20,000 illegal machines in North Carolina. The legislature ultimately enacted a complete ban on video poker machines in 2007.
Thereafter, sweepstakes parlors flourished. These exploited a legal gray area by offering chances to win when customers purchase Internet or phone time. The state General Assembly passed laws banning the parlors in 2010, but certain operators went to court and the ban was struck down in the appellate court. The North Carolina Supreme Court reversed the order of the appellate court in its judgment of December 2012 [L] and the ban took effect in January 2013. An article in Wral.com [M] states that some operators have come up with new "pre-reveal" software that shows the player their prize before the game is played. The operators contend that this game does not violate the law. However, raids are being conducted to close down the parlors and the operators have filed an appeal in the US Supreme Court.
Author: Joseph Falchetti (twitter)
(C) Copyright PokerWebsites.com, 2018
References and Citations