The state of New Mexico does not allow for operating an online poker business, nor any other form of online gambling at this time. There is no strong push to advocate online poker by lawmakers, nor are there plans to create a regulating body that may license a legal online poker framework in the near future. While operating an online poker site remains illegal in New Mexico under current laws, offshore online poker rooms report that New Mexicans continue to open accounts and play at their sites legally.
Future Outlook of Online Poker in New Mexico – Estimated date of legalization:
2020-2021
The following graph tracks our expected legislation of online poker in New Mexico on a state law level. It is currently already legal on a Federal level. This graph monitors the current rise or fall of expected legalization.
Recent Activity
With the gambling industry so volatile in the United States and around the world, it's difficult to predict just where New Mexico will be with its online poker legislation over the next few years.  On the one hand, there are a number of issues working against the idea of regulation, including ongoing battles over the expansion of the state's land gambling industry and a small population (just over 2 million residents) – a fact which would not allow a viable online poker industry to thrive on its own. Most importantly, however, lawmakers don't seem to have the issue of online poker on their books, nor is there any pressure from the gambling industry to introduce internet gambling of any kind.
On the other hand, New Mexico is not blind to the fact that other states have turned to online gambling to develop viable industries that contribute much needed revenue, and the state could use the income generated from an online gambling industry.  In addition, New Mexico is no stranger to interstate compacts, having a number of lottery partnerships in place already.  This has potential, in the long run, to regulate and create interstate online poker.
When the Department of Justice issued its opinion in December 2011, opening the door for legalized internet gambling in the United States, lawmakers in New Mexico were not alone in examining how the change of opinion [A] relating to the 1961 Wire Act would affect them. Of particular interest is how existing compacts with Native American tribes could be worked to allow the introduction of any form of online poker, gambling or lottery if the time comes.
The New Mexico Gaming Control Board, a body that has substantial clout in the state's gambling landscape, minces no words regarding the legality of online poker. The authority's website clearly states: [B] "Internet gambling is expressly prohibited by Federal law.  This falls under 31 U.S.C.A. §5361, Unlawful Internet Gambling Enforcement Act.  The State of New Mexico, and the New Mexico Gaming Control Board do not regulate, license, control or in ANY way sanction, endorse or approve any Internet or on-line gambling, betting activity, wagering or any aspect thereof.  Any statement, reference or opinion to the contrary is wrong.  Such activity is strictly prohibited and not authorized, approved or sanctioned in any manner by New Mexico regulatory authorities."
Another personality who may be able to wield some clout in a future online poker industry in New Mexico is the former Governor Gary Johnson [C], who in 2012 and 2016 tried a presidential run and in the process tried to gain the support of online poker players.  Johnson added a poker themed page on his website, attended poker related events and posted on online poker forums. When the Department of Justice shut down several online poker rooms in April 2011 (Black Friday), Johnson responded by issuing a statement: "Earlier this year, when the Department of Justice abruptly shut down a number of online poker sites and seized bank accounts, including ones holding players' funds, a number of Governor Johnson's supporters were outraged and brought it to his attention. Governor Johnson was similarly disturbed by the government's actions, and the result is an on-going dialogue with the online poker community."
In Johnson's bid to become the President of the United States, despite his low presidential polling numbers, he promised that, "as President, I will do everything in my power to restore your right to play online poker, an ensure that such a right can never be taken away again."  He said that funds spent by only poker players was "your money" and said that "the federal government should not be involved in restricting lawful commerce that does not harm anyone."
Finally, we look at the official stance of the governor's office regarding a bid by tribal casinos to protect themselves from the possibility of online poker in the future.  In 2013, the governor made a statement saying: "While the impact of Internet gaming is uncertain, the state believes that brick-and-mortar (tribal) facilities will provide for more jobs and better serve the interests of New Mexico economic development."
History of Gambling in New Mexico
Land Based Poker in New Mexico
New Mexico allows the playing of poker as long as it falls under what is considered lawful in the state.  Regulated gambling facilities exist, and any gambling in unregulated frameworks in considered illegal.
Section 30-19.2 [F] defines gambling (and poker by default) as, "A. Making a bet, B. entering or remaining in a gambling place with intent to make a bet, to participate in a lottery or to play a gambling device; C. conducting a lottery; or D. possessing facilities with intent to conduct a lottery."
Further, the law goes on to define making a bet as, "a bargain in which the parties agree that, dependent on chance, even though accompanies by some skill, one stands to win or lose anything of value specified in the agreement."
So where can poker fans play the game?
There are a number of Indian casinos in New Mexico which offer players the option of playing poker.  The Buffalo Thunder Casino in Santa Fe, for example, offers an exceptional live poker room which boasts regular tournaments, late night hands, bad beat jackpots and more.
Social gambling is not allowed in New Mexico, which means that home poker games would not be considered legal under existing laws.
Gambling Laws in New Mexico
Gambling in New Mexico is overseen by the State of New Mexico Gaming Control Board, with specific laws pertaining to gambling covered by Section 30-19.2 as seen in the section above "Land Poker in New Mexico".
Essentially, the state lottery, pari-mutuel wagering and tribal gaming is legal in New Mexico.  Players will also find a wide range of casino options at commercial casinos, such as the Sandia Resort and Casino in Albuquerque which offers 140,000 square feet of Vegas style gaming action, including 2,300 slot machines and over 30 table games.
The Gaming Control Board defines different gambling activities as follows:
Bingo – is a game of chance in which prizes are awarded on the basis of designated numbers or symbols on a card conforming or symbols selected at random.
Game – under the Gaming Control Act is an activity where you play to play a game or on a slot machine, the outcome of which is based on chance and possibly some skill, to receive a prize or something of value.
Lottery – is a game of chance in which, for consideration, the player has the opportunity to win a prize, the award of which is determined by chance, even if some skill is required.
Pull Tabs – printed tickets that have a pull-tab or seal to be opened by the purchaser where a winning combination is printed on each ticket or on a separate card.
Raffle – is a game of chance conducted by drawing for prizes by chance or by selling tickets or rights to participate in such a drawing.
Sweepstakes – used to promote legitimate business objectives. Entry obtained with purchase but must also provide a no purchase necessary alternative method of entry."
More recent New Mexico gambling news involves the approval of the state House on a 36-30 vote to allow the Navajo Nation to open three additional casinos [G].  The proposal now heads to the Senate.  The compact will allow the Navajos to introduce three new casinos over the next 15 years, although the idea is opposed by other tribes which believe that the new casinos will hurt gambling industry expansion.  The compact needs to be approved by the Interior Department and the Legislature before it becomes law.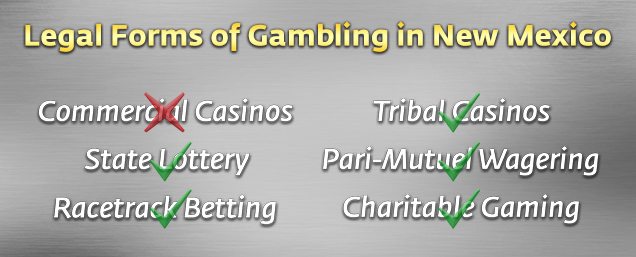 Indian Casinos in New Jersey
Prior to 1990, when the New Mexico Governor Bruce King appointed a task force to negotiate gaming compacts, several tribes were already operating Class I and Class II gaming (mostly bingo and pull tabs). After King was defeated by Gary Johnson, gaming compacts were signed in 1995 and the first casino, the Cities of Gold Casino in Pojoaque was opened. Since then, legal battles between the state and tribes over the percentage of 'revenue sharing' have popped up now and then.
In mid October 2014, a federal judge in Albuquerque ruled against the Pojoaque tribe trying to obtain a new gambling compact from the Interior Department. The Pojoaque's proposed compact would have stopped tribal revenue sharing payments to the state, allow the serving of alcohol in gambling areas, and allow the tribe to lower the gambling age in casinos from 21 to 18.
There are about 20 tribal casinos in New Mexico run by 14 tribes.  To protect their interests against the possibility of a regulated online poker industry in the future, the Navajo Nation is asking for an option to stop paying the state a portion of its revenue if any form of online gambling is ever legalized. According to the Albuquerque Journal [H], "Under the proposed new compact with the Navajos, the tribe could stop making revenue-sharing payments to the state if the state authorized Internet wagering on any casino or poker games or entered a multi-state Internet gambling agreement."
The New Mexico casino Indian Nation is made up of the following tribes: the Jicarilla Apache Nation, Mesclaero Apache Tribe of the Mescalero, Navajo Nation, Ohkay Owingeh Pueblo of San Juan, Pueblo of Acoma, Pueblo of Isleta, Pueblo of Laguna, Pueblo of Pojoaque, Pueblo of San Felipe, Pueblo of Sandia, Pueblo of Santa Ann, Pueblo of Santa Clara, Pueblo of Taos, and the Pueblo of Tesuque.
Racing Laws in New Mexico
Horse racing in New Mexico is governed by the New Mexico Racing Commission [I] which exists to, "provide regulation in an equitable manner to New Mexico's pari-mutual horseracing industry to protect the interest of wagering patrons and the State of New Mexico in a manner which promotes a climate of economic prosperity for horsemen, horse owners and racetrack management."
There are five racing tracks in New Jersey, namely Abuquerque Downs, Ruidoso Downs , Sunland Park, SunRay Gaming in Farmington and Zia Park in Hobbs.
Lotteries in New Mexico
The New Mexico Lottery [J] launched on April 27th, 1995 under the New Mexico Lottery Act. The lottery is not a state agency and is separate from the state, although it is subject to oversight by the Legislative Finance Committee. 100% of the lottery proceeds go to the Lottery Tuition Fund, with the governor and legislature deciding who gets the lottery money. Lottery tickets are purchased at grocery, gas and convenience stores and tickets are currently not sold over the internet. Players need to be at least 18 years of age to play the New Mexico Lottery.
Bingo and Raffles in New Mexico
Gambling's definition in New Mexico has three elements – consideration, chance and prize. If any one or more of the elements are removed, it is not considered gambling.  Bingo and raffles are legal as long as one of the three elements is not included.  No license is required to play bingo in a senior's citizens home when at least half of the players are over the age of 55 and no players are under the age of 18.  Under laws 30-19-3 NMSA 1978 [K], to conduct a bingo or raffle, a 'qualified organization' needs to apply for a license, if more than four bingo or raffle games are going to be held in a year.  No individual or unqualified organization can conduct games of chance in a home and doing so may result in charges of a fourth degree felony.  Those participating can be charged with a petty misdemeanor.
If the prize in a raffle or bingo game run by a qualified organization is worth more than $75,000, the Gaming Control Board has to be notified. Fund raisers may not include 'casino nights' or 'Vegas Nights', which are illegal under New Mexican gambling laws.
Author: Joseph Falchetti (twitter)
(C) Copyright PokerWebsites.com, 2018
References and Citations