Poker Laws in New Jersey – Online Poker is Legal
Important NJ Notes
New Jersey offers regulated online casino gambling & poker
iGaming went live in NJ in late November 2013
The only state to license Amaya Gaming and PokerStars
PokerStarsNJ launched on March 21, 2016
The state is currently fighting for legal sports betting
Last updated: July 17, 2018 by Savanah
New Jersey generated $245.6 million from online gambling last year, up 24.9% from the previous year which did $196.7 million. The state has presented legislation to allow two racetracks outside of Atlantic City to offer online gambling to its residents. New Jersey and the UK are working on a deal to share online poker players to create a larger pool of players, as well as with Nevada and Delaware which went into effect on May 1st. The state's online gambling revenue from poker and casino games in June was $22.68 million, up about $2.45 million from June of the previous year. Legal sports betting within NJ borders is accepting wagers as of last month.

This week, the Borgata Hotel Casino & Spa was the first casino in Atlantic...

The Garden State continues to smash US sports betting records. The New Jersey...
Legal online poker and gambling became a reality in New Jersey with a "soft launch" on November 21, 2013 and the "public launch" on November 26, 2013.  A total of fifteen gambling websites over seven different license holders, five of those being poker sites, were included in the initial launch. Online poker and gambling will only be allowed at licensed, regulated sites to state residents and visitors to the state.  New Jersey poker players still flock to off-shore poker sites to play the game legally and are expected to continue to do so, even with intrastate online poker introduced because it is still safe and there are more players at the current time.
After struggling to meet revenue expectations in their first year, it appears New Jersey's online gambling industry is turning the corner. Gaming operations in the Garden State brought in $245.6 million in 2017, which is a 24.9 percent increase from the previous year.
However, though liquidity has increased at online poker rooms in the state, most of the increased revenue is coming from online casinos. PokerStars partnered with Resorts Casino and launched their site, pokerstarsnj.com, on March 21, 2016. Players can also play casino games including blackjack, slots, roulette, video poker, and baccarat.
Future Outlook of Online Poker in New Jersey
New Jersey's gambling authorities have ironed out the last creases to introduce intrastate online poker to the Garden State.  Online gambling and poker is now available from the land-based casinos that dot the Atlantic City coastline.  Laws passed by Governor Chris Christie in February 2013 require that software providers link with one of these casinos to be eligible for a license and, as such, some of the biggest names in the online poker industry such as PokerStars, Borgata, WSOP and PartyPoker are now present with the market being live.
Some others include Bally Technologies which has paired up with the Golden Nugget Casino, Betfair, and Party Digital Enterprises which has partnered with the Tropicana.
Although poker is not specifically mentioned as an authorized game in the law that was introduced by Governor Christie, the New Jersey Division of Gaming Enforcement [A] has been empowered to authorize games that are suitable for casino use which includes poker at online sites along with other types of games commonly found in Atlantic City casinos.
In July 2013, the Director of the Division of Gaming, David Rebuck provided more insight into the licensing suitability and partnerships expected in New Jersey's fledgling online gambling market.  Speaking to Global Gaming Business Magazine, Rebuck noted that:
The go live date for the new online gambling market is November 26th, 2013.
45 days before this date, the director of the gaming enforcement division is allowed to appeal to the Casino Control Commission to extend the deadline if he feels that the date cannot be met.
At least three major operators will be ready to launch by the deadline, with numbers quickly increasing after that.
New Jersey is expected to play a major part in online gambling regulation and legalization in the United States, since the state has nine million people and attracts many others who enter the state to play on the internet.
There is no 'five year' ban on companies who have been found to have violated federal online gambling laws (as there is in Nevada), however the gambling authorities have the right to determine if the company is suitable to do business within state borders.
Other facts about the new online gambling bill are:
The law allows online casino gambling for a ten year trial period.
Operation of gambling websites restricted to Atlantic City casinos.
A 15% tax on internet gambling revenue imposed (instead of 8% on land casinos).
Gamblers need to be at least 21 years old.
Casino games have to be played from a computer in New Jersey and the gambler's location will be verified through a GPS.
Interstate compacts may be signed between New Jersey and other similarly regulated states in the future to pool player bases.
Online gambling is expected to provide casinos with up to $400 million in extra revenue each year. *$400 million was the anticipated number before everything went live, but the actual numbers have been $122.88 million in 2014, $148.88 million in 2015, $196.7 million in 2016, and $245.6 million in 2017.
History of Gambling in New Jersey
1844
New Jersey bans all forms of lotteries.  Prior to this date, lotteries were quite common and helped pay for a range of cultural establishments such as Queen's College (Rutgers University) and even fund the military activities of the American Revolution.
1870
Monmouth Park Racetrack opens.
1894
Parimutuel gambling banned by the New Jersey Legislature.
1897
Referendum approved to amend state constitution to ban all gambling.
1894
Gambling theoretically outlawed but laws loosely enforced.  Social games, bookmaking and bingo still widely played.
1939
Racetrack gambling legalized once more.
1953
Referendum approved to allow non-profit organizations to operate bingo games and raffles.
1957
Amusement games declared an illegal form of gambling.
1959
Court decision reverses 1957 ruling about amusement games and re-legalizes them.
1970
Over 80% of New Jersey residents vote to create the New Jersey Lottery.
1974
Residents vote against legalizing casino gambling throughout the state.
1975
The first legal lottery game in the country where players get to pick their own numbers, the Pick-It, initiated in the state.
1976
Casinos legalized as long as they were restricted to Atlantic City.
1978
Resorts Casino becomes the first legal casino to operate in New Jersey.
1980
New Jersey names its 100th lottery millionaire.
1986
Pick 6 Lotto reaches its $1 billion mark in cumulative total sales.
1987
Annual lottery sales surpass $1 billion.
1998
Lottery annuity structure changed from 20 to 25 years.
2002
Largest New Jersey lottery won when Jorge and Joanne Lopez grab $331 million in The Big Game.
2003
New Jersey Lottery introduces internet instant game, Slingo.
2010
New Jersey Lottery begins selling Powerball tickets.
2011
Voter referendum approves legal sports betting in New Jersey.  State legislature passes a
bill
[B]
sponsored by Raymond Lesniak to introduce online gambling to residents over the age of 21.
2012
Governor Chris Christie signs legislation allowing sports betting in New Jersey.
2013
United States District Court rules in favor of professional sports bodies who argue against the introduction of legal sports betting in the state.  Governor Christie vows to appeal;  Revised bill allowing internet gambling approved by legislature and signed into law by Governor Christie for a 10 year trial period.
2014
Online gambling websites in the state generate $122.88 million. Skrill re-enters New Jersey as available cashier option. Neteller becomes an option in NJ in March.
2015
$148.88 million was generated by state licensed online poker and casino sites. PokerStars receives a license from the NJ Division of Gaming Enforcement in October.
2016
PokerStars launched their website on March 21st which includes real money online poker and casino games. On August 9th, the U.S. Third Circuit Court of Appeals ruled against the state once again to legalize sports betting in the state. Online gambling generated $196.7 million in revenue.
2017
Online gambling (poker and casino games) generated $245.6 million in revenue.
Land Based Poker in New Jersey
Poker laws in New Jersey are covered by the state's general gambling laws, specifically Section 2C: 37-1 (b) and Section 2C:37-1 (a) [C] where it is stated:
"'Gambling' means staking or risking something of value upon the outcome of a contest of chance or a future contingent event not under the actor's control or influence, upon an agreement or understanding that he will receive something of value in the event of a certain outcome."
and
"'Contest of chance' means any contest, game, pool, gaming scheme or gaming device in which the outcome depends in a material degree upon an element of chance, notwithstanding that skill of the contestants or some other persons may also be a factor therein."
The long and the short of it is that you are allowed to play real money land based poker as long as it takes place at a regulated commercial casino or at a charitable event.
In the case of social poker games, the law doesn't seem to be very concerned about the stakes played, however it is important that nobody takes a cut.
Gambling Laws in New Jersey
As noted, gambling laws in New Jersey are governed by Section 2C:37-1 (b) and Section 2C:37-1 (a).  The state has a powerful commercial casino industry and therefore takes a stringent approach to any type of illegal gambling in a bid to protect the industry.  In general, however, the law tends to be much stricter against operators than mere participants.
It is possible to enjoy a good amount of legal gambling activity in New Jersey, thanks to the number of commercial casinos and racetracks.  New Jersey does not support tribal gambling locations, although a state lottery does exist.
Charitable gambling is also a big part of New Jersey's gambling industry and allows for various types of games to be played.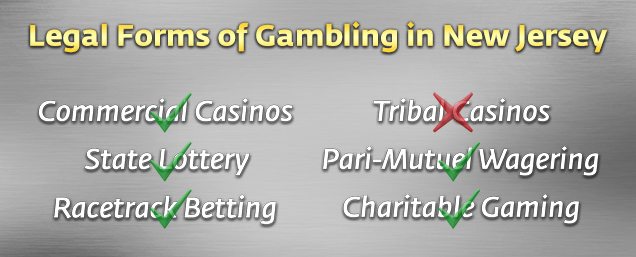 Indian Casinos in New Jersey
While there are no tribal owned land casinos in the state of New Jersey, it should be noted that the Mohegan Indian Tribe of Connecticut became managers of the Atlantic City based Resort Casino Hotel in 2012.
Also, to show how far reaching the effect of New Jersey's decision to introduce online gambling is, an alliance of Native American tribes in California (the California Tribal Business Alliance), issued a statement [D] slamming the new laws.  The alliance accused New Jersey of weakening gambling license requirements and analysts believe that this opposition comes from their fear about what will happen in other states.
Racing Laws in New Jersey
The Garden State offers three main tracks that are considered some of the best examples of feature harness and thoroughbred racing in the nation.  Freehold Raceway, established in 1853, is the US's oldest and fastest daytime half mile harness track and funds events between August and June each year.
Monmouth Park, open since 1870, hosts the $1 million Haskell Invitational every August and is home to thoroughbred racing, special events and family days.
The third track is the Meadowlands Racetrack which forms part of the sports and entertainment complex that is home to the New York Giants and New York Jets. The track hosts the most famous trotting event in the world, the Hambletonian, every year.
Racing laws in New Jersey are regulated by the New Jersey Racing Commission [E], and the authority rules on matters pertaining to racing, off track betting, account wagering, pari mutual wagering, casino simulcasting and more.
Sports Betting in New Jersey
On September 8, 2014, New Jersey Governor Chris Christie was given the green light for its state casinos and racetracks to start offering sports betting. However, on October 20th the NFL, NBA, NHL, MLB, and NCAA got an injunction to prevent this from happening. The federal Third Circuit Court of Appeals will look at the case and New Jersey has much better odds of getting sports betting approved in this appeal. However, on August 25, 2015, the federal appeals court denied New Jersey, by a 2-1 vote, to legalize sports betting in their state. The state restarted their battle again with the U.S. Third Circuit Court of Appeals after this decision but on August 9, 2016 they ruled against the state once again.
Christie is not concerned about the legality of this action as long as it's not licensed or sponsored by the state, while others feel this action will be legally challenged by the professional and college sports associations.
In 1992, New Jersey opted in to the federal Professional and Amateur Sports Protection Act which banned all forms of sports betting in the state.  Over the years, efforts have been made to extract the state from its commitment to this act, and in 2012, Governor Chris Christie took the greatest leap away from PAPSA by acting on a 2011 sports betting referendum and passing a law that sports betting can take place at Atlantic City Casinos and horse racing tracks.  The law stressed that wagers would not be allowed on games that involved state colleges or college games played in the state.
However, sports leagues, including the NFL, the NBA, the NHL, Major League Baseball and the NCAA sued the state and claimed that the laws would negatively affect the integrity of the games.  The Circuit Court of Appeals has so far denied Governor Christie the right to fight a ruling [F] that the state's new sports betting laws conflict with federal law, although the governor has vowed to fight on, and has said that he will even go as far as the Supreme Court. Christie continues to push but on June 23, 2014, the U.S. Supreme Court decided not pursue the New Jersey sports betting case at this time.
"Two years ago, the people of New Jersey voted overwhelmingly to bring sports betting to New Jersey, and the governor agrees with his constituents", said the governor in a statement shortly after the latest ruling against his appeal in September 2013. "There's no reason it should be limited to only a handful of states. It's a fundamental issue of fairness."
Lotteries in New Jersey
The New Jersey Lottery [G] was established in 1971 and held its first millionaire drawing in the same year.  The lottery offers a wide range of numbers draw games including Powerball, Mega Millions Multiplier, Pick 6, Jersey Cash 5, Pick 4 and Pick 3.  The lottery also offers instant games such as Win for Life and Bingo Boxes.
Charitable Gambling in New Jersey
All forms of charitable gambling in New Jersey are regulated by the New Jersey Department of Consumer Affairs [H].  Charities may offer players options such as casino nights, raffles and bingo, to name just a few.  Should the games should held on non commercial premises, no liquor is allowed to be sold, and no liquor is allowed at all when games are in progress.  Organizations need to be prove that the revenue earned will be directed for religious, educational, patriotic or service causes, and will need to apply for a gambling license.  The charitable games are not allowed to be offered to anyone under the age of 18 and no games are allowed on Sundays and no more than six days a month.
Author: Joseph Falchetti (twitter)
(C) Copyright PokerWebsites.com, 2018
References and Citations