Important LA Notes
Players from LA can legally play at offshore poker rooms
No bills on iGaming have been proposed yet in Louisiana
There are about a dozen live poker rooms in the state
Governor Jindal has halted gambling expansion
Land-based gaming industry improves long term prospects
Last updated: July 14, 2018 by Savanah
Around March 1st, Louisiana introduced a bill (SB 322) to legalize online gambling. The state is looking at several gambling expansion bills this year including sports betting, allowing riverboat casinos to move onto land, internet gaming, and daily fantasy sports (DFS) wagering. With casino revenue struggles in recent years one would think they would greatly consider passing online gambling (poker and casino games) to help generate more revenue. Louisiana boasts 15 riverboats, 4 racetracks with slots, and Harrah's New Orleans.
RECOMMENDED POKER WEBSITE FOR
LOUISIANA


Louisiana would be a great candidate to pass and regulate poker online with its rich gambling history and recent decrease in casino revenues, but nothing has come to fruition yet. Until a solution can be worked out, Louisiana poker players play at the legitimate offshore website BetOnline.
Online poker in Louisiana is not legal by law and no frameworks are in the pipeline to legalize or regulate this form of entertainment. Section 90.3 of the law, entitled Gambling by Computer forbids, "the intentional conducting, or directly assisting in the conducting as a business of any game, contest, lottery, or contrivance whereby a person risks the loss of anything of value in order to realize a profit when accessing the internet." While no reference is made to individual poker players, it is generally understood that the law covers all types of play.
There are no authorities in existence to oversee any form of online gambling, although there has been slight movement in the direction of lawmakers showing an interest in the option of online poker further down the line. Statistics indicate that online poker players from Louisiana regularly visit offshore sites legally, as a player at the Federal level, and wager for real money.
Future Outlook of Online Poker in Louisiana – Estimated date of legalization:
2020-2021
The following graph tracks our expected legislation of online poker in Louisiana on a state law level. It is currently already legal on a Federal level. This graph monitors the current rise or fall of expected legalization.


A spokesman for casino operator, Boyd Gaming has said that it may need to let...

Sports betting in Louisiana moved one step closer to reality last week, after...
Recent Activity
The possibility of online poker becoming a reality in Louisiana in the next few years is not an impossible dream, and despite strict laws currently on the books, there is cautious optimism that the Bayou State may surprise everyone and adopt pro-online gambling laws in the near future.  Louisiana is already open to a wide range of commercial gambling businesses on the ground and has a fairly liberal approach to gambling as long as it is conducted within the framework of the law.  In addition, a number of big names in the American casino business who are openly pro-online poker, such as Caesars, are present in the Louisiana industry and may be able to wield some legal clout.
On the other hand, with a state population of just 4.65 million, there are doubts that the state would be able to support a viable online poker network on its own.  Having said that, Louisiana could always go the way that Delaware and Nevada have, and create compacts with other regulated states to share player pools and increase its market.
Perhaps the most encouraging prospect for Louisiana's potential online poker industry was heard in March of 2013 when Rep. Mike Huval, a Louisiana State Representative, asked the state's House Committee on the Administration of Criminal Justice and the Senate Committee on Judiciary to analyze the prospect of online gaming and poker [A].
According to Huval, Louisiana, "has the potential to benefit economically by legalizing internet gaming" and believes that input from the governor, the state police gaming division, the attorney general, the state's Gaming Control Board and other industry interest groups could provide an all-around and objective report.
After the report was discussed, Ronnie Jones the Louisiana Gaming Control Board Chairman mentioned about internet gambling, "I suspect the bill will likely be introduced, but I can't confirm." Huval said, "I'm not planning on bringing such a bill in 2014, but I can't say I'll never bring a bill." On the flip-side, Governor Bobby Jindal said he will prevent any legislation aimed at legalizing online gambling in Louisiana.
Since Louisiana introduced sweeping anti-online gambling laws in 1997, Rep. Huval says that, "many websites exist where Louisiana citizens can participate in Internet gaming activities." Further, he says, "both technology and the use of the Internet have flourished, resulting in the ability to conduct gaming activities through the use of a computer or mobile device."
History of Gambling in Louisiana
Early 18th Century – Cabaret and billiard halls in New Orleans hosted gambling activities in colonial Louisiana, even before a church was built.
Later 18th Century – Officials pass laws to outlaw gambling and other 'vices' during religious services.  Pots for games of chance limited, and gambling finally outlawed altogether.  None of the laws keep gambling at bay.
1753
Governor Louis Billouart de Kerlerec opens government run casino which runs for decades.
1812
Federal government bans all forms of gambling but exempts New Orleans since gambling is so entrenched in the state's character and history.
1823
State authorizes six gambling operations in New Orleans.
1865
Gambling legalized throughout New Orleans.
1866
First Louisiana lottery created.
1868
Louisiana State Lottery Company created to operate the lottery.
1879
Democrats pass law to abolish all lotteries but lose their case in the US Circuit Court.
1890s
Lottery prohibited from renewing its charter due to pressure from other states on the US president. End of the Louisiana Lottery for nearly 100 years.
1920s
Legal pari-mutuel betting on horse races at New Orleans Fair Ground allowed and is only form of state sanctioned gambling allowed.
1952
Louisiana State Police Superintendent Francis Grevemberg begins making surprise raids on gambling establishments, seizing and
smashing slot machines
[B]
and rendering them useless.  Raids continue until 1956, where almost 1,000 events were recorded and nearly 8,300 slot machines were destroyed.
1956
New Governor Earl K. Long orders a stop to the destruction of slot machines.
1986
Governor Edwin Edwards proposes special legislative session to create new state lottery and allow casinos in and around New Orleans.  His efforts fail.
1990s
Following the Indian Gaming Regulatory Act of 1988, three Native American tribes in Louisiana negotiate compacts with the local government to open land based casinos.
1991
Lottery returns to the state after Louisianans approve a constitutional amendment.  Also, Governor Charles "Buddy" Roemer approves fifteen riverboat casinos and allows the legalization of video poker machines without signature.
1997
Slot machines installed at three race tracks.
2015
On December 7th, the $700 million Golden Nugget Lake Charles casino opened in the southwestern part of the state.
Land Based Poker in Louisiana
In Louisiana's long and rich history, it is clear that the state has always been open to the idea of its citizens enjoying a good game of poker.  Today, the law dictates that poker may only be played in a regulated environment, and this is quite possible in the many types of casinos that dot the state.  These state licensed establishments offer many different gaming options for poker fans, from Vegas style resorts to smaller riverboat casinos.
The laws governing poker in Louisiana are the same governing all gambling activities in the state. Section 14:90(A)(1)(a) [C] defines gambling (including poker, although the name of the game is not specifically mentioned) as, "the intentional conducting, or directly assisting in the conducting, as a business, of any game, contest, lottery, or contrivance whereby a person risks the loss of anything of value in order to realize a profit."
The law seems to allow home poker games in private as long as nobody is taking a rake or operating the game to make a profit.  While no specific exemption is found in the law, the Louisiana Attorney General, James "Buddy" Caldwell, issued an opinion [D] in April 2010, which stated that the law does not seem to cover gambling between individuals.
"This section prohibits gambling as a business but does not prohibit gambling between individuals", wrote the Attorney Gambling. "Gandolfo v. Louisiana State Racing Commission, 78 So 2d 504 (La. 1955); State v. Davis, 23 So.2d 801 (La. 1945). Therefore, an essential element of a gambling violation is that the activity be conducted as a business and that someone receive a benefit other than the participants."
To summarize, this opinion is generally understood to mean that as long as there are no house, bank, cut or charge, social poker games are permissible by Louisianan law.
Gambling Laws in Louisiana
Louisiana has the oldest and richest history of gambling in the United States, with its industry dating back to the early eighteenth century.  Over the past 23 years alone, the gaming industry has brought in over $14.3 billion in revenue to state coffers.
As noted in the section Land Based Poker in Louisiana, gambling in the state is governed by code section 14:90 et seq.; 27:201 et seq.  The law [E] defines gambling as the intentional conducting of a game or contest where a person risks losing anything of value in order to realize a profit.
Gambling in Louisiana is governed by the Louisiana Gaming Control Board [F] which aims to, "regulate all gaming activities under its jurisdiction in a manner which instills public confidence and trust that gaming activities are conducted honestly and free from criminal and corruptive elements; to ensure the integrity of individual gaming activities by the regulation of persons, practices, associations and activities within the gaming industry."
Gamblers in Louisiana are able to enjoy a good range of gambling options, ranging from commercial and tribal casinos to riverboat gambling, pari-mutuel wagering at horse tracks and a state lottery.  Dog racing is not allowed in the state.  The minimum gambling age in Louisiana is 21.
Louisiana has a number of quirky gambling laws, one of them being that all riverboats need to be paddle-wheel driven and look like old-fashioned models of the original turn of the century boats.  Until the middle of 2001, all riverboats needed to cruise, however they are now allowed to be docked 24 hours a day.
In addition, all casino gaming machines have to have a payout rate of no less than 80% and no more than 99.9%.  When it comes to video gaming machines at establishments that are not casinos, the minimum payout has to be 80% and the maximum 94%.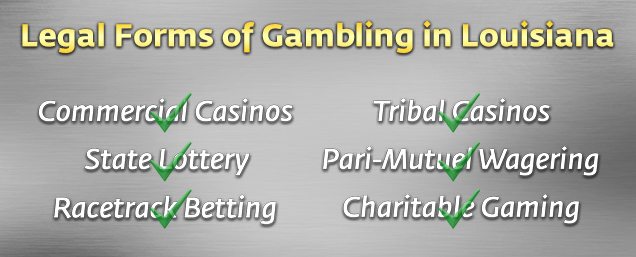 Casinos in Louisiana
According to the American Gaming Association, there are currently 20 operating commercial casinos in Louisiana, defined as riverboats, land based and racetrack casinos offering slots and table games.  The industry employs over 15,000 people, with gross casino gaming revenue totaling $2.404 billion and gaming tax revenue of $580 million.
Riverboat casinos include: Amelia Belle, Belle of Baton Rouge, Boomtown, Diamond Jacks, Eldorado, Hollywood, Horseshoe, Isle of Capri Lake Charles, L'Auberge du Lac, L'Auberge Baton Rouge, Sam's Town and Treasure Chest Casino.  Riverboat casinos are open 24 hours a day and the minimum gambling age is 21 years of age.
Racinos include the Delta Downs, Evangeline Downs, Fair Grounds Race Course, and Harrah's Louisiana Downs.
Harrah's New Orleans is a land based casino and offers a full range of games, including slots, table games such as Let it Ride, Fortune Pai Gow Poker and Three Card Poker.  Harrah's casino offers over 20 poker games such as Texas Hold 'em, Omaha, and 7 Card Stud.
A report in 2014 stated that gamblers have lost $54 billion at Louisiana casinos since gambling was legalized in 1991. Louisiana's newest casino, Golden Nugget Lake Charles, opened December 7, 2014 in the southwestern part of the state. It cost $700 million to build and features 1,600 slot machines, a 20 table poker room, and 60 table games. Its revenues have been very pleasing in its first eight months of operation.
Native American Casinos in Louisiana
There are four Native American casinos in Louisiana, namely the Cypress Bayou Casino (owned by the Chitimacha Tribe), the Paragon Casino Resort (owned by the Tunica-Biloxi Indian Tribe), the Jena Choctaw Pines Casino (owned by the Jena Band of Choctaw Indians) and the Coushatta Casino Resort (owned by the Chitimacha Tribe).
Racetracks in Louisiana
Horseracing and pari-mutuel gambling is governed by the Louisiana Racing Commission [G].  According to the authority it, "reviews, regulates, governs and supervises all forms of horse racing and pari-mutuel wagering in the State of Louisiana."  Live tracks in the state include Fair Grounds Race Course and Slots, Evangeline Downs Racetrack and Casino, Delta Downs Racetrack, Casino and Hotel and Harrah's Louisiana Downs.  In addition, players will also find several off-track wagering facilities
Lotteries in Louisiana
Since 1991, the Louisiana Lottery has been offering local residents quality lotto games and scratch cards.  In 2011, the Louisiana Lottery Corporation [H] celebrated its 20th birthday and since its inception has generated over $6 billion in ticket sales.  Games offered by the lottery include Lotto, Pick 3 and Powerball, as well as Mega Millions.
Charitable Gambling in Louisiana
Charitable games are widely available in Louisiana, including casino nights, raffles, bingo and keno.  The Louisiana Department of Revenue's Office of Charitable Gaming [I], "licenses, monitors and regulates the charitable gaming industry" in the state, defining charitable gaming as "non-profit organizations raising funds through games of chance, where all net proceeds are contributed to bona fide charitable causes."
The office issues seven different types of license, depending on the organizer of the charitable game.  Existing licenses are renewed on an annual basis.
According to the office," proceeds from any charitable gaming activity (including bingos, raffles, pulltabs, etc.) can only be used for one of the five allowed uses as set by Law. The entire net proceeds from all games of chance must be devoted to purposes that are: educational, charitable, patriotic, religious and public spirited."
Author: Joseph Falchetti (twitter)
(C) Copyright PokerWebsites.com, 2018
References and Citations