People Behind PokerWebsites.com
Who we are…
Note: All legal representation must be conducted by a lawyer. This is our interpretation of the law to the best of our ability, while lawyers were obtained in the writing of these articles, we nor they hold no legal responsibility. We find our articles accurate, but take no recourse on the laws of gambling in your jurisdiction. The laws are relatively grey in the US, but we do suggest you converse with a lawyer if you have any questions. Articles on PokerWebsites.com™ are for entertainment purposes only. All players from NJ, DE, NV or PA are redirected to licensed sites only.
Contact us: help@pokerwebsites.com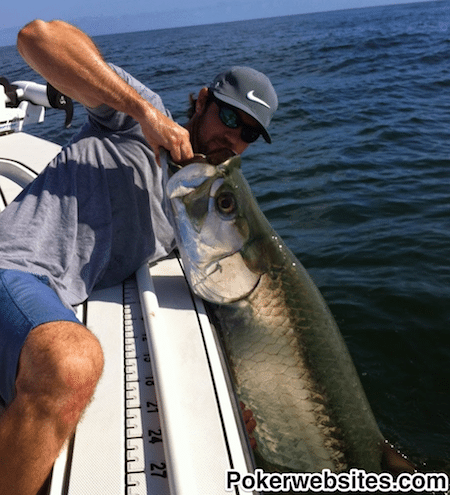 Hi, this is our websites' owners and daily authors bio including myself – (33 shown right – tarpon fishing in Mexico). I am the owner of PokerWebsites.com. I'm not an expert poker player and I don't write most of the content on my websites, that is left up to the professional writers such as Joseph Falchetti, Haley Hintze, Renee Kingsley and Chuck Humphrey, an internet gaming lawyer whom reviewed our work. Their writing credentials and personalities are below as I feel it is necessary to confirm our ability in our research articles and unbiased writings.
Anyways, so who am I? Basically I'm an owner of various online websites pertaining to poker, a fishing, boxing and surfing fan (and golf when I'm hitting it good).
Twelve years ago I played online poker in college when it first began. I used it to pay for rent and saved up to build my first business of building online poker information sites. The same freedom and benefits of not working for someone else and from anywhere with internet. I'm a firm believer in being able to gamble freely and legally and am a big advocate of the Poker Players Alliance (PPA). Back when legality stringent was first being placed I remember conversing with a few people whom now are on the board of The PPA such as Rich Muny (VP of Player Relations). It all boils down to money in the end, and dirty politicians. It's quite sad…anyway.
Aside from that you can usually find me at the Boxing gym, surfing in Puerto Rico or hitting some balls out on the golf course. My philosophy in life is simple, do what you love to do and whatever happens happens.  Just have fun.  I've only worn a tie once in my life and don't ever plan on doing that again!
Joseph has been a professional gambler for 10 years. Following the 2011 indictments of many gambling sites he was forced to pursue his second passion, writing and poker law. We are fully confident in his writings and he continually updates and oversees articles on our site for state laws.
Haley is the former editor in chief of Pokernews.com and currently writes for us and others such as Poker Player News Paper. Haley has also done work for the well known poker pro, Lou Krieger, author of "Hold'em Excellence". Haley was one of the first people to uncover the Absolute Poker and Ultimate Bet scandals that occurred. Alongside that she is a seasoned poker player and has been playing winning poker for a long time and is our main source for strategy articles.
Renee Kingsley: Author
Renee has been with us, and our other websites for a long time. While she is based a long ways away from us in Israel, with us being in the USA, she's been performing thousands of news and research articles for our poker websites, and casino sites. While her focus is on poker, Renee and her team provide PokerWebsites.com with the necessary in-depth research into the varied content you'll find here. Renee has been writing about online poker and strategy for many years.
Alkesh is our primary website designer. He is an expert in WordPress and can do pretty much anything you need to be done with it. His work may not get to shine in my projects because I prefer simplicity over flashiness but he a good designer, and more importantly a good person. Alkesh can always be reached if you are someone looking for coding at his site, webnow.in . Based in India, Alkesh is 28 years of age and recently married to his wife in which he met for 30 minutes. (I like to joke with him about this).
Conclusion
If you have any concerns about anything on pokerwebsites.com or any of my other websites I can be reached directly at my personal email help@pokerwebsites.com. Please do not contact me about advertising, or link purchases as all requests will result in instant deletion! For our thoughts on the safety of playing online poker, please click here.
(C) Copyright PokerWebsites.com, 2018
Phone Number:
Please use email:  help@pokerwebsites.com