Important MD Notes
Adults in MD can play at offshore poker rooms legally
No bills have been introduced for iGaming in the state
Land-based casino gambling was legalized in 2008
Live poker in Maryland was legalized in 2012
Positive outlook for iGaming due to recent casino expansion
Last updated: June 11, 2018 by Savanah
The state proposed a bill, H 989, last February to legalize sports betting at their land-based casinos and racetracks if the federal government ever lifts it's ban, which they did. Maryland's six casinos continue to have increased revenues. In May, they generated $156.55 million in revenue, an increase of nearly 14.7% from May of last year. The $1.4 billion MGM National Harbor Casino opened on December 8, 2016. The state lottery generated $1.9 billion in revenue, also an all-time record, for the 2016 fiscal year. In May of 2016, the governor signed HB 127, a bill that legalizes home poker games in Maryland, into law which went into full effect on October 1, 2016. The state has expanded gambling drastically within the past several years.
RECOMMENDED POKER WEBSITE FOR
MARYLAND


Maryland has a good chance of being in the first wave of states to pass and regulate online poker. Until that time comes, we recommend BetOnline as a safe and secure website that accepts poker players in Maryland.
"Reviewed by Chuck Humphrey – 50 year Gaming Law Practitioner"
Maryland statutes prohibit gambling unless specifically permitted. Operating an online poker business in Maryland is not specifically permitted under law, and therefore deemed illegal, but it's not specifically illegal for Maryland residents to play at regulated offshore sites. To be legal within the state, it requires the state to pass laws legalizing and regulating intrastate online poker.
Future Outlook of Online Poker in Maryland – Estimated date of legalization:
2019-2020
The following graph tracks our expected legislation of online poker in Maryland on a state law level. It is currently already legal on a Federal level. This graph monitors the current rise or fall of expected legalization.


Several states will take the question of sports betting to the ballots on...

Maryland recently posted its highest ever gaming revenues, and in the month of...
Recent Activity
The state of Maryland has introduced brick and mortar casino gambling only since 2008. The legislature is preoccupied with expanding this activity rather than getting involved with online poker, but that could change soon. Currently, there have been no bills introduced or processed in the legislature with respect to online poker or other forms of online gambling. Though online poker is not on the radar at the moment, it most likely will be in the near future.
Delegate Eric Luedtke, co-chairperson of the Joint Committee on Gaming Oversight, made the following comments in an interview. "As to online poker, while I understand there is a large community of poker players interested in seeing Maryland legalize online gambling, there are a number of technical and legal issues that have not yet been adequately answered. For the time being, I would like to see the state monitor implementation of online gambling in other states and wait to see if congress addresses the issue through legislation before beginning to seriously debate legalization." He added that he would continue to voice the interests of online poker players in the state. He pointed out four important reasons for Maryland to eventually go for online poker. These were enhancing the state revenues, ensuring player safety, catering to low budget players and the precedence in other states.
Current Gambling Laws in Maryland
Gambling laws are covered under Criminal Law in the statutes of Maryland. Title 12 "Gaming – Statewide Provisions" deals with laws that are applicable throughout the state. Title 13 "Gaming – Local Provisions" deals with laws that are applicable to specified counties or cities only.
The operative clause of Title 12 is Section 12-102 [A], which states, "A person may not: (1) bet, wager, or gamble; (2) make or sell a book or pool on the result of a race, contest, or contingency;" In addition a person may not use or provide for use any property for the above activities. A person may not also participate in the organization of any gambling activity in any manner. The statement of penalty is as follows: "A person who violates this section is guilty of a misdemeanor and on conviction is subject to imprisonment for not less than 6 months and not exceeding 1 year or a fine of not less than $200 and not exceeding $1,000 or both."
Section 12-101 provides some important definitions. Gaming device is defined as, "(i) a gaming table, except a billiard table, at which a game of chance is played for money or any other thing or consideration of value; or (ii) a game or device at which money or any other thing or consideration of value is bet, wagered, or gambled." Gaming event lists some specific events, but then covers a general category by stating, "any other event at which a gaming device is operated".
The gambling laws related to specific forms of gambling are discussed later.
History of Gambling in Maryland
1743
Maryland Jockey Club founded in Annapolis.
1791
Gambling first legalized by issuing lottery grants to raise funds for public works.
1834
New lottery grants prohibited.
1860
All existing lottery grants expired.
1938
Referendum to legalize lottery again defeated.
1943
Anne Arundel County first to legalize slot machines under "local option" law.
1963
State law bans new slot machine licenses.
1968
All existing slot machine licenses expired.
1972
Creation of state lottery authorized by legislature.
2008
Slots referendum passed for five slots only casinos.
2011
Online gambling operators indicted under Federal law in Maryland
2012
Calvin Ayre indicted in Baltimore. Gaming Expansion referendum passed to allow table games. Joint Committee on Gaming Oversight formed.
2013
Live poker and table games offered at licensed casinos.
2015
Maryland's five casinos had record breaking revenues.
2016
HB 127, a bill to legalize home poker games, was signed into law on May 19th by Governor Hogan and went into effect on October 1st.
Land Based Poker in Maryland
Poker at Home
Home poker games are now legal in Maryland. On May 19, 2016, Governor Larry Hogan signed a bill (HB 127) to legalize this activity and it went into effect on October 1, 2016. This bill allows for up to $1,000 to be on the poker table at anytime.
Senate Bill 184 [B] and House Bill 59 [C] which were both introduced in February 2015 aimed to effectively legalize home poker games by decriminalizing playing in and hosting home poker games. The caveat being that hosts could not benefit from the game financially. However, these bills did not pass.
Charity Poker Tournaments
Charitable gambling in Maryland is restricted to raffles. Therefore, charity poker tournaments are illegal.
Live Poker
Live poker was illegal in Maryland, even at the licensed casinos, till November 2012. In the referendum Maryland residents voted in favor of table games being introduced at the licensed casinos. Maryland State Lottery and Gaming Control Agency then formulated the required regulations and some of the casinos introduced live poker in 2013. Maryland Live! Casino in Anne Arundel County was among the first ones to offer live poker in April 2013.
Gambling Laws in Maryland
Summary
Maryland has always been known for horse racing.  It is home to one of the most popular races in the United States, the Preakness Stakes. The state lottery was established in 1972.  Casino gambling is relatively new and brick and mortar casinos have opened only after 2008.  Charitable gambling is also permitted on restricted basis.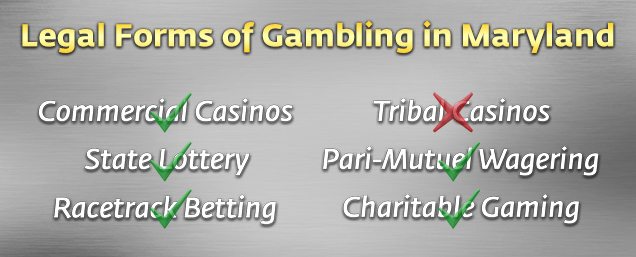 Brick and Mortar Gambling Laws in Maryland
In the 1940s, counties in Maryland were given the option to legalize slot machines if they so desired. Several counties exercise this option. Soon a two-mile stretch of U.S. 301 from Waldorf to the Potomac River Bridge came to be known as Little Vegas [D]. Then in 1963, slot machines were banned throughout the state and all forms of casino gambling became illegal.
In November 2008, 58% of the state voters supported a referendum [E] that would permit five casinos offering only slot machines. They are Maryland Live! in Anne Arundel, Hollywood Casino in Cecil, Ocean Downs in Worcester and Rocky Gap Casino Resort in Allegany Counties. Horseshoe Casino in Baltimore City opened on August 27, 2014 which had 15,000 visitors on its opening day, 5,000 more people than anticipated.
In November 2012, another referendum was held which is known as Gaming Expansion Referendum [F]. It sought to add one more casino at Prince Georges County, increase the number of slot machines permitted and introduce table games and the licensed casinos. After one of the most expensive promotional campaigns [G] in the history of the state, in which over $90 million was spent by both proponents and opponents, Maryland voted in favor of the referendum by only 52%. The new $1.4 billion MGM casino opened on December 8, 2016. The existing casinos have begun to offer table games like roulette, blackjack and poker.
In 2008, the Maryland State Lottery Control Agency was renamed Maryland State Lottery and Gaming Control Agency [H] and given oversight of casino gambling.
Horse Racing in Maryland
Section 12-107 (1) of the Maryland Criminal Law code prohibits pari-mutuel betting, but section 12-107 (2) exempts pari-mutuel betting conducted under the Maryland Horse Racing Act. The Maryland Racing Commission was created in 1920 and assumed oversight of all horse racing in the state from local authorities. The Maryland Racing Commission [I] oversees and regulates both the harness and thoroughbred horse racing industry in Maryland. This includes Maryland's four off-track betting sites in Frederick, Cecil, and Charles counties.
The Pimlico racetrack was opened in 1870 in Baltimore. The first Preakness Stakes was run there in 1873. It is the second leg of the American Triple Crown thoroughbred racing. The other racetracks for thoroughbred racing are Laurel Park, Timonium Race Course and Fair Hill Races. Harness racing is conducted at Rosecroft Raceway and Ocean Downs.
River Boat Gambling in Maryland
12-105 (b) prohibits gambling on (1) a vessel or a part of a vessel on water within the State, except as provided in Section 6-209 of the Transportation Article; or on (2) all or a part of a building or other structure that is built on or over water within the State, if the building or other structure cannot be entered from the shore of the State by a person on foot.
Section 6-209 of the Transportation Article states that the Administration may permit gaming aboard a passenger cruise vessel if it has overnight cabin accommodations for at least 300 passengers, is operated by an authorized cruise ship operator certified under the International Convention for the Safety of Life at Sea and has obtained the required authorization.
The section further requires that gaming can be authorized on the waters of the State only while the vessel is underway, is east of the Francis Scott Key Bridge and is operating under an itinerary that either originates or terminates in a foreign port outside the continental United States. The section makes it clear that authorization under this section cannot be issued for a vessel on an excursion undertaken solely for gaming purposes even though the vessel may leave the territorial waters of the United States during the excursion. However, casino cruises are advertised from Baltimore.
An article in Maryland Politics Watch [J] states that in 1958 Maryland banned gambling on rivers by making it illegal to, "to operate slot machines in a structure which could not be reached on foot from the Maryland shore." This was to stop Maryland operators running slot machines on piers on the Potomac River.
Lotteries in Maryland
The state legislature authorized the creation of a state lottery in 1972 under Title 9, Subtitle 1 of the State Government Article, and it began business under the oversight of the Maryland State Lottery Agency in 1973. Maryland Lottery [K] conducts local draws and also participates in the national Powerball and Mega Millions draws. No other party is permitted to conduct lotteries in Maryland as per sections 12-201 to 12-203 of the criminal code.
Charitable Gambling in Maryland
Raffles are dealt with under Section 12-106 of the Maryland criminal code. Bona fide charitable organizations may conduct a raffle for the exclusive benefit of the charitable organization if the prize awarded is real property to which the charitable organization holds title or for which the charitable organization has the ability to convey title. The Secretary of State can formulate regulations governing raffle operations.
A political committee or candidate for public office may conduct a raffle if the prizes awarded are money or merchandise subject to certain conditions. Maryland counties can also authorize various kinds of raffles under Title 13 relating to local provisions of gambling.
Author: Joseph Falchetti (twitter)
(C) Copyright PokerWebsites.com, 2018
References and Citations