Poker Laws in New Hampshire
Important NH Notes
Poker players in NH can play legally at offshore poker sites
NH officials focused on legalizing casinos, not internet poker
Majority of NH voters favor casino gambling; 1 vote shy 2014
State lottery, pari-mutuel, & charitable gaming are allowed
Racetrack betting, commercial and tribal casino are illegal
Last updated: May 27, 2018 by Savanah
New Hampshire is the fifth state to legalize an online lottery which went into law in June last year. New Hampshire introduced a bill, HB 562, on January 25, 2017 that would allow online gambling in the state but was shelved. Senator Lou D'Allesandro proposed another bill this year to legalize two commercial casinos which would be the first in the state, but it didn't pass in the Senate (10-11 vote). Proposals estimate that as much as $195 million would be generated in annual revenue from the two casinos.
RECOMMENDED POKER WEBSITE FOR
NEW HAMPSHIRE


New Hampshire is on the verge of passing a casino bill which would bring its first one or two land-based casinos to the state. This most likely needs to happen before they start looking at legalizing internet poker. For those poker players in NH not wanting to wait around, you can legally play at BetOnline.
"Reviewed by Chuck Humphrey – 50 year Gaming Law Practitioner"
There is no specific clause in the New Hampshire Revised Statutes dealing with online poker. It is not specifically made illegal for New Hampshire residents to play poker over the internet, but they cannot legally operate an online poker business. Since the state has not passed legislation legalizing and regulating online poker within their borders, residents of New Hampshire engage in online poker legally at offshore sites and there have been no reports of arrests of players.
Future Outlook of Online Poker New Hampshire – Estimated date of legalization:
2019-2020
The following graph tracks our expected legislation of online poker in New Hampshire on a state law level. It is currently already legal on a Federal level. This graph monitors the current rise or fall of expected legalization.

New Hampshire Gambling News

The Granite State plans a rollout of its first mobile sports betting product on...

Following a request for proposals (RFP) from the New Hampshire Lottery for...
Recent Activity
New Hampshire introduced a bill, HB 562, on January 25, 2017 that would allow online gambling in the state. This bill was shelved but the future looks promising. In April 2010, New Hampshire Governor John Lynch was reported to be supportive [A] of the legalization of online gambling to close a growing budget deficit. However, this appeared incongruous because he was simultaneously opposing a Senate bill that sought to allow six brick and mortar casinos in the state.
The state does not have any land casinos, and attempts to allow them have constantly failed in the legislature. In 2010, the state Lottery Commission canceled a proposal to start an online lottery game [B]. The reason cited was financial non-viability, but no alternative proposal has been drawn since then. In 2012, New Hampshire passed legislation closing down Internet sweepstakes gambling. On the positive side, horse racing bets are permitted through the internet and poker games organized for charities are fairly widespread.
Current Gambling Laws in New Hampshire
The laws pertaining to gambling in general are covered under Chapter 647 [C] Gambling Offenses of Title LXII Criminal Code in the New Hampshire Statutes. Section 647:1 deals with lotteries and states that specified acts in connection with conducting illegal lotteries will be treated as misdemeanor. Section 647:2 defines gambling.
Clause II (d) states, "Gambling" means to risk something of value upon a future contingent event not under one's control or influence, upon an agreement or understanding that something of value will be received in the event of a certain outcome. Gambling offenses are classified as misdemeanor or class B felony according to the exact nature of the offense.
Chapters 284 and 287 of Title XXIV Games, Amusements and Athletic Exhibitions contain the laws for the various legal forms of gambling in New Hampshire.
History of Gambling in New Hampshire
1933
Pari-mutuel wagering on horse racing legalized. Rockingham Park opens for thoroughbred and harness racing.
1949
Bingo and Lucky 7 pull tab tickets are authorized for charitable organizations.
1963
USA's first lottery created with the New Hampshire Sweepstakes Commission.
1964
Lottery sales begin after voters' approval in 198 of 211 communities.
1971
Pari-mutuel wagering on Greyhound racing is legalized.
1973
Seabrook Greyhound Park opens.
1975
Lottery begins selling instant tickets.
1977
Games of chance for charitable purposes are legalized.
1985
Maine, New Hampshire and Vermont Lotteries form the first multi-state lottery group in the US.
1991
Simulcasting on horse racing begins.
1992
Simulcasting on Greyhound racing begins.
2008
Proposal to allow video lottery terminals at racetracks defeated. Taxes on charity poker increased.
2009
Live greyhound racing is banned in New Hampshire. Live horse racing stops due to withdrawal of state funding.
2012
Internet sweepstakes gambling banned.
2014
A bill to legalize the first two commercial casinos in the state did not pass by a single vote, 173-172.
2015
In October a poll was taken which showed 51% of residents in New Hampshire favor casino gambling, 37% oppose, and 12% are neutral.
2016
The Rockingham Park racino closed at the end of year after being in operation for one hundred and ten (110) years. A bill (SB 551) proposed by Senator Lou D'Allesandro to legalize the state's first commercial casino did not pass the Senate on March 24th by a 13-11 vote.
2017
New Hampshire became the fifth state to legalize an online lottery which became law in June. HB 562 was introduced on January 25th that would allow online gambling in the state, but no vote was taken.
Poker at Home
Social gambling and home poker games are not legal in New Hampshire. Section 647:2 of the New Hampshire Criminal Code holds a person guilty of a misdemeanor if such person knowingly and unlawfully permits gambling in any place under his or her control. Since poker, except as charitable gambling, is illegal in New Hampshire it cannot be played anywhere.
A New Hampshire practicing lawyer has stated [D] that poker falling under the definition of gambling as per the statutes can be challenged on two counts. A poker player makes decisions in the game that influence the eventual outcome and this should exclude poker from the definition of gambling. He also said there was a court ruling available under the older statutes that distinguished between wagering on a game in which you are a participant and can affect the outcome as not gambling, and wagering on a game in which you do not participate as definitely gambling. The lawyer added that though the authorities deem home poker as illegal, they ignore it. Therefore, home poker is played under this status quo.
Charity Poker Tournaments
Charity poker tournaments are permitted according to New Hampshire statutes.  These are discussed in detail later.
Live Poker
Live poker, apart from charity events, is illegal in New Hampshire.
Gambling Laws in New Hampshire
Summary
New Hampshire has three forms of legal gambling, which are horse racing, lottery and charitable gaming.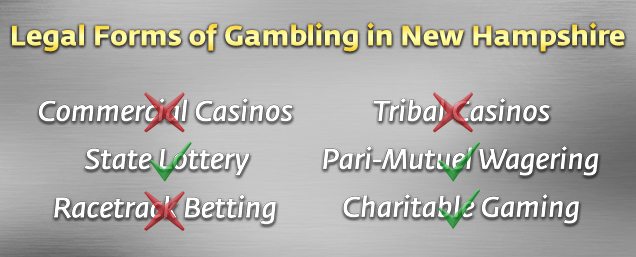 Brick and Mortar Casinos in New Hampshire
There are no brick and mortar casinos in New Hampshire. Over the last few years there has been debate on this issue. In March 2009, the Governor created the New Hampshire Gaming Study Commission with the objective of conducting, "a thorough and comprehensive review of various models for expanded gaming and their potential to generate state revenues, as well as an assessment of the social, economic and public safety impacts of gaming options on the quality of life in New Hampshire."
The commission submitted its report [E] in May 2010. It is a 'sitting on the fence' type of report that stated that expansion of gambling would increase revenue for the state and create jobs but would result in an increase in the problems associated with gambling. Solutions for these problems would need to be found before gambling was expanded. The study urged the state to take a long-term view. A debate followed in the media in the public domain with no clear winner.
In May 2013, a meeting was arranged in Concord, New Hampshire with politicians from Washington County in Pennsylvania and executives of Millennium Gaming, which operates a casino in Pennsylvania. The objective was to demonstrate to New Hampshire how a casino could add millions to state revenue, without the occurrence of any criminal activities. Nothing has come out of this endeavor yet.
The Telegraph reported in September 2013 that Governor Maggie Hassan had indicated in her 2012 campaign that she proposed to expand gambling in New Hampshire. However, the state legislature has not supported her proposals. The Governor has therefore created a special commission to work out the regulatory hurdles.
On May 1, 2014, lawmakers in the New Hampshire House of Representatives voted down a casino bill that would have allowed it's first two land-based casinos to be built in their state. The bill was not passed by only one single vote, 173-172. It appears New Hampshire will see it's first brick and mortar casino in the near future.
New Hampshire has no Indian casinos [F].
Pari-Mutuel Wagering in New Hampshire
Pari-mutuel wagering in New Hampshire is under the oversight of the Racing and Charitable Gaming Commission [G] under Chapter 284 of the statute. At one time wagering on live and simulcast horse racing and greyhound racing was permitted. Now live greyhound racing has been made illegal and live horse racing discontinued due to lack of financial support from the commission.
Two racing tracks remain open for simulcasting, and also offer some regulated charitable gambling. Hence, they are referred to as racinos. These tracks are Rockingham Park at Salem for horse racing and Seabrook Park at Seabrook for greyhound racing. All other tracks have permanently closed down. Patrons may make bets over the phone or the internet at these racetracks.
Lotteries in New Hampshire
New Hampshire was the first American state to create a state run lottery. It was launched in 1964, and has played a leading role in establishing trans-national lottery products. The laws regarding the lottery are covered under Chapters 287 and 647. The operations are under the oversight of New Hampshire Lottery [H]. New Hampshire allows players to purchase subscriptions to Powerball, Mega Millions, Tri State Megabucks and Hot Lotto Sizzler. These subscriptions can be bought from lottery retailers or online through the New Hampshire Lottery website. The money goes mostly to New Hampshire schools, once prize money is accounted for.
Charitable Gambling in New Hampshire
Charitable gambling in New Hampshire differs from many other American states in two significant ways.  Poker and casino games are included in charitable gambling and can be conducted at the two racetracks. Chapter 287 [I] of the New Hampshire statutes covers charitable gambling. Charitable gambling is also is under the oversight of the Racing and Charitable Gaming Commission.
Both live poker cash games and tournaments are permitted. The maximum bet for live poker cash games is $4, although tournaments are offered at any limit. Rockingham Park and Seabrook Park are the most popular venues for charity poker. At least four events are offered daily and buy-ins ranging between $50 and $150 with a couple of $60 rebuys mixed in. The other venues include The Manch Vegas in Manchester and The Lodge at Belmont. Casino type table games include Blackjack, Craps, Roulette, Three Card Poker and other similar games. As in other states, charity bingo is also allowed in New Hampshire which includes pull tabs like Lucky 7.
Author: Joseph Falchetti (twitter)
(C) Copyright PokerWebsites.com, 2018
References and Citations