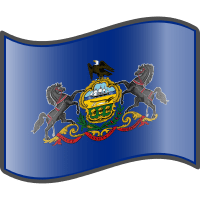 Although Pennsylvanian brick-and-mortar casinos have been allowed to reopen  under strict COVID-19 health and safety protections, an indoor smoking ban still remains in place.
Now, legislators are hoping to turn the temporary ban into a permanent one, making it semi-illegal to smoke indoors in casinos.
Pennsylvania's Clean Indoor Air Act, which passed in 2008, already makes it illegal to smoke inside public places and work places. However, the act makes for a few exceptions, including smoking in private social clubs, private homes, bars and casinos.  50% of a casino floor must be kept smoke-free.
State Rep. Dan Frankel is seeking to amend the law with his House Bill 2298, which will make it difficult to smoke inside a casino at all. Casinos will be required to have 3/4 of their casino floor smoke-free, although they may be able to appeal that number if they can prove that revenue that they make from their smoking area is significantly higher than revenue from the non-smoking areas.
Frankel noted recently at a meeting under the auspices of the Breathe Free Pennsylvania Coalition:
"Exposure to second-hand smoke kills approximately 41,000 non-smokers in the U.S. every single year. It made sense before the pandemic, but the idea of rolling back these protections once they've already been put in place is absolutely inconceivable."
Pennsylvania's casinos were shuttered for nearly three months due to the virus, causing the casinos to miss out on nearly $1 billion in gross gaming revenue.
Fortunately for the operators, its online casinos did very well during the closure, with these platforms reporting on a surge in players seeking out remote gambling options.
Gross gaming revenue from internet operations in April 20202 climbed 73% compared to the previous month, and jumped 84% year on year. In May, internet casinos in Pennsylvania won $43 million and $55.8 million in May.