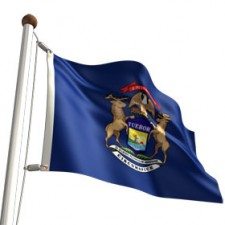 Gambling proponents in Michigan are not giving up on their vision to legalize sports betting in the state. Two near-identical bills have been introduced, only a few months after the state's former governor Rick Snyder vetoed a sports betting bill in the 2018 legislation.
At the time, Snyder explained his decision: "I am concerned that the bills will encourage gambling by making it much easier to do so. I do not think it is appropriate to sign legislation that will effectively result in more gambling, with a reasonable chance that the state could lose revenue that could be helpful in dealing with social service issues that are ordinarily attendant to increased gambling behaviour."
This month, the House introduced HB 4311, while SB 186 was introduced by the Senate. If they manage to get the support of the House and Senate once more, they will create the 2019 Lawful Internet Gaming Act.
The bills' sponsors are more optimistic this year now that Governor Snyder has left his office, and has been replaced with the Democrat, Gretchen Whitmer.  During Whitmer's campaign to become governor, she expressed her support for the Supreme Court's 2018 decision to overturn the statewide ban on sports betting and the introduction of legal sports betting in Michigan. However, now that she is Governor, it is not yet known how Whitmer will approach the issue of sports betting when it comes to the crux of the matter.
After former governor Snyder vetoed the bill last year, there wasn't enough time in the legislative session to challenge his decision. If there had been, the sponsors may have collected enough support to override Snyder's veto.
About Michigan's Potential Sports Betting Bills:
The establishment of a new division within the Michigan Gaming Control Board which will be responsible for Michigan's gambling industry.
The authorization of online poker and online casino gambling.
The potential legalization of sports betting – giving the new gambling division the power to decide whether sports betting should be permitted by changing the wording from "will" authorize sports betting to "may" authorize sports betting.
Commercial and tribal casinos can apply for online poker and casino licenses, which will cost $200,000.
A taxation rate of 8% will be set.