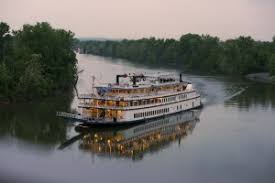 A bill that could give Louisiana parishes the right to approve sports betting in their casinos and racetracks has been given the green light by the state Senate. SB 153 sailed through on a 24 – 15 vote. Rep. Danny Martiny's bill now heads to the House where it faces stronger opposition, especially from conservative Christian elements.
If SB 153 gets over the House hurdle, it will head to the October 2019 votes, where its fate will be determined on a parish-by-parish basis. Only parishes that incorporate casinos and racetracks may vote for sports betting. If all goes well, sports betting could be in place as early as January 2020.
Martiny's reasons for introducing the bill are multi-fold. He opened up lawmakers' eyes to the fact that neighboring Mississippi has a successful, revenue-making sports betting industry. He added that Mississippi Gulf Coast casinos regularly lure Louisianans across the border to play on their casino floors, and they are now more attractive since they have sports betting.
"It's a simple thing trying to allow us to compete on a level playing field," said Martiny, referring to his bill.
SB 153 is actually modeled on the Mississippi model, although it is slightly more restrictive.  Sports betting will be confined to places in the case where players who are 21 and older can participate in casinos and horse tracks. In Mississippi, patrons can wager anywhere on the casino property, including the restaurants or at the pool.
"Mississippi has mobile gaming in their casinos but what happens is they allow it anywhere on the premises," said Martiny. "My bill will restrict it to where if you are going to do mobile gaming you either have to be on the gaming floor of the facility or somewhere off the premises where you have to be 21 years of age to be there."
Martiny also points out that Louisianans already support the introduction of legal sports betting.
"This is an industry that is already operating at full speed here in Louisiana. It's totally unregulated. We get all the ill of gaming and we got none of the benefits of the money," said Martiny.