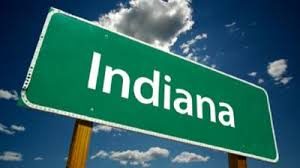 The Hoosier State is planning to launch retail sports betting as early as September this year.  Various media outlets have reported that Indiana will have sports betting activities rolled out as soon as it is legally possible – starting from September 1st.  If all goes well, Indiana's sportsbooks will be able to take wagers on NFL action.
A set of regulations pertaining to legal sports betting was published recently.
Some of the highlights of the Indiana sports betting bill:
Sports betting will be legal at Indiana casinos, racinos and off-track betting shops.
Both retail and mobile sports betting will be allowed statewide, although it is believed that only retail sports betting will be launched for now.
Players may not bet on esports.
No betting on amateur athletes under the age of 18.
The industry will be taxed at a rate of 9.5%.
Some of the revenue will be earmarked for the treatment of problem gambling.
The Indiana Gaming Commission will determine certain limits such as in-play betting and restrictions on data sources.
A sports betting license will cost $100,000. Operators will then pay $50,000 each year to renew their licenses.
Criteria set out by the Sports Wagering Integrity Monitoring Association or a similar integrity monitoring service will be adopted.
The Indiana Gaming Commission now begins processing applications from casinos that want to offer sports betting on their sites or on their online platforms.  It is believed that at least a couple of companies will be ready to offer their services by the September 1st date.
Jenny Reske, the deputy director of the Commission said: "We are certainly not going to roll something like this out until at least one operator is ready. We're still in the beginning stages."
The Gaming Commission is being warned not to rush into the licensing process just so that sportsbooks can launch on September 1st in time for football season.
"The pitfalls of online and sports gambling may be headed off by good planning and good technology," it was written in a Fort Wayne Journal Gazette. "The Commission should take all the time it needs."