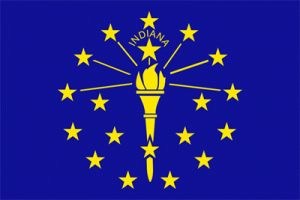 Indiana Governor Eric Holcomb waited until the last minute to sign a sports betting bill H 1015 into law last week, but the wait was certainly worth it. Legal and regulated sports betting now comes to the Hoosier State, following on the heels of Montana. This brings to ten the number of states where sports betting is legal.
At the end of April, the Indiana Legislature approved the bill, which includes mobile sports betting statewide.  Operators will need to pay a 9.5% tax rate on adjusted gross revenue. They will need to pay an initial $100,000 vendor license fee, followed by $50,000 per year in order to renew their license.
The Indiana Gaming Commission will regulate the industry.
Announcing the signing of the bill, Governor Holcomb said: "Gaming is a highly regulated industry that once had little competition, but now does from surrounding states and new technology. By modernizing our laws, this legislation will spur positive economic growth for our state and for an industry that employs over 11,000 Hoosiers."
"Additionally, it will bring in new revenue and create hundreds of new jobs – both permanent and in construction. I will direct the Indiana Gaming Commission to monitor for potential effects of this bill so that we can make necessary changes in future legislative sessions."
Support for the new bill was heard across the board. The senior vice president of public affairs for the American Gaming Association, Sara Slane said that Indiana is now one step closer to reaping the benefits of legal, regulated sports betting. She congratulated the state for formulating a framework that is founded on an affordable, sensible tax rate which is free from unnecessary league fees or carveouts.
Slane said that H 1015 allows conveniences such as mobile wagering, as well as a safe alternative to the illegal market for the millions of Indianans who already bet on sports.
The Indiana Gaming Commission will start accepting sports betting applications from the beginning of July this year. The aim is to have Indiana ready for sports betting by the fall, just in time for the NFL season.