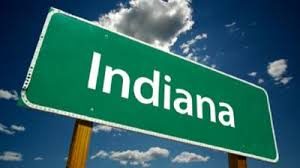 Sunday, September 1st, will see three casinos in Indiana embrace the new legislation allowing legal sports betting in the state. On Wednesday this week, the Indiana Gaming Commission gave the all-clear to five casinos to go live with their sports betting products. So far, three of them – Indiana Grand, Hollywood Casino and Ameristar East Chicago – have announced that they will do so by Sunday.  The other two, Horseshoe Hammond and French Lick Casino, will go live on September 4th and September 6th respectively.
According to the executive director of the Indiana Gaming Commission, Sara Gonso Tait, the five casinos have "substantially demonstrated to the satisfaction of the commission that they've met every requirement so far."
Several last minute changes were made to Indiana's sports betting laws at the meeting on Wednesday, which the authority called "emergency rules". They included the right of individual Indiana colleges and universities to request the 'geo-fencing' of a particular sporting event that would restrict wagering on it.
Another change made was the reference to operators who operators in a 'black market'. The authority felt that its general suitability standards in the new sports betting legislation provided enough cover to exclude any potential operator if it felt the need to do so.
The final change wast that sports betting registrants (including affiliates) did not have to pay an annual renewal fee of $500 once they have paid the application fee of $500.
Tait commented that the final piece to the Indiana sports betting launch puzzle was the adoption of these three last minute changes on Wednesday.
"We believe we have created a regulatory scheme that assures the integrity of sports wagering in Indiana and fulfills our statutory mandates," she said.
It is expected that mobile sports betting in Indiana will follow shortly. Although the state is currently focused on retail sports betting, the authority believes that it will be able to very quickly shift to mobile once demands are made for this type of market.