USA Poker Websites Accepting Visa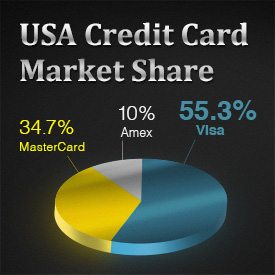 Online poker players rightfully reach for their wallets when it comes to funding their accounts with credit cards. In both regulated and offshore online poker markets, the most widely accepted and widely used credit or debit card is Visa and there is a good chance your card will get rejected. You're looking at a 30% chance the card gets rejected. I first suggest to try a different but comparable site or try a different VISA card. You'd be surprised how many people just stop there instead of trying different sites or different cards. This is very important. Betonline.ag (site reivew) currently uses VISA the most with about 15 processors, or so rumor has it.
Visa Inc., according to a study by The Nilson Report, was responsible for more than 38 percent of all credit cards and 60 percent of all debit cards in the United States. Pretty much anyone who has plastic in their wallet, is going to have at least one Visa card.
Poker players are not likely to find an online poker site that doesn't have Visa card as a deposit option. This is regardless of their state; the card is basically accepted universally in both unregulated and regulated markets.
Visa and participating banks are bound by UIGEA regulations [A] and banks are not allowed to knowingly process online gambling transactions. Although, these laws have not stopped offshore poker rooms from utilizing Visa as a deposit option. VISA is not like depositing with Amex where most people just call Amex up and have it charged back, because thats the number one reason to have an Amex in my opinion. Visa will hold you to it, which is a good thing.
Players should always look to deposit using their Visa card before using other options in their wallet. Visa cards have a much higher success rate at offshore poker rooms, compared to other cards, such as MasterCard, Discover, or American Express.
Depositing with Visa
Depositing with a Visa credit or debit card at an online poker room isn't going to be much different from purchasing a product from an online merchant. If you've ever entered your Visa card online to purchase something, the process is basically the same.
Once you've made an account at the poker room, simply head to the cashier to deposit and find the Visa option. From there, you will just need to enter your information, including your name as it appears on the card, the card number, and CVV code (the last three numbers on the back of your card).
If your Visa card is accepted, your deposit will be credited instantly to your account. You will be able to head right over to the tables and play poker with your funds.