Bitcoin Poker Sites and How it Works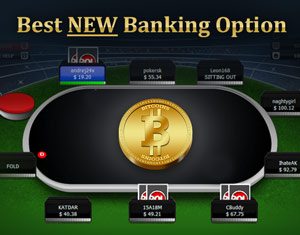 Though Bitcoin may still be foreign to some who play online poker, the crypto-currency has caught on in a big way in online gambling markets. This is especially true for jurisdictions that have prohibitions on iGaming or where the activity is still a grey area under the law.
Though we know that playing online poker is legal federally, and only criminalized in a few states, that doesn't stop the government from going after offshore sites. Bitcoin is extremely advantageous in this respect, and it's also free at most sites for players to send and receive bitcoins.
What is Bitcoin?
Bitcoin is a form of digital currency that is created and held electronically. The currency uses encryption technology to regulate the creation of currency, corroborate the transfer of funds, and most importantly it operates independently of any central bank or government.
That makes it different from any other currency in the world. It can be used just like any other currency, to purchase products online, but the significant difference between Bitcoin and fiat currency is that it is decentralized.
Bitcoin, in a sense, allows users to be their own bankers. Funds cannot be frozen and transactions cannot be reversed. This is a double-edged sword when it comes to using bitcoin, but is one that makes it especially attractive for offshore operators.
Bitcoin's Rising Popularity
Bitcoin was first launched in 2008 by a software developer named Satoshi Nakamoto. The name is widely accepted to be an alias [A], and the true creator(s) of Bitcoin is not known to the public. At the launch there was little noise about the crypto-currency, except for a few internet forums.
In 2011, Bitcoin began getting mainstream coverage as more and more people started using it. Bitcoin exchanges began popping up on the web, and suddenly, merchants around the world began accepting it as well.
Today, million and billion dollar companies, like Dell, Overstock.com, and Newegg.com accept Bitcoin, along with tens of thousands of other offline and online merchants. Bitcoin is surely out of its infancy, but still has a long way to go in terms of being adopted by the masses.
However, the currency has now become a regular option at offshore poker rooms due to a variety of advantages when compared to fiat-currency and more traditional payment processing methods, such as credit cards, money transfers and bank wires.
Costs
Payment processing is one of the biggest costs that a gambling site has to endure. Not only does it cost money to process credit cards, bank wires, and money transfers, but transferring funds between banks can be troublesome for offshore operators.
Not only that, but with the US government viewing the activity of these as criminal, they invest time and money into freezing their assets, seizing their domains, and if possible charging their owners criminally.
The issue of chargebacks is another problem. Many players will call their credit or debit card company and issue a chargeback if they've lost all of their deposit funds at an online poker room. It's relatively easy to issue a chargeback against a "foreign transaction" on your card that you "have no idea about".
Making matters worse, there are some situations where a player may receive a payout and also file a chargeback. In this case, the poker room doesn't just lose the deposit amount, but they can lose double the amount, if they process a withdrawal for the player and the chargeback is successful.
Bitcoin eliminates chargebacks completely, but even putting fraud issues aside, it vastly reduces processing costs, to almost nothing. Sending bitcoins is free, or costs very little (usually just a few cents), making them an ideal currency for transferring money not only in gaming markets but for any business that wants to save money on transaction fees.