How to Play Online Poker With Mastercard in USA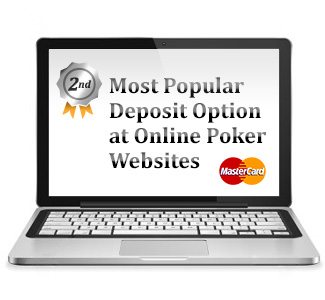 The most convenient method for poker players to deposit into online poker rooms from the USA is by credit or debit card. Visa always has and will likely continue to be the leader in this area, regarding availability and especially with conversions, but MasterCard isn't far behind.
MasterCard is one of the most trusted brands in the world [A]. They eclipsed $9.4 billion in revenue in 2014, which amounts to over $2.7 billion in profits. Currently, the number of MasterCards in circulation in the United States is 191 million cards.
Like any other credit and debit card company, MasterCard and participating banks are bound by UIGEA regulations and banks are not allowed to knowingly process [B] online gambling transactions. However, these regulations have not stopped offshore poker rooms from utilizing MasterCard as a deposit option.
The only legal exception here are the regulated markets of Delaware, Nevada, and New Jersey. Players have a much higher rate of acceptance at state-licensed USA online poker rooms in these jurisdictions.
Depositing with MasterCard
Depositing with your MasterCard into an online poker room is typically a painless process. It's not any different from making a purchase with an online merchant, except that instead of buying a product, you're buying poker chips.
After signing up for an account at your poker room of choice, head over to the cashier section and choose your deposit method. If MasterCard is an available option, then elect to deposit using your card.
Poker rooms will ask for the same standard information that online merchants ask for when charging a credit. This includes the name on the card, the card number and the CVV code; the last three numbers on the back of the card.
If your deposit is accepting and a success, the funds will be credited to your account instantly, and you can begin playing at the tables.
Deposit Issues
The acceptance rate with MasterCards is substantially lower compared to Visa cards when it comes to depositing at offshore sites. While Visa cards are accepted at just about every offshore poker room, about one-third of the sites accept MasterCard.
It's important to remember that offshore poker sites can't legally process online gambling transactions using American-based credit or debit cards. They must disguise or miscode the transaction to fool banks and credit card companies that they are not related to online gambling. However, in many cases, that is not enough to complete the transaction.
If your MasterCard doesn't work, we suggest using a US Visa card if possible. As mentioned above, the success rate here is considerably higher. If you don't have a Visa card, it may be worth contacting support and asking them if they have access to different payment processors or trying your card again in a few hours.
The best way to guarantee the highest success rate possible for your card is to call your bank or credit card company and make sure that your card has foreign transactions enabled. You may also be able to manually approve the charge, through your bank's support staff.
If you're playing at an offshore poker room and not one in a regulated market in the three states mentioned above, it's important not to mention that the transaction is related to online gambling. Even in states where it is state-licensed, many banks are still choosing not to have anything to do with processing gambling transactions.