Depositing with Credit and/or Debit Cards
Credit and debit cards are the most popular method for depositing into online poker sites due to their availability. According to CreditCards.com, which used data from the 2014 Census Bureau, more than two-thirds of Americans have at least one credit card. This amounts to over 165 million Americans with at least one credit card [A], and that's not even counting bank cards or debit cards.  Our statistics discovered that 75% of credit cards are accepted at gambling sites including Visa, Mastercard and for the predominant high rollers, Amex.  If one credit card doesn't work try another, or a different poker site.  Betonline.ag continues to be the credit card acceptance rate "king" when it comes to depositing, nearly an 80% rate, with nearest competitor around the 50% mark.
Credit and debit cards are not only accessible to just about everyone, but the transaction time, if successful, is a matter of seconds, with funds being available instantly. There are rarely fees associated with these transactions and in the case that there are, they are usually small but can go up to 6% at more popular sites. We report the poker sites monthly fees and cashout times here.
Regulated Versus Unregulated Markets
At PokerWebsites.com, we report on all online poker related news and look to compile the most accurate information for players. This is for both unregulated (offshore) and regulated markets.
The focus of this article will mostly be centered around unregulated markets, for the simple fact that most of the country doesn't have state-licensed poker options currently available. While there are many bills floating throughout state legislatures across the country, there are only a few states that make up the regulated poker market.
Currently, only Delaware, Nevada, New Jersey, and Pennsylvania offer state-licensed online poker options. In these states, the deposit and withdrawal process is considerably easier. Due to UIGEA regulations [B], handling offshore payments is much more difficult for banks, as they can be held criminally liable if they knowingly process online gambling transactions.
Most banks due to their best to deny online gambling transactions, which was a bit of an issue when states began legalizing internet poker. Many New Jersey residents had issues depositing [C] with VISA, Mastercard, and other card types when iGaming launched.
Today, things have become a bit more streamlined, but some may still find issues. Many banks, legal or otherwise, have told their customers that they won't be able to use their cards for online gambling, even in states where the state licenses the activity.
Regardless, there's almost always a way for players to deposit using a debit or credit card, in both regulated and unregulated markets. The rest of the article will be written for those in unregulated markets, due to the vast majority of Americans not yet having licensed options yet available.
Depositing Via Credit/Debit Card
Depositing with your credit or debit card into an online gambling site isn't any different in practice than buying a product from an online merchant. Players should not be alarmed when an online poker room asks for the same information that Amazon.com asks for when ordering a product.
You're going to usually have to put in your name and address at sign-up, which should be similar to that of your card. Sites may ask you to input this again, but the rest of it is simple. Enter the number, expiration date, and CVV number on the back of the card and hit submit.
If your deposit works, congratulations, your funds will be immediately available in your online poker room account balance. If your deposit was declined, don't be too discouraged, and keep reading below.
If Your Credit and/or Debit Card is Declined
It's worth noting that Visa cards have a much higher success rate than other card types. If your first deposit attempt wasn't with a Visa card (many offshore rooms accept only Visa Cards), try depositing with a Visa card if you have one available. Mastercard has the second highest success rate, followed by American Express and Discover, both of which have a low rate of success.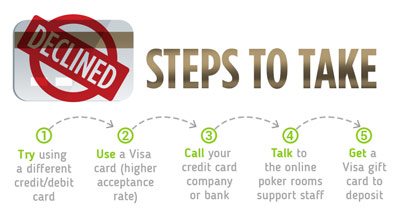 However, one of our favorite options for players, BetOnline.ag (review), is one of the few online poker rooms that accept US players who take American Express deposits. We recommend them if you're looking to deposit with your AMEX card.
If you've tried several cards and you haven't had any success. A call to your credit card company or bank may do the trick. Offshore gaming companies do an excellent job of disguising these transactions, so when your card gets declined, it isn't for that reason.
The number one reason credit or debit cards are declined at an offshore poker room is because the particular card isn't enabled for foreign transactions. From our experience, getting this changed solves the problem in nearly 90% of cases.
This can usually easily be done by contacting your bank or credit card company by phone, email, or through live chat. In many instances, they will allow you to enable international transactions on the card in the future. This will not only save you time but increase your success rate when using the card at online poker rooms dramatically.
Some card companies or banks won't allow you to turn on international transactions indefinitely, which mean you may have to approve the individual transaction manually. This process usually works perfectly but is a bit more tedious. It involves talking to support at your bank, and finding the individual charge and approving it.
When the bank looks for the charge, it's not going to show up as the poker site's name or anything gambling related. We discussed the legal issues with this above when referring to the UIGEA.
It's vital that you do not mention that the transaction or site you're trying to deposit at is related to online poker or gambling. If your bank finds that you're using your account for online gambling, your account may be suspended or closed.
It's rare that this does happen, but is not out of the realm of possibility. The bank won't seize funds, but you will be forced to take your money to another financial institution.
If the above steps don't work, try talking to the support staff at the poker room via phone, email, or if they have live chat support. In many instances, support has access to multiple different payment processors. Your card may be denied by one processor, but may work with another.
If all else fails, Visa gift cards should work as an option. These are available at almost every supermarket and drug store. One option that players who have issues with bank cards is to sign up for a NetSpend card [D]. This is a prepaid debit card that acts similarly to a bank account. They must be reloaded in person, but there are thousands of locations around the country. These have a near 100 percent success rate at online poker sites.
Payout Options
Withdrawals back to cards have now become an option at many poker rooms. This has long been standard in non-gaming consumer markets, but both offshore and regulated markets can now process payouts back to cards.
Withdrawals back to Visa cards are the most popular option in unregulated markets. These typically take 4-7 business days to process once they are approved. Some sites will send players a debit card that can be used to withdraw at ATMs and used at point of sales.
Conclusion
Despite the UIGEA and other laws against online gambling, credit and debit card deposits are still being converted at a high rate at online poker rooms across the board. Using the tips mentioned above, players should be able to troubleshoot any problems they have with deposits in both regulated and unregulated markets.
Author: Joseph Falchetti (twitter)
(C) Copyright PokerWebsites.com, 2018
References and Citations