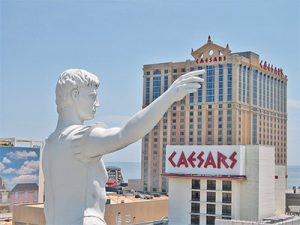 The well-known Caesars casino group has been snapped up by Eldorado Resorts in a $17.3 billion cash-and-stock deal, it was announced last week.  If gambling regulators and shareholders approve the deal, it will create the biggest gambling operator in the US.  The deal is expected to close in the first half of next year.
Speaking to The Washington Post, the chief executive officer of Eldorado said that the group was "incredibly excited" about the purchase, calling Caesars "an iconic brand."
"It's really a level of property and brand that we have not had the great fortune to control, and now we will," he said.
Together, the two brands will own 60 properties in 16 states. Caesars operates 34 of them across the country, mainly under the Horseshoe and Harrah's brands. It is estimated that the two companies combined have a database of 65 million people.  Caesars offers legal sports betting in four states. It currently has sports betting partnerships with the NFL, the Baltimore Ravens, the Las Vegas Raiders, the New Jersey Devils and he Philadelphia 76ers. It also has broadcast agreements with Turner Sports and ESPN.
Ever since Caesars emerged from bankruptcy in 2017, the company, operator of 34 casinos in the US, has been struggling. 83-year-old activist investor, Carl Icahn revealed earlier this year that he had purchased a significant stake in Caesars Entertainment. He then began a process of pushing for changes in Caesars, even demanding representation on the company's board.  Icahn continued to argue that the best way to get full value for Caesars was to sell the company.
"This merger is the quintessential example of how an activist shareholder, working collaboratively with the Board, can greatly enhance value for all stockholders," wrote Icahan in a statement.
"As a combined company, Caesars and Eldorado will be America's preeminent gaming company.  It is rare that you see a merger where because of the great synergies 'one plus one equals five.'   I look forward to seeing our investment prosper."