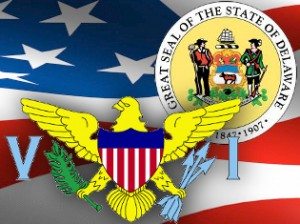 Delaware will become the first state to expand its sports betting landscape, following the historic ruling by the US Supreme Court that overturned the federal ban on sports wagering.
On Tuesday, June 5th, three Delaware locations, namely Delaware Park, Dover Downs Hotel and Casino, and Harrington Raceway and Casino, will start to take bets.
As a result the stocks at several gambling companies rose significantly, including the publicly listed Dover Downs Gaming and Entertainment, which saw prices rise 18%.
While several states such as New Jersey, West Virginia and Mississippi, were hoping to become the first (after Nevada) to introduce full-scale sports betting, they were beaten by Delaware.  To be fair, the latter had a head start on some of the other states since it had a partial exception from the federal ban, PASPA. Under the 1992 law, Delaware had the right to take wagers on NFL football with certain limitations. For the first time now, gamblers will be allowed to wager in single games.
Last week, Delaware's Governor, John Carney said: "Delaware has all necessary legal and regulatory authority to move forward with a full-scale sports gaming operation, and we look forward to next week's launch. We're hopeful that this will bring even more visitors into Delaware to see firsthand what our state has to offer."
According to the governor, betting will begin on Tuesday at 1.30 pm at all three casinos in the state. Players will be allowed to partake in single game and championship wagering on professional football, baseball, basketball, hockey, golf, soccer and auto-racing.
Over the past few weeks, employees at the casinos were given special training to handle the move into legal sports betting. In addition, Delaware has posted a sports betting guide on the state's official lottery website.
The chief executive officer of William Hill US, Joe Asher commented on the state's upcoming changes and said: "Delaware was our nation's First State, so it's only fitting that it will take the first bet of the post-PASPA era."