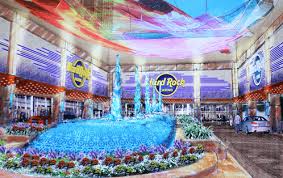 Fresh winds are blowing through Atlantic City, New Jersey, where two casinos recently re-opened, following a few years of declining profits. In the last four years, five casinos closed their doors but Atlantic City is now determined to provide jobs for at least some of the thousands left unemployed as a result.
Hard Rock International spent $500 million transforming the Trump Taj Mahal Casino that went out of business in 2016, and held its grand opening on Thursday night. Visitors were thrilled with the entertainment provided, from fireworks to fire performers.
Addressing a cheering crowd, the chairman of Hard Rock International, Jim Allen said: "We believe in Atlantic City. We believe in the state of New Jersey. And we truly believe that Atlantic City's best days are in front of it."
The Ocean Resort Casino, formerly the Revel that closed two years ago, also reopened this week.  The owners of the Ocean Resort have brought their newly opened location in line with the latest Supreme Court ruling allowing for legal sports betting, and the casino is complete with a 7,500 square foot sports betting area and a bar lined with huge televisions.
Casino owners are hopeful that the new locations will be able to push up the number of tourists that visit Atlantic City each year. At present, some 24 million people visit the beachfront city, but operators want to see at least 30 million travel there.
One way to attract visitors would be to improve the nighttime entertainment provided by casinos, in a bid to compete with Vegas. As such, the two new casinos are promising more shows, with Hard Rock even going so far as to promise a show every day of the year with big stars such as Carrie Underwood.
In addition, the Hard Rock quietly launched a beta testing of its online gambling site, which will make it the seventh land-based operator to join New Jersey's igaming market.  Should the beta testing, a regulatory requirement, be successful, a full scale launch could take place as early as this week.
This should also push Atlantic City casino numbers up. Last year, the state's internet sector generated $245 million – an increase of a quarter compared to the year before.