Top Earning Women Players: Annette Obrestad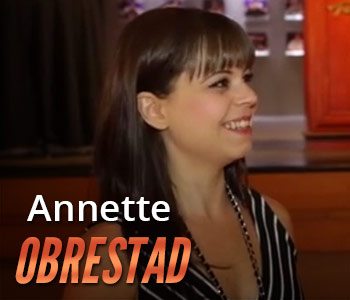 Annette Obrestad represents the face of young female poker players who started their professional careers at an incredibly early age through online poker rooms and achieved fame and recognition by their late teens. The young Norwegian player holds several world records, one of being the youngest to ever win a World Series of Poker Europe bracelet.
Early Years
Born into a normal, working class family in 1988, Annette Obrestad grew up in the fishing town of Sandnes in Norway and was taught from an early age to follow her heart and stand up for what she believed in. Her father taught her to play five card and seven card stud poker at an early age and it was with these skills and their life-message that at the tender age of 15, she asked her mother for her credit card to start playing poker online. Understanding the legal implications, her mother refused but Obrestad decided that this refusal was a mere obstacle to her road to success and embarked on building her bankroll from scratch online.
Obrestad claims that she never made a deposit into her poker websites accounts, instead building up on winnings she made from freerolls at these sites. Until today, she plays under her famous online avatar name, Annette_15, indicating the age that she started her professional poker career.
Online Poker Success
Between 2006 and 2008, Obrestad made a killing playing online poker, using the bankroll that she had built from entering freerolls at top sites. Her winnings including $136K at Ultimate Bet, $200K at Poker Stars and $136K at Full Tilt Poker.
One of Obrestad's most famous online games involves a $4 buy in sit and go tournament where she claims that she only peeked at her cards once during the entire time. When asked to explain her reasons, she replied: "I've not looked before. When I used to play $30, $40, or $50 sit-and-gos I did it all the time. I dropped down to lower levels just to practice, but I didn't take it seriously enough. This was the first time I'd done it in a while. I really just did it for fun, and that's why I peeked on one hand; I didn't think I was going to take it seriously enough. But when I got deeper, I wanted to win without looking to show everyone that it was possible." Needless to say, even with using this strategy, Obrestad went on to beat the 180 player field and take home top prize.
World Series of Poker Europe (WSOPE) and European Poker Tour (EPT)
Annette Obrestad shot into the public limelight when she entered her fourth live tournament – the World Series of Poker Europe Main Event in September, 2007 and managed to beat the field and take home top prize. This was no easy feat for Obrestad, who met tough competition along the way, including two of the world's top female players, Annie Duke and Jennifer Harman. By day one of the three day tournament, Obrestad was one of the top five chip leaders, and by the following day, she had already secured her place at the main table. The heads up stage of the game involved an intense fight against John Tabatabai from London, but the young Norwegian proved too much for him.
Not only did Obrestad become the youngest poker player to ever win a WSOPE Main Event, but she also became the only female to do so. By winning the $2.01 million prize money, she essentially beat Annie Duke's previous held record ($2 million) for a single pay out to a female player in a poker tournament.
In that same year, Obrestad finished second in the European Poker Tour Dublin Event, after being closely beaten by Reuben Peters. Her prize money was an impressive $431,184.
Due to her young age, Obrestad was not allowed to enter the World Series of Poker events in Las Vegas, as Nevada laws dictate that players need to be at least 21 years of age. 2010 marked the first year that Obrestad entered this competition, having reached the golden milestone in September 2009.
Live Tournament Success
Annette Obrestad has managed to cash in at a number of live tournaments including:
2009 Aussie Millions Main Event; 21st place; A$ 50,000 prize.
EPT – Grand Final, Season 5; 13th place; $100,100
EPT – Season 6, EPT London; 17th place; £17,000
2010 Aussie Millions Main Event; 7th place; A$ 175,000
2010 NBC Heads Up Championships; 11th place; $25,000
Obrestad in the Limelight
Being dubbed a 'wunderkind' and holding so many records at such an early age, means that Annette Obrestad has had to do a lot of growing up fast. At times, she has managed to irk players who are more experienced than her because of things she has said to the media about them. The most famous example is when she got herself entangled in a twitter brawl with none other than the Godfather of Poker, Doyle Brunson. Speaking candidly in an interview with ESPN, Obrestad hinted that it was Brunson's ego that got him so far in the game and that she would love to play him. Brunson shot back in a controversial bombshell that it must be a 'bad time of the month' for Obrestad. This comment highly irritated female poker fans and Brunson subsequently apologized. Ironically, it was in the same interview that Obrestad put down female players and said that in general they "suck". Needless to say, this did not go down well with these players either.
Conclusion
Annette Obrestad continues to make waves in the poker industry, whether for her aggressive playing style or her sometimes controversial comments that many put down to age and lack of life experience. Her optimistic outlook, incredible talent and sheer determination at the poker tables are sure to keep her in the headlines for a while to come.
Author: Joseph Falchetti (twitter)
(C) Copyright PokerWebsites.com, 2018