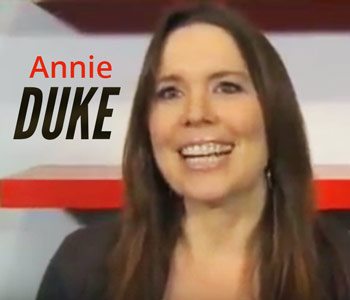 When it comes to high profile women poker players, Annie Duke definitely fits the bill. This smart-talking, hugely popular and highly talented poker player comes from a family of skilled gamers, including her brother, the equally famed poker player, Howard Lederer. Duke her taken her talents to mainstream media and is perhaps one of the most recognized of all professional poker players today.
The Early Years
Born in 1965, Annie Duke's childhood experiences of growing up in board-games crazy household has become something of a legend, and she regularly credits her teacher-parents' love for skilled thinking pastimes for her and her brother's success. Duke matriculated at Columbia U and then went on to become a graduate student at the University of Pennsylvania. In the middle of her doctorate degree, Duke decided on a whim to marry her old time pal, Ben Duke and move to Colorado. There, she hit the poker rooms in a bid to make money to pay the household bills, and her love for the competitive edge of poker blossomed.
Moving into the Big World
Duke made a very impressive start into the professional world of poker after trying out her first World Series of Poker event in 1994. While she entered just for the experience, it was soon clear that her talent for the game was on par with some of the top pros out there and she finished 13th in her first tournament. Her victory was bitter sweet as she knocked out her own brother in the game. Duke's prize of over $70K put her on the road to professional poker, and she and her husband made the move from Colorado to Vegas so that she could be closer to the big poker rooms in the city.
Poker Career
Annie Duke continued to make waves in the poker industry as its brightest up and coming star, and she moved fast up the rungs to become a legend in her own right. At the 2000 Main Event, a heavily pregnant Duke reached 10th place in the 2000 Main Event of the WSOP which was the best win for a woman up until that time.
In 2004:
2004 stands out as a great year for Duke as she won her first World Series of Poker bracelet, beating a field of 234 players in the $2000 Omaha Hi/Lo Split event. She was one of only three women (besides Kathy Liebert and Cyndy Violette) to win an open even in that year's World Series of Poker tournament.
In that same year, Annie Duke went on to beat top professionals, including her brother once more, Phil Hellmuth and Doyle Brunson, in the invitations only WSOP Tournament of Champions in the No Limit Texas Hold 'em event and took home an incredible $2 million. Duke therefore became the first woman to reach top spot in two major poker tournaments and prestige was all that much greater as the two events took place only one month apart from each other.
In 2006:
Duke won the World Series of Rock Paper Scissors annual charity event, hosted by Phil Gordon. Her prize was free entry into the WSOP Main Event, with all proceeds of the competition donated to cancer charities.
In 2010:
Duke went on to win the National Heads Up Poker Championship, earning herself $500,000, plus the prestige of the title, as well as becoming the first woman in the championship's history to do so. Only some of the top players in the work have won this tournament, including Chris Ferguson, Paul Wasicka and Phil Hellmuth.
In total, Duke has made 15 final tables at the World Series of Poker and cashed 37 times (written 2010).
Entry into the Media Mainstream
Annie Duke saw that her huge success as a female player had massive potential and she set out to market herself as a brand. In 2005, she and her brother Howard promoted video poker games that feature themselves as characters. She also went on to endorse the ESPN Poker Club line of products, making her a face of the group.
Duke used her vast experience in the online and offline poker world to write articles for poker websites, specifically on her favorite topic, Omaha Hi Lo.
Duke also penned her autobiography: "Annie Duke: How I Raised, Folded, Bluffed, Flirted, Cursed and Won Millions at the World Series of Poker."
She is also heavily involved in the endorsement of Ultimate Bet online poker room.
The Apprentice
Duke has appeared on the Ellen Degeneres show, as well as Celebrity Apprentice, where she came face to face with the sharp-tongued Joan Rivers in the final. Rivers made the mistake of bad mouthing poker players and Duke used the public platform to support the community that she represents. "I think it is so interesting that the group that has come out the most strongly in support of the show and in support of these charities, poker players, are so vilely disparaged by Joan on the show," Duke said in her blog at the time. "Joan saying that all poker players have no last names and are worse than white trash is like me saying that all comedians are miserable, depressed people who take their angst, anger and unhappiness out on everyone around them. Clearly, that would be unfair."
Private Life
A divorced Annie Duke moved from Vegas to the Hollywood Hills with her four children, Maud, Leo, Lucy and Nelly, and continues to live there with her boyfriend, the actor Joe Reitman. She has often said that when she retires from professional poker, she hopes to become a college professor; however that dream still seems long off as she continues to remain a constant presence on the poker circuit.
Conclusion
Annie Duke's name is clearly synonymous not only with top female poker player, but also top poker player, period. Her achievements at the tables, and her efforts to elevate poker to the heights of popularity and respect are to be truly commended.
Author: Joseph Falchetti (twitter)
(C) Copyright PokerWebsites.com, 2018