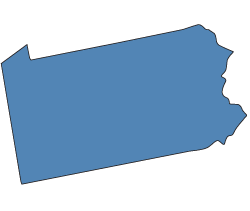 At least nine Pennsylvanian land casinos are on track to start offering online gambling in the near future.  This comes after the state passed legislation last year that opened the floodgates to igaming options. The current position is that nine of Pennsylvania's 13 casinos have applied for 'bundle-package' licenses to the tune of $10 million each, with these licenses covering online poker, online table games and online slots.
Pennsylvania made expansive changes to its gambling landscape in the hope of mending a growing hole in its budget. The options were either increased taxes or online gambling, and the latter won hands down. Pennsylvania is optimistic that it will be able to rake in $200 million each year through this move.
Online gambling in Pennsylvania is sure to be a money maker for a number of reasons. Pennsylvanians love their gambling, and the state ranks second only to Nevada in annual revenue from its bustling gambling market that includes state and tribal casinos. The Keystone State is almost sure to join the shared liquidity pool  for online poker players that already incorporates Delaware, Nevada and New Jersey, as soon as it can.
At present, the Pennsylvanian government has raked in $90 million in license fees from the nine casinos that paid for the licenses at a discounted price. They also expect the other four casinos to apply for some or all of the individual gambling units at a cost of $4 million each, although it is still not sure which casinos will require which gaming categories.
Will casinos benefit from online gambling in Pennsylvania?  Time will tell. Their profits will definitely take a beating from the heavy fees and taxes imposed on them by the government for online gambling licenses, and compared to other states that have legalized igaming, the fees can be considered monstrous.  On the other hand, New Jersey casinos are showing growing profits from their online gambling platforms, and this may eventually be the case for Pennsylvania casinos as well.
Online gambling software providers that are waiting in the wings to launch the gaming platforms in partnership with the casinos will also provide an exciting boost to the industry. All these providers, such as 888Poker,  were chosen due to their experience in the global market, and Pennsylvanians will discover tournaments, significant prize pools and plenty of action on these new platforms.